Mumbai To Host Custom Helmet Art Exhibition On March 24
---
20 artists from across the world will be participating in the art show
Will be held on 24 March at Bombay Art Society from 12pm to 9pm.
Eimor Customs, IRONic, Mallika Prakash, Moto Machao and Womeneoteric Customs will be representing India at the event.
The goal is to promote the importance of wearing helmets.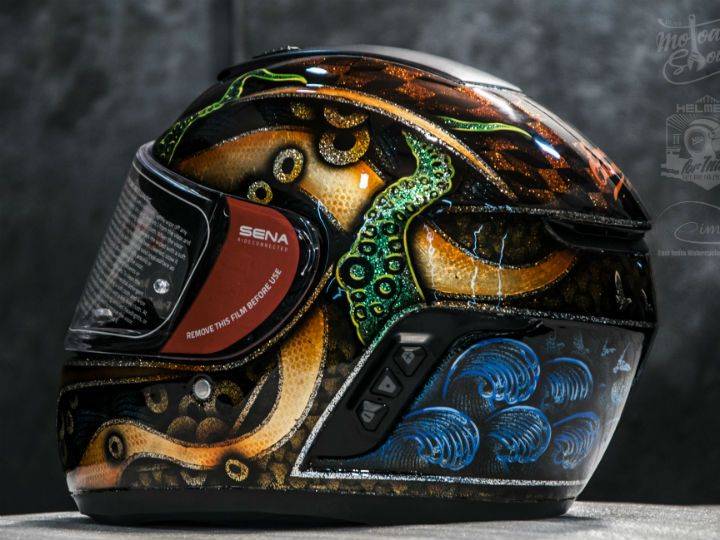 One issue that plagues a lot of Indian motorcycle riders is the lack of awareness about safety. Indian roads are notorious for being unpredictable, and helmets may be inconvenient to some but there's no arguing that they save lives. There are a lot of snazzy helmets available in the market but helmet customisation is something not many are aware of in India.
In a bid to bring about the perception of helmets as not only a necessity but also a cool accessory every rider should have, a custom motorcycle helmet art exhibition will be held in Mumbai. Mountain biker Niels-Peter Jensen's charity initiative 'Helmets For India' in partnership with Indian biker and artist Mallika Prakash will be organising the one-day motorcycle art exhibition. Called "Moto Art Show - Helmets for India", the event will be held at the Bombay Art Society on 24 March. Here are excerpts from the release:
Press Release:
HELMETS FOR INDIA: ROAD SAFETY FUELED BY ART
India's first custom helmet art exhibition

'Helmets for India' is bringing more than 20 artists from across the globe under one roof to customize helmets in their own unique and creative styles in an effort to help change the perception of a helmet from a necessity to a desirable and cool accessory. An extension of one's clothing that can be personalized and worn proudly like a crown.
Representing India are artists Eimor Customs, IRONic, Mallika Prakash, Moto Machao and Womeneoteric Customs that are very well known in the newly arising motorcycle art genre. Prominent international names include D*Face, Magnus Walker and Steve Caballero.
These customized art helmets will be part of a traveling global exhibit that will be inaugurated at a special exhibition organized by Moto Art Show, an art events organization based in Bangalore that focuses on motorcycle art and artists. This "Moto Art Show - Helmets for India" exhibition will be the first of its kind in India. Along with art helmets, this exhibition will include other motorcycle related art as well from some of India's top moto-artists. After their debut at Moto Art Show, the art helmets will travel to other well known motorcycle events around the globe and will be auctioned off at the end of 2019 to raise funds that will be used to support a non-profit working in this area in India.
Road trip on two wheels from Bombay to Goa
A creative team of motorcycle enthusiasts will ride Royal Enfield Himalayans, an urban ADV well suited for commuting as well as long distance riding from Bombay to Goa to talk to the common man that uses a two wheeler on a daily basis, spread awareness and educate them on wearing a helmet securely. Ganesh Shinde popularly known as Miles on Canvas from Mumbai will bring a lot of uniqueness to this road trip. A very well known traveling artist, Ganesh will chronicle the journey with paint on his helmet and canvases while on tour. The founder of Helmets for India, Niels-Peter Jensen from Germany, will ride along with Ganesh, D*Face and two female bikers from Europe to spread the message and bring attention to this initiative.
Helmets for India is also collaborating with D*Face and Bombay Custom Works who will be customizing one of the bikes on the tour. The team will start their charity adventure road trip on March 25 from the Gateway of India, ride through Pune, along the coast and end the week long ride in Goa. The complete journey will be documented in both film and photographs by a professional production crew that will be shown at motorcycle events worldwide along with the art helmets.
Distributing helmets is as simple as it is powerful
Helmets for India is also giving away helmets that are sponsored by several global helmet brands including special kids' helmets starting in Mumbai and during the road trip. The kids' helmets which are hard to find are a special treat from Gulf Oil India that has already been working in this area. With the help of local individuals and organizations, Helmets for India will educate and give these helmets at pre-planned events in Bombay and Pune and spontaneously while on tour. With a goal of distributing 1000 helmets in 2019, this tour will be the first of many in India this year.
Royal Enfield Classic 350 Video Review
Add Your Comments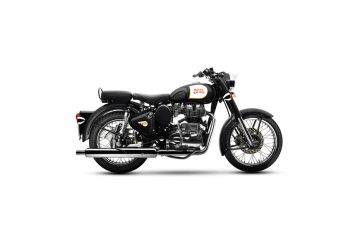 Rs. 1.46 lakh Onwards
Ex-showroom, Delhi
Get Loan starting @9.7%
View On Road Price
Royal Enfield Classic 350 Alternatives