Mercedes-AMG G63: 585PS Super-SUV Priced At Rs 2.19 Crore
by Nikil
Oct 5, 2018
Views : 1673
---
The mother of all SUVs gets a familiar V8 and lots of leather
The Geländewagen is finally here in India and that too with dollops of AMG trickery up its sleeves. Priced at Rs 2.19 crore, ex-showroom India, the new
Mercedes-AMG G63 AMG
takes performance levels to new heights thanks to its revised chassis and an enormous V8, while being properly retro with its cinder block-like design. The new G63 packs a face so square that it'd put Mr Khiladi to shame. Sorry for getting a bit carried away, let's get back to the nitty gritty that make this SUV the ultimate high rider from AMG's lineup.
Will it cut through a storm or simply blow away?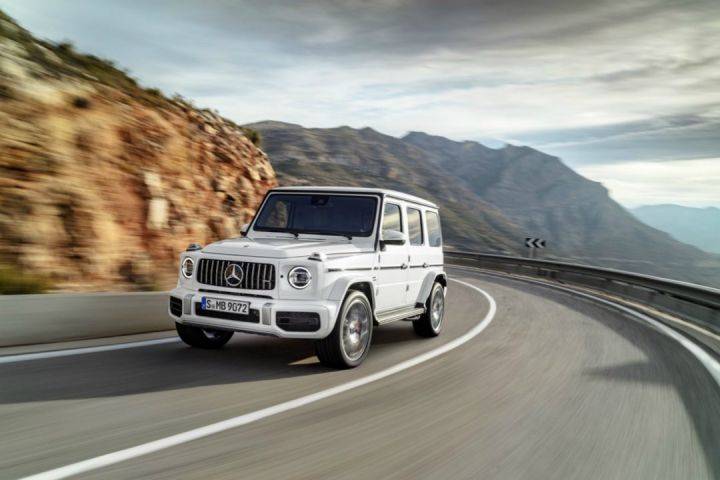 Ah, we see what you're getting at. Yes, the new G63 AMG, which could easily be mistaken for a shipping container (just saying), is powered by a familiar engine, to us enthusiasts at least - the 4.0-litre bi-turbo AMG V8 that we've already seen in a plethora of AMG machines, including the GT R and C 63 S. Like the 'Beast of the Green Hell', the engine, which gets two twin-scroll turbochargers within the cylinder banks and powers the aforementioned container, puts out 585PS and a staggering 850Nm of torque! This is about 33PS and 90Nm more than what the older 5.5-litre biturbo V8 dished out.

Sent to all four wheels via Merc's AMG Performance 4Matic four-wheel-drive and a 9-speed AMG Speedmatic TCT automatic gearbox, the G63 can complete the 0-100kmph sprint in just 4.5 seconds, which the company claims is 0.9 seconds quicker than the old G63. As for top speed, we'd recommend you sit down for this - the new G63 is capable of hammering its way through the air to 219kmph, provided you're brave enough to hold your breath, drown out wind noise and fight the air in front of your flat and upright windscreen. Not fast enough, then cough up some change and Mercedes will be kind enough to remove the restrictor, which takes its top speed up to 240kmph! And this is despite the Geländewagen weighing 2560kg. So will it cut through a storm? Hell yeah!

Worried if all that performance will deplete every known oil field in the world? Well, fret not (relatively speaking, of course) because engineers at Affalterbach have worked a way to make the new version more fuel efficient than its predecessor - cylinder deactivation. Under part throttle conditions, the V8 is capable of shutting down four of its cylinders.

Holy moly, now that would be considered sacrilege for an AMG, but as Delhi-ites wait with bated breath only to get choked with smog in the next few weeks, we'd say it's a step in the right direction, however small it may be. "Kitna deti hai?" About, 7.5kmpl according to EU ratings, sir! Hey, it's better than its predecessor's figure of 7.25kmpl.
Did you say a revised chassis?
Yes, not all new. Still a ladder-frame chassis, but heavily revised. However, it's been widened and given an aluminium body shell to make it more spacious and lighter (by 170kg), respectively. This, in turn, makes the SUV more stable and efficient. It also gets a revised suspension setup - double wishbone at the front and a multi-link setup at the rear - which the engineers claim have improved straight-line stability. But these are the bits in common with the bog-standard with the regular G-Class as well. It also offers three levels of stiffness, which can be controlled via a err… a button. Wish it were a chunky knob instead.

Apart from that, the G63 also gets a new transfer case gear ratios, intelligent diffs and a rear axle ground clearance of 241mm, to make off-road sojourns a breeze. Blessed is the soul who'd risk taking a near Rs 3 crore SUV with standard 21-inch alloy wheels (22s optional) off his/her paved street and into the wild. If you are one of them, hit us up in the comments section below. We'd love to hear from you.
Beauty or the Beast?
Fans of the G63 will be happy to note that the new SUV retains the boxy design of its predecessor. However, look closely and you'll notice there are a few more rounded edges this time around. But you'd easily forgive the designers when you lay your eyes on retro bits such as the pull-type door handles, external door hinges and turn indicators mounted on top of the front fender, among other things.

AMG bits include the unique grille with twelve vertical slats (I bet it'd be more than ideal to grille some local meat on your next off-road expedition) and a new bumper with air intakes that could swallow a cat.

If the 'V8 Biturbo' lettering on the front wings doesn't scare you, the widened wheel arches, red-painted brake calipers and the side-mounted exhaust pipes should surely do the trick. Speaking of exhaust pipes, not only do the side-mounted ones add to the G63's brawny looks, it's got an angry snarl too. Other neat additions include Merc's Multibeam headlamps with 84 individual LED modules and Merc's Adaptive Highbeam Assist function.

Is it any special on the inside?
It better be for all it's worth. The new G63 gets a completely reworked cabin which puts it on par with other vehicles from Merc's lineup. Some of the elements are a nod to the exterior design. For instance, the circular AC vents housed within block-sized metal are inspired by the round LED headlamps. The dashboard-mounted speakers, on the other hand, mimic the top-mounted turn indicators. The iconic differential lock buttons continue to find a place on the centre console. Mercedes-Benz India has decided to offer the twin 12.3-inch digital displays on the G63 instead of the standard circular and analogue instrument cluster, which adds to the cool factor.

Other standard features include electrically-adjustable driver's seat with memory function, heated front and rear seats and luxury front head restraints. Oh, and did we mention it gets a flat-bottom steering wheel and not the helm of a ship as we'd imagined. It also gets a boat-load of leather, wood and metallic bits that'd put an abattoir to shame.

Is it worth it?
Of course, it is. Especially if you have Rs 2.19 crore lying around and haven't got a clue about what to do with it. It's the right amount of brawny, loud and ridiculous. However, for the same price, if not more, you could also get your hands on a Lamborghini Urus. Read our first drive review here. You've also got other, more affordable options like the Maserati Levante and the Range Rover Sport SVR. Or you could even go for something a lot smaller, nimble and more fun around a piece of twisty road like the Porsche Macan or the Jaguar F-Pace.

What we're trying to say is that when it comes to performance SUVs, there are plenty of options out there. Picking one is like picking a puppy from a shelter. Do you go for the sweet, tail-happy mutt or a stern-faced, all-purpose German Shepherd? Let us know your thoughts in the comment section below.
More on Mercedes-Benz G-Class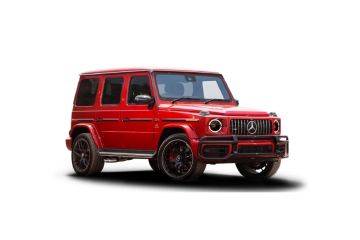 Rs. 1.62 Crore Onwards
Ex-showroom, Delhi
Contact Dealer
View On Road Price
See what our community has to say!
NEW
India's largest automotive community