Meet the 2018 Hyundai Sonata!
---
The Sonata wears a sporty suit. Should it come to India?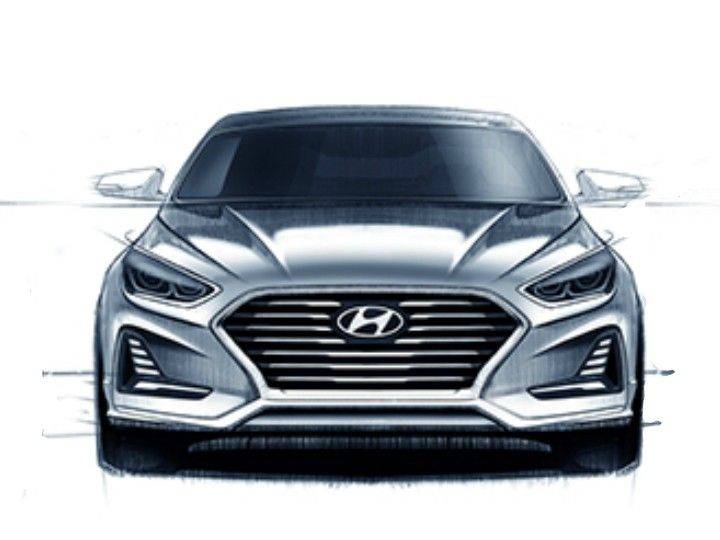 It has been two years since Hyundai India officially pulled the plug on the Sonata. The full-size luxury sedan had a decade-long stint in the Indian auto market spanning three different generations. Sadly, the H badge couldn't command the brand value of a Toyota or a Skoda which meant it sold in forgettable numbers.
Now, however, there's a new one. It is possibly the sportiest a Sonata has ever looked, and truth be told, we think it could do well in India too! It looks like an evolution of the seventh-generation Sonata that the Indian market didn't get. The updates make the big Hyundai look more like its little cousins, the Elantra and the new Verna.

The sketches Hyundai released on Facebook showcase the new Sonata next to its predecessors. The lines are sharper, it now features the trademark cascading grille and the headlamps appear a lot more aggressive as well. Over to the rear, the sedan looks visually wider, thanks to the large taillamps with the signature three-pod detailing and a much more prominent trunk lid spoiler.
There isn't an official word on when the new Sonata will break cover, or on the engine options for that matter. However, if at all Hyundai wants to consider the big sedan for India, we reckon it'll be the Hybrid version to get the call of duty. For reference, the US-spec Sonata Hybrid features a 2.0-litre petrol engine that's paired to an electric motor. Put together, that gives the sedan a respectable 193PS of power which seems par for the course.

The big two names in India's D2 segment, the Camry and the Accord, have already gone hybrid. Hyundai might want to look at grabbing a chunk of that pie considering the brand has managed to move upmarket with offerings such as the new-gen Elantra and the new Tucson.