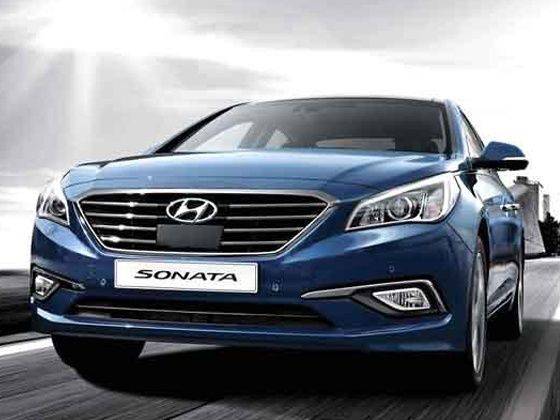 Hyundai has unveiled their 2015 Hyundai Sonata in Seoul, South Korea. The new car which will make its official debut at the 2014 New York Motor Show next month, is not a new generation car, but a heavily revised version of the Sonata that is also currently on sale in India.
The 2015 new Hyundai Sonata has a more conservative design than its predecessor, and borrows its design cues from Hyundai's new Genesis sedan. Upfront, the restyled Sonata gets a broad new hexagonal grille, revised bumpers and long headlights with LED elements. The car wears a flowing roofline and a pronounced character line. The rear end features changes as well such as new set of tail lamps, a reprofiled boot lid and revised bumpers. New alloy wheel design wraps up the exterior changes. The new Sonata is also larger than its predecessor, measuring 35mm longer and 30mm wider. It also sits on a 20mm longer wheelbase.
The interiors exude a premium feel with the use of higher-grade materials, and leather and metal accents. The new 2015 Hyundai Sonata also features a touchscreen colour display, phone and infotainment options, power-adjusted and heated/cooled seats, an electric rear window blind and rear side curtain blinds, a panoramic sunroof, and an automatic key proximity-based boot lid. Safety features include advanced smart cruise control, blind spot detection and lane departure warning.
Three engine options will be available for the 2015 Sonata including a 2.0-litre CVVL engine ( capable of producing a maximum power of 150PS and 200Nm of peak torque), a 2.4-litre GDi engine (190PS and 250Nm) and a 2.0-litre LPi engine (150PS and 190Nm). Transmission options will include a six-speed manual and a six-speed automatic.
The most recent Sonata hasn't done particularly well in India owing mainly to the lack of a diesel engine. That isn't going to change on the new 2015 Hyundai Sonata either. Naturally, the sales of the new Sonata aren't expected to go through the roof in India. But, internationally, Hyundai is extremely bullish about the new car. The South-Korean automaker has plans to sell 2,28,000 units of the revamped Sonata this year, with majority of these sales coming from the US and Korean markets.
This doesn't however mean that Hyundai will not launch the 2015 Sonata here. It will. And here's why. The presence of Sonata is essential for Hyundai to uplift its image in the Indian market. Just like the Santa Fe, Hyundai sees Sonata giving the Hyundai brand a more premium air. And it expects that this image of premiumness, high quality finish and imposing exterior design from both the Santa Fe and the new 2015 Sonata will rub positively on products such as the Hyundai Verna and the Hyundai Xcent.
Now this rub off, it believes, will get more customers into the fray. Currently, there are many car buyers who see Hyundai in the same plain as Maruti Suzuki and consider Honda and Volkswagen a notch above in terms of snob value. But, if the Santa Fe and the new 2015 Sonata do their jobs well, Hyundai will soon be elevated to the higher plain and will begin vying for attention among brand conscious car buyers.