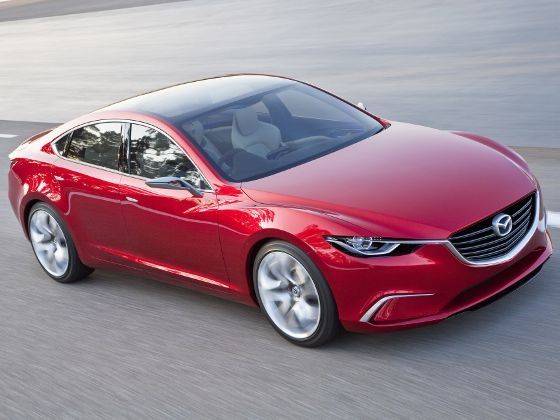 Mid-size sedans mark a hotly contested territory in the European market, with players from literally every corner of the globe vying for a piece of the pie. Right from the German luxury car makers like BMW, Audi and Mercedes-Benz to American brands like Ford and Chevrolet to Japanese big guns like Toyota and Honda – every company has multiple offerings in those segments. Mazda is not really a new player in this game. The niche Japanese brand has always had its set of ardent followers for its offerings like the Mazda 6.
But with the 6 getting a bit long in the tooth, it is in this space that Mazda has decided to concentrate its efforts for the European market. And at the ongoing 2012 Geneva Motor Show, the company showed off a concept that reveals the direction of Mazda's next-generation mid-sized sedans will take. Called the Takeri concept, the car is steeped in Mazda's Kodo design language, which we had seen earlier in other concepts from the company such as the Shinari and the Minagi.
All the designer jargon apart, the Takeri does look extremely good, with a coupe like sloping roof line reminiscent of the Audi A7. But what sets this concept apart from the other show cars is that it showcases some real world technologies under the hood, such as Mazda's SKYACTIV-D 2.2 litre diesel engine, the SKYACTIV-Drive 6-speed automatic gearbox and the latest i-ELOOP, short for Intelligent Energy Loop, regenerative braking system. This system recovers braking energy in the form of electricity, stores it in Electric Double Layer Capacitor and then uses it to power the car's various electrical, thereby bringing about some 10-percent increase in fuel efficiency.
This is the second version of the Takeri concept that Mazda has unveiled, the first being at the Tokyo Motor Show last year, and one can already see the design evolving from concept to production form. So maybe by the next Geneva Motor Show, we can expect Mazda to launch a full production car based on this beautiful concept.