Dear Lord, Ducati's Superleggera V4 To Develop 237PS!
by Alpesh
Jan 15, 2020
Views : 2106
---
237PS on a motorcycle that'll weigh just 152kg (dry) -- that's an explosive start for 2020!
The standard Superleggera V4 will make 224PS.
Several parts are made from carbon fibre.
Production will begin by April.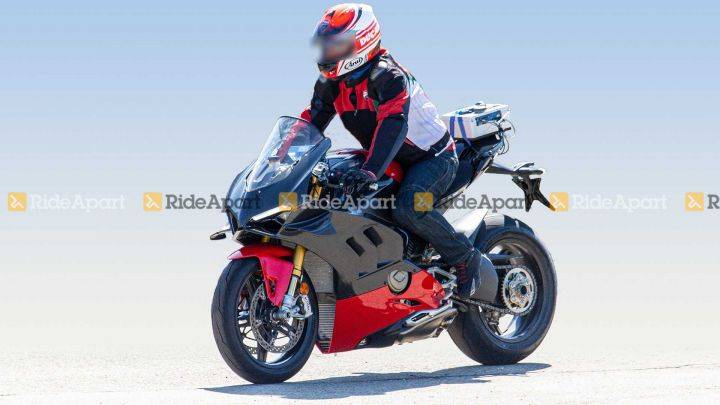 We think Ducati's team of engineers has some really mad Italians, who are told to make one motorcycle every year that can scare the bejesus out of you. Last year, it was the insane Streetfighter V4. And this year, it's going to be a new version of the Panigale V4. Yes, we are talking about the Superleggera V4. According to a leaked document, the upcoming Superleggera V4 will make 237PS.
Also Read: Panigale V4 Sheds Weight Thanks To A Carbon Fibre Diet
A few months back, we reported that the "standard" Superleggera V4 will make around 224PS at 15,250rpm. The Akrapovic racing exhaust will boost the power to a mental 237PS at 15,500rpm and 118Nm of torque at 11,750rpm. That's 13PS and 6Nm more than the Panigale V4R, which in itself is a hardcore version of the Panigale V4. Now, there's no confirmation on which engine Ducati will use for the Superleggera, but we expect it to be the updated unit of V4 R.

It's pretty light on its feet, as well. As per the documents, the Superleggera will weigh just 152kg dry, making it around 13kg lighter than the top-spec V4 R. Ducati has used a tonne of carbon fibre and lightweight parts to achieve this insane figure. But, how would it look covered in all carbon fibre? Well, lucky for you, the motorcycle was spotted a few times last year.
Also read: Here's What Ducati Has In Its Store For Us In 2020
Considering the Superleggera will come with top-spec components and will be the most hardcore Panigale out there, it is going to very, very expensive. In fact, the document says it will retail at USD 100,000 that's Rs 70.94 lakh, and if Ducati plans to bring it to our shores, get ready to pay almost double the price as it will be a CBU model. So, now might be the right time to start a GoFundMe.com campaign.
Image courtesy: Rideapart
Source
Add Your Comments