2018 Fifa World Cup Stars And Their Cars: Lionel Messi
Jun 20, 2018
Views : 8077
---
Leo Messi may have missed a crucial penalty, but his car collection is on point!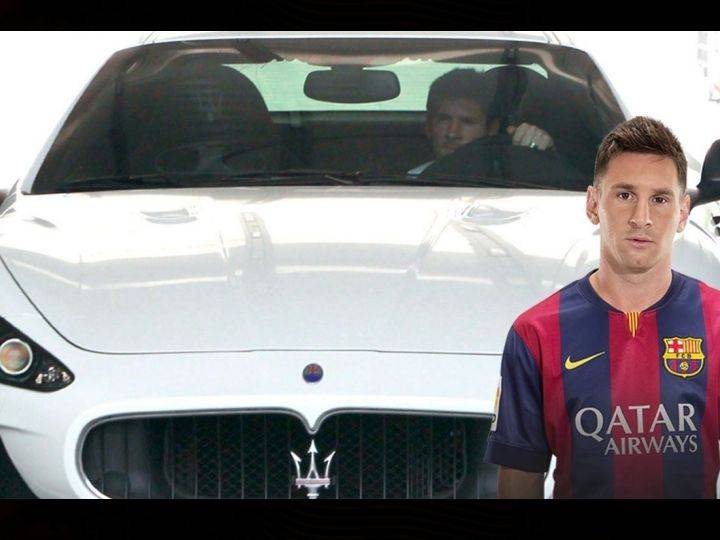 As World Cup fever grips the entire world, we couldn't help wonder what nestles in the sprawling driveways of the legends of the game. Today, we start with none other than Lionel Messi, who missed a crucial penalty against Iceland.

Maserati GranTurismo MC Stradale
Yes the little man who is considered the backbone of the Argentinian team has one of the fastest versions of the GranTurismo ever produced, the MC Stradale.

Launched in 2011, the MC Stradale is powered by a V8 that produces 450PS uses diamond-coated cams like the ones seen in F1 cars to reduce friction and help increase power output. This version is also lighter than the standard GranTurismo and is capable of hitting a top speed of 300kmph.
Audi R8 Spyder
Ok, so it's the first-gen model which was initially sold with the 4.2-litre V8 engine. So what? It's still one of the coolest looking cars on the planet, and the cabriolet version just takes things up a notch.

Messi's R8 produces 434PS of power and is equipped with Audi's quattro AWD tech. Based on an aluminium frame, the R8 Spyder can hit a top speed of just under 300kmph.
Maserati GranTurismo S
Now why would he want to keep two Maseratis? This could be his daily driver maybe. This model was unveiled in 2008 and features the same 4.7-litre V8 as the go-fast MC Stradale edition. However, it produces 10PS less and is mated to a much criticised 6-speed robotised manual gearbox (kindla like an AMT!).

Fun fact: Although Tata choose the 'Tiago' name for its entry-level hatchback through an online contest, it does sound similar to its brand ambassador's (Messi, of course) eldest son - 5-year-old Thiago Messi Roccuzzo. Coincidence? Hmmm.
Ok. So what about the kids then? Don't they get fancy wheels to jet around town? Yes, papa Messi has got them covered with a green SUV and a fast estate!
Lexus RX 450h
He may have dodged his taxes, but he's making sure to do his bit for the environment with a hybrid. Not any hybrid, he's chosen the Lexus RX 450h that comes packed with a 3.5-litre V6 engine along with an electric motor for a total output of 267PS.

The SUV can run on pure electric mode, with two motors powering the front axle and one motor for the rear.

Audi RS 6 Avant Performance
Messi's company car is an Audi! But a fast Audi thankfully. It's the latest version of the RS 6 Avant Performance that is powered by a 4.0-litre twin-turbo V8 that puts 600PS of power. It comes packed with quattro AWD and height adjustable suspension for a safe yet dynamic ride. Probably holds his entire training kit in the boot. You know where to get free souveniers now, don't you?

Ok, but this collection still doesn't justify the money he earns from the national team and FC Barcelona. (Tch, tch... What about all the unpaid taxes, bro?) Well, he's saved up the best car for the last obviously.
Ferrari F430 Spider
Yes, of course he's got a Ferrari. In fact, no car collection is complete without a prancing horse. And Sir (too soon?) Messi has got one of the most beautiful and modern one ever made, in our opinion - the F430 Spider.

Powered by a 4.3-litre naturally aspirated V8 engine, this car has a soundtrack that could very well be God punishing his favoured child for missing penalties at crucial moments in the game. But jokes aside, this could be Leo's last World Cup appearance for his country and we wish him and his team the very best in Russia.
More on Maserati Gran Turismo

Rs. 2.25 Crore Onwards
Ex-showroom, Delhi