Honda Amaze Overview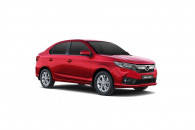 Mileage

Comfort

Performance

+ 3 more
Maintenance Cost

Safety

Features & Styling
Preferred For : Family & Daily Commute
38% of users have given a rating of 4.5 and above
3.3

Nice gggghhhhhhjjn dfgghh hd funny ccdcbn fghceghbc dcvdeb egg devchand.Fcfghvdfhjxw dev cd wv.Dog.

5.0

Honda amaze - cabin is somewhat noisy - the cabin of this honda amaze car is somewhat noisy that you can hear the sound of engine even at the spped of 50kmph.If we ignore this problem then honda amaze is the perfect sedan available in the market.Very comfortable.Smooth to drive.Mileage of this car is also awesome.Perfect family car with stylish looks.Proce of this car is also not that high.Over all if cabin noise can be looked then this is the best car for a small family.

5.0

Honda amaze is a wonderful car.Steering is very smooth and handling of this car is very smooth.Engine power is very nice.Overall this is an excellent car for daily commuting inside the city.Bit of underpowered to run on highways.But you cannot expect everything in this price range.Mileage of this car is far way good than what you have expected.I just love to own this car.

4.7

Amaze is a good family car with sufficient space for 4, 3 people in the back won't be a good idea for a long road trip.Overall a decent package.

4.3

Nice engine ,Good chassis,Great mileage with Nice performance....Cons:Cost cutting is done.Average paint quality better than maruti , Hyundai but way behind than Volkswagen..
All Amaze User Reviews
4.0

I have honda amaze diesel v variant 2019 interior quality of fiber is great car has done 2 servicing average over all 18km/lit ground clearance is 163(original)mm there is less ground clearance engine sound is ok,pickup is good big problem with suspension it is softer side but more jurk fill in cabin tyre pressure has been filling 33psi always and second biggest problem is more bodyroll and front seats have no thigh support, steering weight not match with high and low speed it is almost hard all the time its fill hydraulic power steering speed limit is 140 and in bumper to bumper traffic clutch fill more hard your left leg has more pain, rear windows glass not goes down completely, if it half open its vibrate closing and opening time and more vibrates on rough roads when driving Difference between display average and full tank Method is 2/3 km per liter on rough roads more body sound and suspension sound come inside Rear seat is more comfortable legroom is more sufficient then other cars but thigh support is biggest issue boots pace is 420 lit more than other cars tyre size is ok 175/65/R15 this tyre is broad but height is less I don't understand its suspension is softer side but why this car fill jurk and vibrates on rough roads you can't get high speed my old zen 2005 lx has more better suspension than this car

4.0

Specially in Honda amaze I don't like front seats thigh support, and steering is hard , rear seat is very comfortable but some jark fill in cabin ,clutch is very hard in bumper to bumper traffic, performance is excellent, average is good, 22km/lit with ac and 27km/lit without ac in city 15 to 18 km/lit, but on rough roads sound come through suspension and body I think suspension can not match to this car,and I don't know why Honda use thicker tyre all Honda car causes not absorb rough roads stone jark,metal quality is very good, fiber and dashboard quality is super class I am very impressed for that ,when windows glass half open then glass vibrates more , And I think ground clearance is little bit less ,honda says 170mm but this is unloading ground clearance loading ground clearance is different loading ground clearance is 130mm,and specially I don't like very much body roll this is big mistake in Honda amaze this thing is not forgotten on rough roads, this thing is dill breaker, and rear windows glass is not completely go down ,and glove box is not properly fitted, and break bite power is little bit less, total car has negative points, this is experience of my Honda amaze no one car makes perfect I explain positive and negative points

4.0

I purchased Honda on the year it was launched 2013 (Purchased Dec 2013). It's a budget friendly car & gives me good mileage. City 14-16 kmplHighway 18-19 kmplService cost approx 3200-3500 per yearInterior - Basic (Very Simple)Exterior - BasicBoot Space - OKMusic System - Very Good (Simple)Ground Clearance - Ok (Depends on the rider though I drove it in Hills area & haven't yet faced any kind of problem yet)Cons - Chasis is not so heavy so whenever you drive at speed of 100 above & then tries to reduce the speed by switching gear & reduce speed simultaneously in short time it's body gets j****d but only it feels to the driver. I thoroughly studied it & found that due to light weight chasis it gets j****d otherwise it's pick up speed is very very good.

4.0

Amaze can"t overcome hills.Low power is main issue I found and it"s only in petrol version.I am also one of the happy customer of Honda until driving a hill or ascent.Amaze can"t overcome ascents.Its the only issue i found since driving 3000km,which is not an acceptable issue.When i contacted Honda they said its handed over to dealer,but the dealer informed Honda that they didn"t find any abnormality in my car which they accepted that Amaze has power issue and its for maintaining mileage once i was there at showroom.And when i asked dealer about their reply to Honda they said its made like that they can"t tell this to Honda,if we want to ride hills we must choose another vehicle and they can"t fit same Honda engine on both boat and car(just imagine my situation hearing this kind of reply from dealers).Really pathetic situation. So, dear brothers and sisters please don"t buy amaze petrol.If you like Amaze go for diesel.All other features in amaze are good.I choose petrol because i am not aware of this power issue and now suffering for my choice.My bad i have test driven Amaze but not on an ascents. When you people ask sales person about this power issue they will reply there is nothing like that,better have a test drive with the same sales person on a hill or ascent and ask him to stop car in middle and then move, you can experience what i was saying about.

3.7

Man, this car is a performance beast. I get around 25 kms on highways (Chennai to Trichy) if I do not exceed 90kmps. It has excellent power of 1500cc four cylinder 16 valve DOHC. But maintenance is a problem. Every 6 months we will have to service it and the service cost around Rs.9000.- per service. once the car crosses 30000 kms, honda service people starting that you will have to change the clutch plate, ( which is around Rs.35000/-), change the brakes (Around Rs,18000) after 50000kms starting telling that the shock absorber is to be changed. ( which is again around Rs.20000). The cost of the engine oil is also high around Rs.4000/- approximate which has to be changed every 6 months.
All Amaze User Reviews