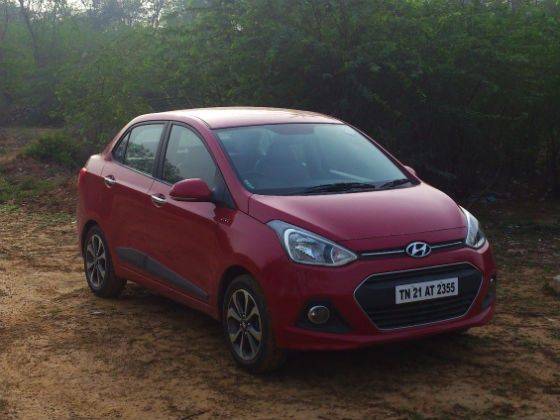 I've been living the life of a commuter this past month. Travel was restricted from home to office most of the time and a short highway stint for midnight dhaba food on the occasional weekend. Plenty of city driving has given me a fair idea of the Xcent, a car that is meant for the urban commuter. The petrol Xcent is going to be used as that precisely and so it's important that of all its strong suits, the Xcent excels at being a city runabout particularly.
The more I drive it through congested roads in Delhi NCR and hunt for those tight parking spots, the more I appreciate the Xcent. Its light inert steering gets a bit too annoying at high speeds but with the kind of maneuverability it offers when I want to weave through sluggish traffic, it's highly appreciated. Commuting in my books should consume the least energy as possible – an automatic or a light clutch, light steering, meaty low and mid-range in the power band and compact dimensions are the perfect combination. The Xcent delivers on each of these attributes and so has impressed me a lot in its first month.
The reverse parking camera isn't just one extra feature you get in an Xcent over other compact sedans, but the necessary feature for those of you who find it difficult to park a car. It's a tough job to deftly park a car in small spots but the ease with which you can do it with a camera as your third eye at the back is something you'd love to get used to.
There are a few things that I didn't like though. The Xcent's front seats though aren't very comfortable. There's less cushioning and the seats are too flat, the integrated headrest is small and low and the side bolstering also feels a bit inadequate. I'm yet to take it out of town for a long drive but it already feels like one can get quickly tired in them. The car also had a power window switch niggle in its first week where the right side switches stopped functioning. These are a free of cost replacement though. Trouble could have been if the windows were rolled down when the switches failed, which luckily they weren't.
I also got to test the efficiency of the car on a regular commute to office which ranged from a best of 15.8kmpl on a very efficient run to a worst of 10.2 kmpl when driven with a heavy foot. On an average, the Xcent returned 12.54kmpl. For my kind of miles on the clock, a petrol car isn't quite the right car for practical purposes, but the smooth Kappa engine, slick gearbox, fantastic NVH levels and the overall ease of driving are weighing in well on the other side. Money well spent at the pumps, less saved in the bank.
Date Acquired: June 20 2014
Total km till date: 3536km
Fuel consumed: 257 litres (Since Last Report)
Efficiency: Best – 15.8kmpl, Worst – 10.2kmpl, Average – 12.54kmpl (As tested)
Cheers: Smooth engine, city-slick
Sneers: Front seats
Total Cost: Nil