Harley-Davidson Fat Boy: Road Test Review
---
Arnold's iconic Harley from Terminator 2 has arrived in its 2018 avatar, and it looks more promising than ever.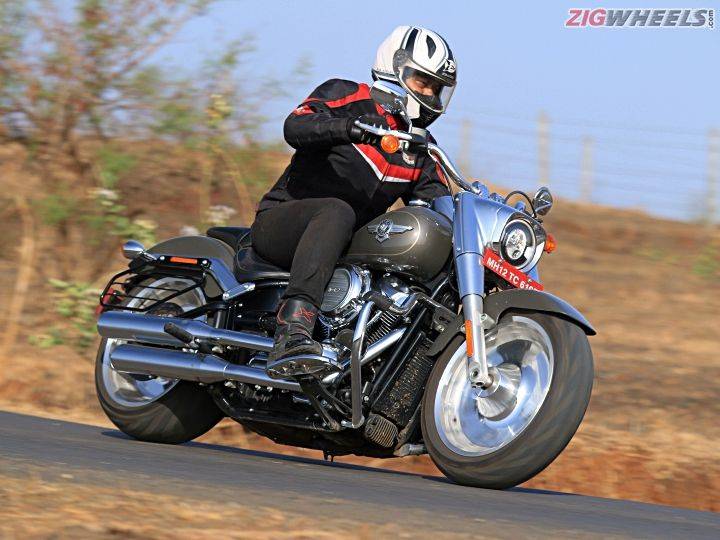 The Harley-Davidson Fat Boy has been around for precisely twenty-eight years now. It gained popularity when it was showcased in Arnold Schwarzenegger's famous movie, Terminator 2: Judgement Day. Since then, the Fat Boy has been associated with the movie franchise and Arnie. Fortunately though, while the age-old imagery has stuck with the Harley-Davidson Fat Boy, the motorcycle itself has evolved in spades.
Oozing With Premiumness

While the design does look modern, it retains the signature Fat Boy elements: the Lakester wheels, the satin-finished metal covering, the now-squarish headlight, and the low and imposing stance. For 2018 H-D has offered a mix of chrome and satin-finish metal to give it a more premium edge and we can't stop drooling over its level of fit-finish. The Fat Boy also gets an LED headlight assembly that gives it a slightly futuristic look. The overall build quality too is top notch and at par with the best in segment. The same is evident from the paint finish and even the quality of welds, which are consistent overall. One bit we didn't like, and was immediately evident, were the grinding marks on either side of the handlebar near the switchgear.

The switchgear, which is standard fare across all of Harley's new Softail range, exudes great quality and the switches work with a soft click. Unfortunately, the horn on our test vehicle had stopped working, and we aren't sure if it was a horn or switch issue, but otherwise every other switch functioned perfectly. The switches, however, don't feature a standard layout and you end up struggling with them to figure out what does what. It's definitely something you need to get used to over time. Even though the mirrors look petite they provide ample of rear vision. This is also courtesy of the low-slung wide handlebar that doesn't require a lot of stretch.

Instrumentation consists of a large analogue speedometer on the middle of the tank with a digital information display for the odo, trip, fuel level, distance to empty and even rpm. While the cluster itself is quite informative, reading it involves taking your eyes off the road and glancing down quite a bit - a rather difficult thing to do on the move. This instrument pod is flanked on either side by two fuel-filler caps, with the real one on the right and the faux cap on the left there just for symmetry.

Coming to the seat, it feels rich but is on the softer side so extensively long rides will demand some stops. Thankfully though, it's quite wide and will even accommodate riders whose body shape matches the bike's name. That said, you need to adopt a wide stance with your legs when you come to a halt as the exposed engine block, transmission box and even the pipes get excruciatingly hot. Same goes for the pillion as well, since there is no heat shield near the foot pegs. This means the pillion's feet are nearly in contact with the exhaust pipes - so boots are a must.
V-Twin Thunder

If you are a diehard cruiser fanatic, you will never want to leave the Fat Boy parked for too long. That's mostly due to its 1745cc, V-Twin Milwaukee Eight motor, which has enough character to excite even the most jaded biker. It's paired to a six-speed gearbox that offers precise, but clunky, shifts. Thankfully though, it isn't as mechanical as the older generation H-D's. That said, slotting into neutral is quite a tough task, and is only easily possible when you kill the engine.

This being a large-capacity V-twin, there are some vibrations, though this motor feels significantly smoother compared to its predecessors. These vibes become noticeable at about 3000rpm, but start cruising on the open road, build up some more revs, and they get ironed out to quite an extent. Overall, it does a wonderful mix of rawness and refinement that should really be a welcome treat to most riders.

The Fat Boy is not only packed with flamboyance and character but packs in some serious grunt as well. Despite weighing north of 300kg it manages to charge off the line to achieve the 0-100kmph sprint in just 5.36 seconds. The numbers could have been better, but the 144Nm of torque is produced in such a fierce manner that the rear wheel loses traction every time this beast is launched.

On the highways, it's a breeze to cruise upwards 100kmph: just shift into sixth and the rpm meter drops to 3000rpm with a barely audible thump. But bear in mind that at higher speeds the wind blast will be a bit agitating. It accelerates quickly in gear too. We were able to manage a 30-70kmph in 3.41 seconds in 3rd gear while 40-80kmph in 4th gear was achieved in 4.13 seconds. So overtaking traffic should be dealt with in a jiffy. In the city, the Milwaukee Eight manages to offer decent rideability. In 1st, 2nd and 3rd gears, the motor will pull fairly comfortably from really low speeds. Slot the gearbox into higher gears though, such as 5th and you'll need to keep your speed above 50kmph. And in 6th, it's best to stay at 60kmph at least. But this is what you can expect from large capacity V-twins, so while we do appreciate the commendable roll-on figures, a little more low-speed tractability would have been welcome.
On the efficiency front the Harley-Davidson Fat Boy manages to offer 17.2kmpl in city and 25.7kmpl on the highway. The same was achieved without exceeding the 50kmph mark in city and maintaining a speed limit of 100-110kmph on the highway.
Does it handle or dangle?

By the looks of it, the Fat Boy doesn't come across as a great handling machine, and well, it isn't one either. It's a proper muscle bike that loves straights, but when it comes to corners, you need to muscle it to bank in. And that's thanks to the widest tyres ever seen on a Harley: 160/60 R18 at the front and an even fatter 240/40 R18 rear. Once its leaned over, it does inspire confidence, but push it too hard and you will scrape the footboards. The other downside of the mammoth tyres is the extremely large contact patch that makes the bike tramline along cracks and crevices on the road. Then there's the question of taking U-turns. While getting the bike off the stand doesn't require much effort, turning the bike around isn't easy at all. Here, you not only have a pretty large turning radius that's comparable to a car's, you can feel its weight here too.

Speaking of ride quality, the suspension adds to the plush ride offered by the Fat Boy. The H-D comes equipped with Showa Dual Bending Valve forks, previously seen on the Touring range, and a monoshock at the rear with a remote preload adjuster. These forks aren't just lighter but irons out almost every undulation and handles bumps of every size and shape with finesse. That said, due to the low ground clearance, you need to take extra caution while dealing with deep potholes, tall sharp bumps and even relatively smaller bumps (with a pillion on board).

The tyres provide ample of grip under hard braking without any screeching or drama and the ABS also works brilliantly. The front brake feels a bit numb, while the rear provides relatively better feedback. The bike manages to stop from 100kmph in 50.16 metres, which going by its girth and weight, is a bit underwhelming, but completely understandable.
All said and done, the ergonomics are cruiser-typical and relaxing. But that isn't the case with a pillion on board. The pillion seat is petite and there is no backrest either. As a result, spending even 15 minutes on the bike with a pillion becomes an unforgiving experience, especially when you combine it with the fact that in our traffic and climate conditions, the Fat Boy does have a lot of heat coming off the engine, cooking your lower body.
Does the Fat Boy live up to the premium price tag?

For the princely sum of Rs 18.11 lakh (ex-showroom) you pay for the Fat Boy, you get a lot of eyeballs in your direction with a lot of premiumness that very few bikes match. And it's undoubtedly a bike that will attract a lot of members of the opposite sex with its massive bling factor.
However, thanks to its imposing bulk, heavy handling characteristics and the sheer heat that it emanates in traffic, the Fat Boy is not something you can easily live with on a regular basis. If pillion comfort and riding long distances is your priority, then we do recommend checking out the H-D Heritage Classic. That said, on outright charm and poser value, and quoting the occasional "Ah-nuld" line while astride, there's really no outdoing the Fat Boy.
More on Harley Davidson Fat Boy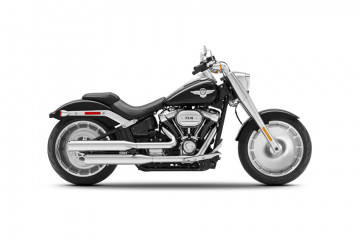 Rs. 18.25 Lakh Onwards
Ex-showroom, Delhi
See what our community has to say!
NEW
India's largest automotive community