New Q3 vs X1 vs GLA : Spec Comparison
---
Audi has refreshed the Q3 entry-level luxury SUV for MY2017. How does it stack up to its competition now?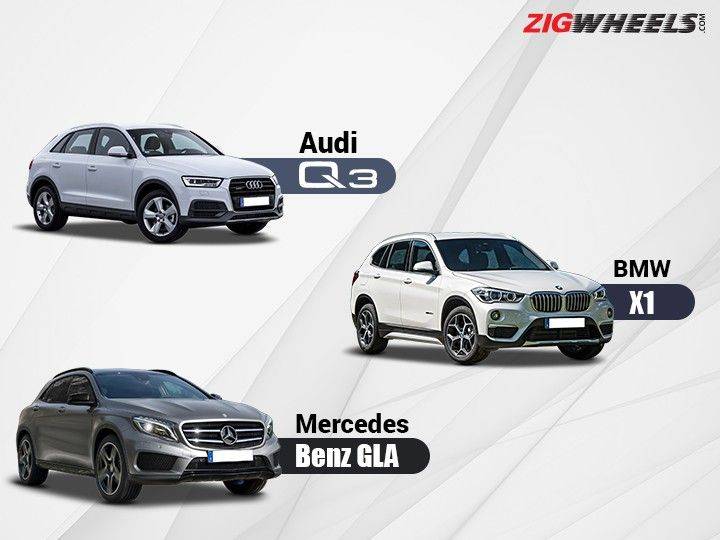 The Q3 remains a very important vehicle for Audi in India; not only is it popular because it serves as a stepping stone to the brand in the country but also because it is an SUV/crossover. When first launched in June 2012, the Q3 clobbered its only competition - the BMW X1 - because of its price and design.

The launch of the Mercedes-Benz GLA in November 2014 and the launch of the all-new BMW X1 in February 2016 at the Indian Auto Expo has eroded the advantage the Q3 had. Anyway, till Audi comes up with the all new Q3 later, the current generation will soldier on.

Slightly updated exterior design, updated powertrain, new variants with more standard equipment etc. may help the 2017 Q3 stack up against the competition better, Audi hopes.
Dimensions

Before BMW launched the all-new X1 in India, the Q3 had a visual advantage in the segment because it was the tallest. The new X1, though, takes that advantage away from the Q3; it is now taller, longer and has a bigger wheelbase than the Q3. This not only gives the X1 better road presence but also frees up a lot of space on the inside. The Mercedes-Benz GLA has a bigger wheelbase as compared to both the other competitors here, but loses out on interior space due to its low roof.
Engine, Transmission and Performance
All the SUVs/crossovers in this comparison have both FWD (front-wheel-drive) and 4WD (4-wheel-drive) variants. The Mercedes-Benz GLA is the only one in this comparison to be also offered with a petrol and a diesel motor, while the other two are only offered with diesel motors. All the SUVs here have automatic transmissions.

When comparing the FWD variants - the BMW X1 beats the competition in terms of performance, especially the Q3. As compared to the Q3, the BMW X1 is 40PS more powerful and develops 60Nm more torque. The interesting thing is that though the GLA is not as powerful as the Q3, it is only slightly slower to 100kmph, this may be because it is lighter or because its larger displacement engine develops more power and torque lower down the rev-range.

The 4WD drive variants of the cars in this comparison are more evenly matched. The BMW X1's huge advantage in the FWD comparison is not reflected in the 4WD comparison. The Audi Q3 has the slowest 0-100kmph time, even though it is more powerful than the GLA.
In conclusion, the new Audi Q3 is not the leader in the segment if the specs are compared, maybe it offers better value? Features comparison coming soon!
See what our community has to say!
NEW
India's largest automotive community