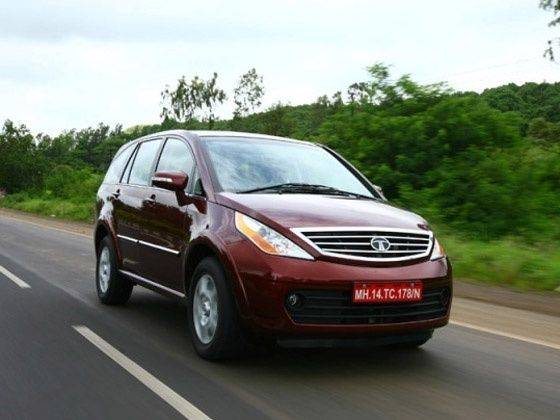 The Aria crossover was designed to be the next-generation flagship vehicle from Tata when it was launched in 2010. It comes loaded with features and technology and its 4X4 system gives it an edge in its segment.
However, India was not ready for a crossover with a price tag of Rs. 15.58 lakh (ex-showroom, Bangalore). Tata knocked off the four-wheel-drive system in August 2011 and launched two-wheel drive versions of the Aria to bring down the price.
And now, it has taken another step to bring the starting price of the Aria under the crucial Rs. 10 lakh price bracket. Priced at Rs. 9.95 lakh (ex-showroom), the Aria Pure LX is a two-wheel-drive model with a few bells and whistles knocked off.
Tata has been clever about the way they have removed equipment from the Aria Pure LX. Most of the goodies like keyless entry, driver information system, pillar-mounted dual air-conditioning units, all-round disc brakes, ABS with EBD and traction control, projector headlamps and fabric upholstery have been retained.
What Tata has skimped on are airbags, stereo, front fog lamps, some chrome garnish, roof storage compartments, body-coloured rubber strips on the doors and follow-me-home headlamps. The Aria Pure LX also gets a single mass flywheel as opposed to dual mass units on other models.
Still, the Tata Aria in its Pure LX trim with a sticker price of Rs. 9.95 lakh holds good value. As a seven seater, the Aria Pure LX is more affordable than the base model diesel Toyota Innova that retails at Rs. 10.69 lakh (ex-showroom Bangalore).
Also read: Tata Aria: Special Coverage