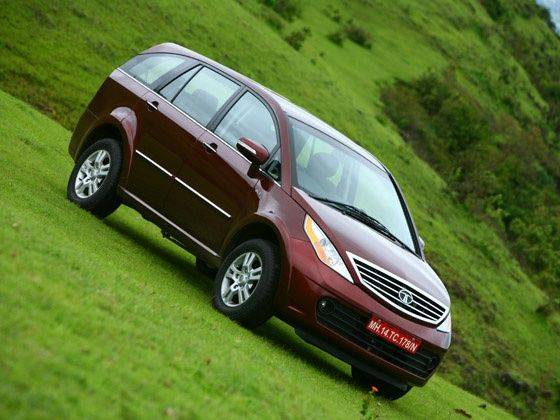 Almost all the mechanicals and the drivetrain remains the same barring the fact that the central diff and drive to the front wheels has been eliminated. This vehicle which is powered by the latest version of Tata Motors' DiCOR 2.2-litre turbocharged direct injection common rail diesel engine has now been brought into the MPV mainstream and makes a good package against the established leader in this class, the brilliant Toyota Innova.


Three versions of the new rear wheel drive only Tata Aria have been announced by its maker with the Aria Prestige being top of the heap with a price tag of Rs. 14.26 lakhs, ex-showroom Delhi. For this one gets all the bells and whistles including ESP and Traction Control, cruise control also makes an appearance while rain sensing wipers and darkness sensing headlamps continue the rich equipment list on this top end version.


We just hope that they have got the GPS navigation system though to work spot-on unlike the one we had tested in the early all-wheel drive Tata Aria at launch. The next version below the Prestige is the Aria Pleasure while the base version is the Aria Pure which gets the range ticking with a price tag of Rs. 11.61 lakhs, ex-showroom, Delhi. It will take more than just a nifty price tag to muscle its way into Innova territory and Tata Motors would need to have the basic Aria product absolutely bug free to make consumers look at it afresh.


Upping the refinement quotient would be another key factor and we just hope that basic fit and finish details are met with just as they would be for the Innova. With the advent of the rear wheel drive models, the Aria portfolio now stands at a total of six models with varying levels of trim and equipment. Fine move but one which we anticipated right at the start when it was launched, Tata Motors obviously trying to adopt a top down strategy for its highly innovative people mover.

Tata Aria 4X2 Variant Wise Pricing (ex-showroom Delhi):
Pure: Rs 11.61 lakh
Pleasure: Rs 12.61 lakh
Prestige: Rs 14.26 lakh