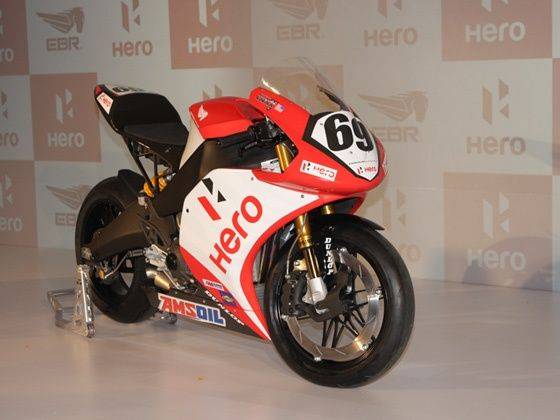 As a diehard motorcyclist I welcome the announcement of a bike maker aligning itself with a specialist genius with racing in his DNA. The obvious delight of riding a high performance machine is second to none but the requisite skill and survival sets for the riders to really feast and thrive on the obviously extreme of such bikes is something only a minority can handle, let alone master.
The words Erik Buell makes me drool because here is the Yankee master of the superbiking art. A man who has fused venerable bent twin irons made by Harley-Davidsons into sweet handling chassis meant to propel riders quickly around a race track in time honoured flat out form. It was this American alternative to the Japanese Big Four and the artistically inclined European bike makers, which made Buell distinctive. So much so that while his bikes were no winners in the aesthetic stakes, they were pretty effective around a race track, on their day.
Erik Buell gave new meaning and zing to archaic Harley-Davidsons and America's long standing bike maker reveled in this new found feeling. However there is only so much you could do with the motor you have and even with innovative chassis and suspension systems plus a whole new approach to the art of the superbike, the entire Buell (Read : History of Erik Buell Racing) superstructure couldn't quite match the ambitions of Harley-Davidson. I must digress here and state that what Harley-Davidson saw in Buell was good enough for them to buy it lock, stock and barrel. The honeymoon was great and everyone expected the offspring to be even lustier thoroughbreds.
Expectation is one thing and reality is quite another. Of course time is also of the essence and nurturing a brand alien to the parent brand's DNA takes even more effort. The Buell brand didn't survive long within Harley-Davidson and more than that it didn't have the gravitas of other vee-twin engine superbikes the world adores, viz Ducati. Given the fact that there wasn't much which made sense to the balance sheet, Harley-Davidson just jettisoned Buell in the blink of an eye and while enthusiasts around the world, like yours truly included, were saddened by the treatment and the abrupt manner Erik Buell and his small team were told to pack up, the situation was just about irretrievable. Heck, just think that Harley-Davidson also had picked up none other than another iconic Italian bike maker in the form of MV Agusta and they didn't have any hesitation to consigning it off when it didn't make sense.
So what became of Erik Buell one might well ask and the fact is that he went back to his roots – the racetrack. Keeping his 1190RS superbikes (Read : About The Buell 1190RS) , a large shed with a handful of CNC machines and a small staff component, he began to get back to making Harley-engined superbikes on special order. And also to help some of his customers hit the racetracks with them. Once a racer, always a racer, I say.
And that's where he stood in my mind, a hero of sorts for many who looked at him as a forlorn David taking on the Goliaths of the superbike world. Until today afternoon that is when Hero MotoCorp stunned everyone when they announced "an alliance" with EBR. I don't know of a marriage or a flirtation that is so skewed but maybe this is the reason why opposites could attract and should have been the catalyst for such an alliance.
The Hero MotoCorp pres note clearly mentions and I quote "HMCL will receive support in terms of cutting-edge technology and design to develop future models from EBR, a firm which specializes in designing and manufacturing powerful and high speed motorcycles.'
All well and good so far and also completely contrary to the "fill it, shut it, forget it" Hero mantra stands for. And what I find even more baffling is the fact that while I hold Erik Buell in very high esteem for what he has done with Harley-engined sports bikes on the racetracks, there never was a bigger racer and racing enthusiast in the two-wheeled world than Soichiro Honda. Wonder why this aspect wasn't taken cognizance of all these 27 years the Hero-Honda JV was in existence.
Here is where the prudent mantra of horses for courses was so overwhelmingly a Honda strength and approach as also the need to just do what it took and not more to make those cleverly simple bikes that put billions of impoverished Indians on the move. Sad to say this is an area where Buell has next to no experience of. I may be wrong if I have made such a statement but the world hasn't seen much from Buell on this count. But then the ethos and the essence to do high performance machines is so much an art and a passion as well as a science which is all about high tech engineering, precision craftsmanship and modern technology. In contrast everyone in the automobile world always says that it is easier to do a sports car than a small family hatchback and the same analogy holds good for what we see unfolding here.
My statement can come a cropper though if only for the welcome reason that Hero MotoCorp does intend to make superbikes and if that be the case, they have a modicum of potential to go down this route with Buell. However, the bikes would need to be made in India if they have to be cost effective, not to mention have an aura around them with Hero writ large in the sub-conscious otherwise it will be like Chinese-owned Italian brand Benelli which is floundering.
Hero MotoCorp & Erik Buell Racing (EBR) : Complete Coverage!
Hero MotoCorp has the immense foresight to see things through in the period ahead. They have a Honda hand with them till the next year and also the present crop in their portfolio will not be erased for another two to three years at the most. What Hero MotoCorp has in abundance is goodwill and great ambassadors from the billions they have sold in this country and that is something even Honda will give an arm and a leg for. Must make a point of mention here and that is the fact that the billions also owed it to the second part of the manufacturer's name which read Honda and the Japanese numero uno is not sitting idle, knowing exactly where and which segments to target. Not in a bid to go one up on its former Indian partner but just do what the market needs and expects from the Big H! And when a determined Honda gets going, the results could be painful! Ask Yamaha that, they are still running battle scarred!
However, Hero MotoCorp starts from virtual scratch as regards its own product development capabilities. One cannot buy R&D and the technology needs to be understood and absorbed. You can fast pace this soak-up but you cannot do it overnight. This is the one chink in the armour which everyone realized as also the brave men within Hero MotoCorp themselves. So even when you get an Erik Buell or a Claudio Domenicali on to your side, there will be a certain lead time for both partners to first understand each other and then try to do things what the other wants!
The good thing is that there are no illusions within Hero MotoCorp and that's the reason their executives have been seen doing the rounds of every decent engineering consultancy the world over trying to shore up agreements and alliances. Nothing wrong in that and also it is the done thing but I am not yet sure and confident of the produce which will result from EBR and Hero MotoCorp getting into a relationship.
After Harley-Davidson pulled the plug on the Buell Motorcycle Company, Erik Buell went back to his roots and his present set-up is all about nimbleness of mind and action. How he can get to do something for Hero MotoCorp in the genre of products the Indian company is known for would be his most challenging project ever. And given the fact that history has shown nothing works more emphatically for the Yanks than the "there's no substitute for cubic inches" maxim, surely the lack of cubic centimetres could throw up interesting situations for the duo!
Another aspect is Hero MotoCorp's growing ambitions to flex its production might globally and that is no bad thing. However, when the next set of emission standards progresses from Euro IV to Euro V and Euro VI, the mechanical hardware to meet not just legislation but yet continue to deliver Honda-like "fill it, shut it, forget it" performance will be under tremendous pressure. I hope EBR and Hero can cut it here on this important count.
Hero MotoCorp & Erik Buell Racing (EBR) : Complete Coverage!
Another aspect which I am sure has even more ramifications is the fact that Hero MotoCorp has thought about going bike racing. I am all for manufacturers hitting the racetracks but only for the right reason. Improving the breed is the most important aspect to get into the sport as Honda has always professed and profited from. However, even Honda started small, climbing from the lower rungs of the ladder but in the best, the toughest and the most open category of them all – Grand Prix racing! It won titles in 50cc, 125cc, 250cc, 350cc and 500cc categories and the biggest bikes it had till then were 500cc twin cylinder machines. It learnt from its Grand Prix racing exploits and turned out the classic CB750-4, the world's first superbike and since then it has never looked back. However, this masks an even bigger story which many have overlooked: Honda never wavered from the faith and its Cub step-thru continued being manufactured the world over for humble commuting, selling in the billions. It continues in the same vein to this day, upgraded regularly and with incremental improvements, which keep the character simple, and the operational ability top class.
There is another inevitability of bike racing and that it has the ability to make many millionaires. Out of billionaires that is! if one doesn't get into the game with the right people and the right approach as well as the correct mind set. It is a one way ticket to feeding in the green bucks till one hits pay dirt but the chances of that on a small budget or an even bigger one are just about the same – minimal! It is racing experience and technological backing which is at the heart of the sport and when you have the might of Honda, Yamaha, Kawasaki and Suzuki from the Orient ranged against Ducati, BMW, Aprilia and KTM from Europe, the Hero-backed EBR set-up will need to be at its innovative best to try and stay up close, let alone get to upping the ante. It is a fascinating scenario and one that will delight and infuriate fans in equal measure on both sides of the (Atlantic) pond but if successful will write a whole new page in motorcycling history.
Hero MotoCorp intends to pluck a leaf or two from Honda's book but in the present day scenario, the series it is getting into is a pure American based championship and I think it will enhance the EBR brand more than anything else. Only if the EBR sports bikes, should they come with Hero branding, are going to be produced in decent numbers and sold over the counter given a decent sales channel in the US will this partnership work. It is early days yet and there was nothing to confirm this line of thought or rather anything to any effect at the press launch in Delhi.
I am sure that one could hurl the same accusation towards Mahindra Racing getting into Moto3 and on the face of it this seems valid until you see the scale and the scope of what the Mumbai-based giant is doing. It has its own engine, its own development team, its own chassis and its own leadership spearheading the racing effort. Makes for a world of difference on this count. However, the greater devil and the scare, if that is the exact word to employ, for Hero MotoCorp's future aspirations to stay up front is Bajaj Auto. This company has people; processes and programmes focused on motorcycles and bike markets the world over. Its relations with Austrian bike maker KTM is key for a host of product development which benefits both and the product spread is complementary to so many segments in which they operate in. However, unlike any one else, its relationship with Kawasaki is second to none and even though it is of a technological and marketing nature, the flow of such in the smaller classes is now from India outwards rather than what it was earlier! Ind-Suzuki, Kinetic-Honda, Escorts-Yamaha or even Hero-Honda cannot match this aspect. And most important of all, with no disrespect to anyone within the entire industry, having the right biking people at key rungs of the ladder is the most important criteria.
The scenario of going bike racing is a very expensive proposition if both partners are unaware of what they are doing. If one is knowledgeable and the other disproportionately lacking in competition techniques, it would be a highly incongruous operational scenario, but not improbable! The reverse also stands true but this is all conjecture at this point. The real issue is not about EBR being a replacement for Honda, no one can be and that is a clear fact, but Hero MotoCorp will need to do many more alliances to try and cut short deficiencies that are apparent on the product development and R&D front sans the Honda JV having been annulled. I do know for a certain fact that Hero MotoCorp has spoken with Tokyo R&D in Japan, with specialists in Italy, Austria and the UK and what needs to be done is all about time to market and development capabilities. Tech consultancies can draw up a product and even come up with a handful of prototypes but engineering the product for mass manufacturing with all the finesse of a Honda will be the biggest challenge.
This straight off the cuff analysis wasn't meant to be disrespectful of Hero MotoCorp and EBR just that it doesn't meet the eye nor does it gel in the mind. We have heard that politics can lead to strange bedfellows but then the automotive industry is also strewn with many incestuous scenarios, and while EBR has no Honda link, Hero MotoCorp will now have to play it rather differently where performance of the open it, wring it to max and zoom off into the distance will need to find just as much relevance as fill it, shut it forget it. And lest one forgets, Honda Motorcycle & Scooter India has, what we think, the most fuel efficient motorcycle of them all, ready for launch in India next month! Talk about timing!
Hero MotoCorp & Erik Buell Racing (EBR) : Complete Coverage!