Here's How The Upcoming Benelli TRK 800 a.k.a SRB 750 Will Be Kitted
by Gaurav
Aug 27, 2020
Views : 10977
---
QJ Motors' upcoming ADV, the SRB 750, will be offered as the Benelli TRK 800 in select markets
The SRB 750 takes a few design cues from the Tiger 900.
However, expect Benelli to give the TRK 800 a distinct identity.
754cc parallel-twin motor borrowed from Benelli's Leoncino 800.
QJ Motors will offer the SRB 750 in four variants.
The ADV is likely to be launched in India by late-2021.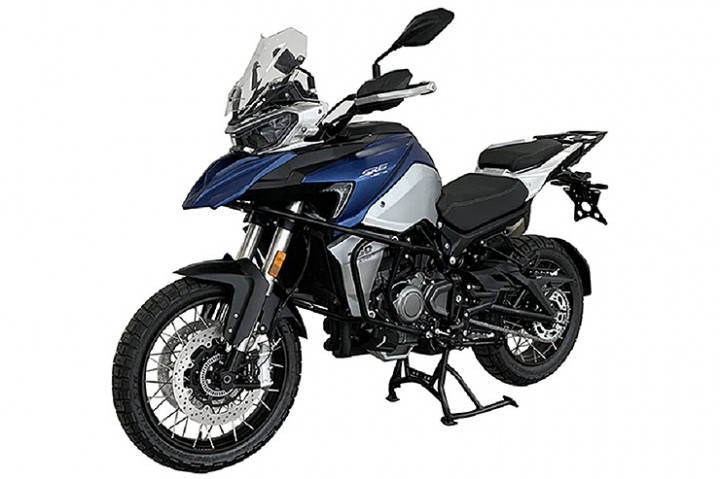 QJ Motors has revealed a few specifications of its upcoming ADV, the SRB 750. Wondering why we should be bothered by the latest information. Well, if you've been following us for a while, you'll know that the SRB 750 will be tweaked and sold as the Benelli TRK 800 in select markets including ours. So without further ado, let's take a look at what's been revealed.
Also Read: EXCLUSIVE: Big Benellis To Make You Wait For A While
QJ Motors has announced that the SRB 750 will be offered in four variants, two of which will be road-biased while the remaining will be off-road centric versions. Both versions will feature budget-friendly options to make the SRB 750 more accessible to enthusiasts. While all models share the same tubular frame and long-travel suspension, it's the mixture of the rest of the underpinnings that will set them apart. To begin with, there will be two different designs for the swingarm: one made of expensive cast aluminium and the other from relatively more affordable tubular steel.

The following table will give you an idea of the kind of hardware each variant packs. Bear in mind that we don't have the exact names of these variants yet.
| | | | | |
| --- | --- | --- | --- | --- |
| Benelli TRK 800/ QJMotor SRB 750 | Road-biased base variant | Road-oriented top-spec | Off-road base variant | Off-road top-spec |
| Tyre - Front | 120/70 ZR17 | 120/70 ZR17 | 110/80 R19 | 110/80 R19 |
| Tyre - Rear | 180/55 ZR17 | 180/55 ZR17 | 150/70 R17 | 150/70 R17 |
| Brakes (F/R) | Non branded twin discs, single disc | Twin discs, single disc from Brembo | Non branded twin discs, single disc | Twin discs, single disc from Brembo |
| Swingarm | Tubular swingarm | Cast aluminium | Cast aluminium | Tubular steel |
| Wheels | Alloy wheels | Alloy wheels | Spoked wheels | Spoked wheels |
| Panniers | Optional | Optional | Optional | Optional |
For starters, the top-spec road-biased SRB 750 will feature a cast aluminium swingarm and radially-mounted calipers from Brembo. The same goes for the off-road-oriented model which gets Brembos but a tubular swingarm, possibly to suit its off-road intentions.
Now here's the part that puzzles us. The standard road-biased SRB 750, which gets non-branded clippers, features a tubular swingarm, suggesting that the choice of swingarm is a cost saving measure. However, the standard off-road version comes with the rather expensive cast aluminium swingarm and non-branded brake calipers. All fours variants will have the option of panniers that increase the weight of the bike from 236kg to 256kg (kerb).

Powering the bike will be a 754cc parallel-twin engine with a claimed output of 81.6PS. That's similar to that of the Leoncino 800, but around 4PS more than Benelli 752S. The motor will be offered with a 6-speed transmission.
While the upcoming Benelli TRK 800 will be based on the SRB 750, it will have its own unique identity. So expect the TRK 800 to look quite different. Benelli could also simplify its TRK 800 range by opting for one of the two types of swingarm offered with the SRB 750. So it goes without saying that we can't wait for Benelli to announce the specifications for the upcoming TRK 800.
Benelli TRK800 Alternatives