UM Motorcycles Inaugurates Its First Dealership In Pondicherry
Feb 27, 2017
Views : 4948
---
Along with the UM Renegade Commando and the Sport S cruisers, the dealership will also offer UM branded accessories and after-sales service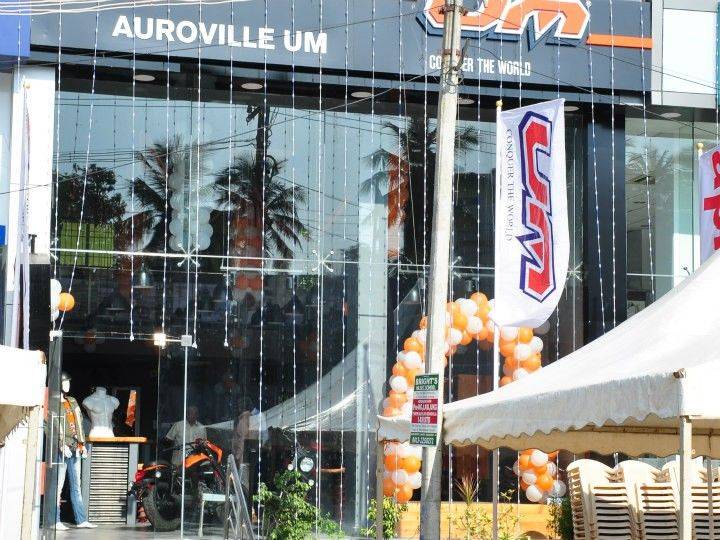 UM Lohia Two Wheelers Pvt. Ltd has inaugurated its first dealership in Pondicherry. It is the 3rd UM dealership in South India and 18th in the country. The dealership is located at M/s Western Motors, No-108, East Coast Road, Pakkamudianpattu, Pondicherry, and is spread over a total area of 2888 sq. ft out of which 1328 sq. ft is showroom space and 1560 sq. ft is for sales and service support. The entire range of UM riding accessories and spares will also be available at the dealership.

Apart from sales and service facilities, the showroom will also be part of the 24x7 Roadside Assistance Programme (RSA) that is already being offered by UM across all other showrooms in the country. UM has started the service from January 1st, 2017 and it is available for all the models offered in the country.

While Inaugurating the showroom, Rajeev Mishra, CEO – UM Lohia Two Wheelers, said, "The South Indian market is the key market for UM Motorcycles; contributing nearly 60% of the total two-wheeler market in India. Our aim has always been to reach out to our potential customer base. Pondicherry is the third dealership we have inaugurated in South India after Cochin & Bengaluru. This part of the country has excellent highways through forests and hills making it an ideal playground for cruiser motorcycles. We are confident that we shall get a good response from motorcycle enthusiasts in Pondicherry and surrounding areas. Our unique form of motorcycling is centred around the idea of a perfect connect between the rider, his bike and the terrain he rides through; we call this Pure Motorcycling. We have been working very hard to create motorcycles that engage deeply and are a pleasure to ride in real world riding conditions. With a perfect combination of looks, aesthetics and handling, our UM machines provide an unmatched biking experience. This dealership will house our flagship products Renegade Commando and Renegade Sports S."

The UM Renegade Commando and Renegade Sport S have been priced at Rs 1.67 lakh and Rs 1.61 lakh respectively (ex-showroom, Pondicherry). Both the bikes are manufactured locally at Lohia Auto's Kashipur facility in Uttarakhand.