Ujet Launches A Folding Smart Scooter At CES 2018
---
Luxembourg-based company Ujet unveiled a smart scooter at CES 2018 in Las Vegas, the world's largest electronics fair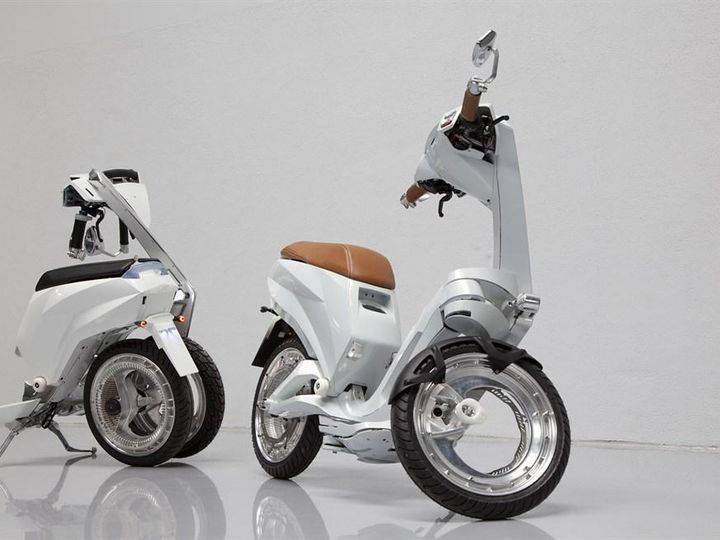 The Ujet seen here looks, unlike anything we've seen before. It is constructed from an asymmetric frame that is articulated in the centre, giving it the ability to fold easily in just 5 seconds. The folding nature has been developed expressly so that you can carry it anywhere along with you, in the same way, you would wheel a travel bag around. Ensuring ease of manoeuvrability, it is constructed from carbon fibre and lightweight alloy parts. Several of its components are interchangeable and can be customized to your liking as well, with two seat heights and two body designs to choose from.

It is powered by an electric motor that can be fully charged in 2 hours. Power output stands at 5.4PS, with a claimed torque output of 90 Nm. Top speed delivered is 45kmph. The battery range available differs depending on the model you choose, with the standard one offering 80km and the top variant delivering 160km in one full charge. The battery pack itself can be detached from the scooter and wheeled to an electric point for easy charging.

The Ujet also gets the best of communication technology, with connectivity options for 3G, GPS, WiFi and Bluetooth. Apart from the fact that the scooter can be unlocked and started via your smartphone, it also gets a fully digital instrument panel that allows you to connect your phone to configure the scooter. You can even get social media updates, access the web and view the world via an onboard HD camera. The scooter also gets built-in speakers and a slot to power mobile devices via its 'power bank' mode.

One of the more innovative bits on the scooter is that its wheels don't rotate on the shafts and bearings seen on conventional scooters; instead, it gets external bushings. Braking is taken care of by perimeter disc brakes with an internal calliper. The empty wheel configuration houses a revolutionary suspension system which is designed to offer a highly plush ride (as is claimed by Ujet).

Ujet confirms that it has already started manufacturing the scooter at the end of 2017. It is set to go on sale in Europe soon, later on entering Asia and the United States. However, you need to consider the fact that future doesn't come in cheap. The Ujet costs around Rs 6.16 lakh for the standard model, which offers around 80km of range, or Rs 7.04 lakh for the one that offers a range of 160km.
See what our community has to say!
NEW
India's largest automotive community