Two New Tesla Models Confirmed; Pickup To Follow Model Y
Dec 28, 2017
Views : 3549
---
While the Model Y is likely to be an affordable crossover, the pickup, as Elon Musk quoted in a tweet, will have a "game changing feature"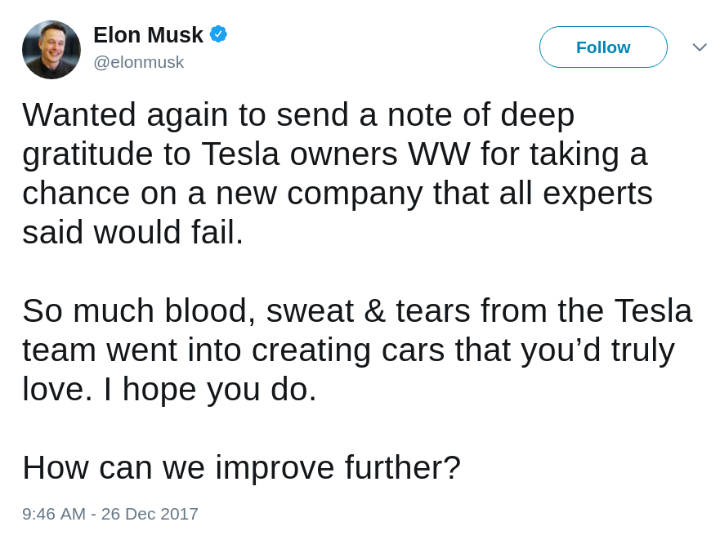 Tesla's resident twitterati, Elon Musk, who is also the CEO of the electric carmaker, is renowned for, every now and then, revealing where the company is heading in terms of expanding its product portfolio. In his latest tweet wherein he had asked for suggestions from Tesla fans on "How can we improve further?", he received a reply on how an all-electric pickup would do wonders for the company. Musk wasted almost no time to reveal that a Tesla-marked pickup will surely come after the Model Y. In essence, two new Tesla models are being developed to cater to a larger consumer base and we are particularly excited about the Model Y.
Also Read: Tesla Delivers First 30 Units Of Model 3 To Owners
What is the Model Y?

In layman terms, it will be an all-electric crossover underpinned by the same platform as Tesla's sedan of the masses, the Model 3. That means, the Model Y will be to the Model 3 what the Model X is to the Model S. Another design element that is likely to feature on the Model Y are 'Falcon Wing' rear doors like the Model X. No points for guessing, the Model Y will share its powertrain options with the Model 3 as well. The Model Y is likely to be unveiled towards the later half of 2018 and will hit showrooms in early 2019.

Out of the two new models confirmed, it is the Model Y that is expected to make it to our shores as well. With its swollen proportions, it is unlikely to undercut the Model 3 in pricing. That said, it will be considerably less expensive than the S and the X.
Also Read: Tesla Teases Upcoming Model Y
Tesla Pickup Truck Coming Within 2 Years

Soon after Musk confirmed that a Tesla pickup is in the pipeline and that the "core design/engineering elements" of it had been in his mind for nearly half a decade, he was asked whether it will be similarly sized to Ford's F150. In response, Musk wrote, "Similar total size. Maybe slightly bigger to account for a really game changing (I think) feature I'd like to add". What will be that game-changing feature? Can we take something from the sketch shown a few months ago when the Tesla Semi was unveiled? Back then, he quoted: "It's a pickup truck that can carry a pickup truck. By the way, you will actually be able to drive that with a normal driver's license. It's kind of wrong, but I like it."

Whatever it may be, Tesla's pickup is at least a couple of years away from entering production. We expect the company to reveal a concept in the flesh soon after the Model Y goes on sale. As far as the Indian market in concerned, Tesla won't bother introducing the pickup. It is a case of 'many have tried and none have passed' in our country.