Top 10 Reasons Why You Should Buy the Mahindra e2oPlus
by Aakash
Oct 25, 2016
Views : 4838
---
The e2oPlus is another all-electric car from Mahindra that now has four doors, goes up to 85kmph and can go 140km on a single full charge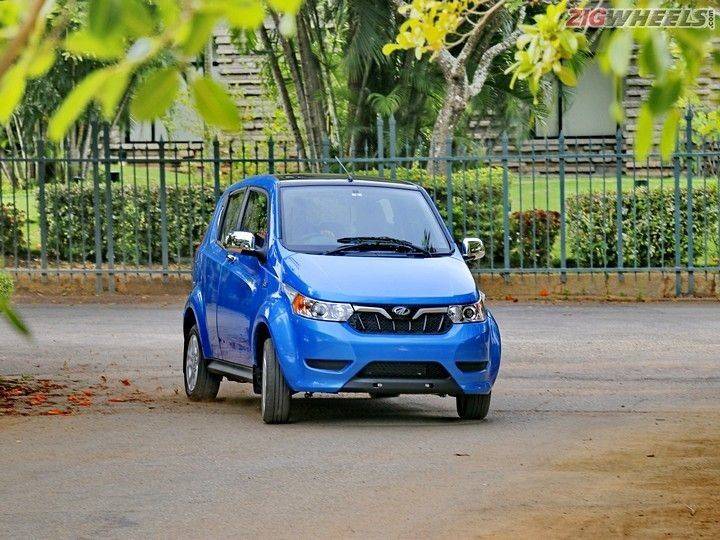 Mahindra has finally launched the e2oPlus, making its flagship zero-emission car more practical. It also offers better performance and a greater travel range, making the package all the more attractive. However, since it is an electric car, it may seem like a gamble to many interested buyers, leaving many wondering exactly what the e2oPlus brings to the table. So, here are 10 reasons why you should consider buying one:
1. Power
The e2oPlus has a 210Ah lithium-ion battery pack that fuels the car's 3-phase electric motors. The final output is 26PS and 70Nm in the P2, P4 and P6 variants, and 41PS and 91Nm in the P8 variant. It is not the power figures you should be concerned about. The car has a two-speed direct drive transmission and its torque output is, hence, instantaneous. It's not meant to win any drag races, but the performance is enough to potter about in the city at a good pace.
2. Reduced range anxiety
The e2oPlus has a 140km travel-range on a single charge. Before you shun the figure as nothing great, consider this -- you would not buy an electric car for intra-city travel but just urban runarounds. In that respect, the charge should see you through a day or even more.
3. Faster charging
The e2oPlus can be fully charged in 6 hours. However, if you are not amused by the figure, then Mahindra will also offer a fast charger for the car that should see its batteries return to 95 per cent capacity within 75 minutes.

4. Four doors
Yes, unlike the e2o that comes with just two doors, the e2oPlus comes with four doors. Additionally, the increased dimensions have translated into better cabin space than the e2o. You don't have to bother sliding the co-driver's seat ahead every time you have to transport four people in the car.
5. Remote diagnostics
Can you name a car that costs less than Rs 20 lakh that offers remote engine diagnostics? The e2oPlus does and it does not cost a bomb either (here's what it costs). What makes it unique and worth talking about is you can easily monitor the functions of the car, making it easier to diagnose and fix any issues.

6. App connectivity
Mahindra has rolled out an app for e2oPlus users. Through this app owners can not only know where their car is, they can also operate the air-conditioner or lock/unlock the doors remotely. From performance metrics and health reports to charging schedules, everything is in your phone!
7. Infotainment
The e2oPlus has an Android-based infotainment unit. In a world where manufacturers build into their infotainment units features like Android Auto and Apple CarPlay, this is unique. While we await the arrival of Android Auto in sub-Rs 10 lakh cars, at least in the e2oPlus, you can experience what it may be like when Android Auto comes down to mass market cars.

8. Zero emissions
An electric car may not be as easy to live with as a petrol/diesel powered car, but the fact that you do not contribute to polluting the environment is a worthy trade-off. Now, you will not be undoing all the damage done to the environment in one go, but every little bit helps. Since electric cars do not pollute, they're also safe from any regulations that limit or control the usage of cars.
9. Save money
Using an electric car means you will not be paying money to get your car refuelled. With fuel prices only climbing, you spend quite a bit on your car's running costs. An electric car requires you to charge it up at home/your workplace, which will definitely cost you but not as much as any conventional fuel.

10. Cool quotient
Here's the point – the e2oPlus looks quirky. Its design may not be universally appealing, but it is distinctive. You may not identify each and every vehicle on the basis of how it looks, but you can always tell an electric car apart. Since not many all-electric cars exist in the world, having even one makes the owner stand out positively from the crowd. After all, he/she is not polluting the environment, is not making noise, and is still driving a car and enjoying every bit of it (subjectively speaking).
Agree with our list? Feel free to share your thoughts in the comments below.