Tata Motors Reveals Ziptron EV Powertrain Technology
Sep 19, 2019
Views : 8820
---
It could make its debut in the upgraded Tata Tigor EV slated for March 2020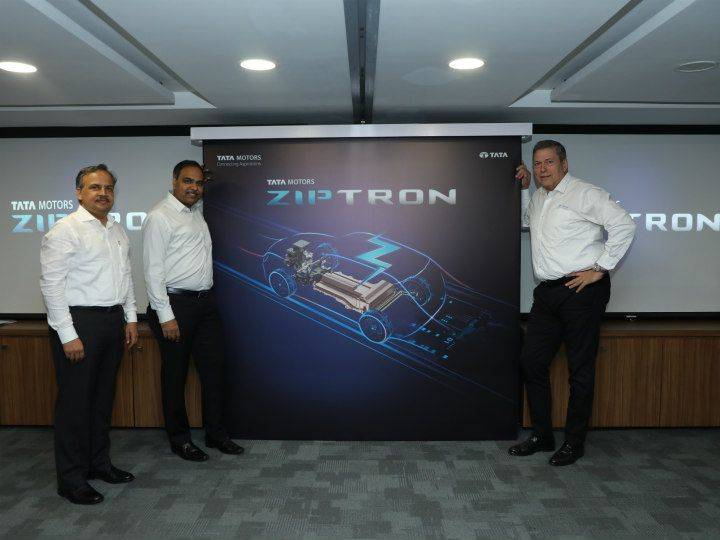 It consists of a permanent magnet AC motor with a dust and waterproof battery system.
The system will utilise regenerative braking to boost efficiency.
The launch timeframe matches with Tata's planned expansion of its electric ecosystem for 2020.
Upcoming Tata EVs that could feature this tech include the Altroz EV, Nexon EV as well as a new 'mystery' model.
EVs with Ziptron tech likely to be rolled out around the end of FY 2019-20.
Tata is one of the few players in the Indian electric passenger vehicle segment today. However, with big players like Hyundai kickstarting their EV operations in India with the Kona Electric and MG's eZS coming soon, Tata is set to face some tough competition in the near future. And now its responding with the reveal of its new electric powertrain technology called the Ziptron which will power the carmakers future electric vehicles.

The new EV tech consists of a permanent magnet AC motor with a dust and waterproof battery system meeting IP67 standards. With 1 million kilometres of testing, the new powertrain has been developed keeping Indian road conditions in mind. It will also utilise smart regenerative braking that uses energy generated under braking to charge the battery on the drive. The new powertrain will enable upcoming Tata EVs to alleviate range anxiety along with delivering better performance as well. Tata will also offer an 8-year warranty on these powertrains.

Tata's Ziptron powertrain will make its debut in a new Tata car in Q4 of FY2020, which is sometime between January and March 2020. What's interesting about this timeline is that it coincides with the expected debut of the improved Tigor EV. It means that the new Tigor could be Tata's first EV to debut the Ziptron powertrain. Following the Tigor will be the Altroz EV and Nexon EV. Tata also revealed that it's got a fourth 'mystery' model in the pipeline as well. Aside from that, Tata will also introduce connected car technology on its future vehicles.

Currently, Tata has 85 chargers across 13 cities in nine states. However, it is planning on expanding that number with its partnership with Tata Power. Through this partnership, the duo will install 300 fast charging points by the end of 2020 across five metro cities - Mumbai, Delhi, Pune, Bangalore and Hyderabad. The first 50 will be compliant with Bharat Standard, which means they will be a 15kW system, while the later batch will comprise of 30-50kW fast chargers. Thus, the introduction of the Ziptron powertrain matches with Tata's electric expansion plans since the more powerful motors will demand faster charging capabilities.
Add Your Comments
View all comments