Tali's Smart Helmet Concept Syncs With Your Bike's Brake And Turn Signal
by Gaurav
Jan 19, 2020
Views : 6587
---
Its feature list includes smartphone connectivity, voice commands, call management and navigation
Tali is a French startup.
The smart helmet concept is still under development.
The brand may launch its first product by the end of 2020.
Expect the smart helmet to cost around $1,200 (Rs 85,282).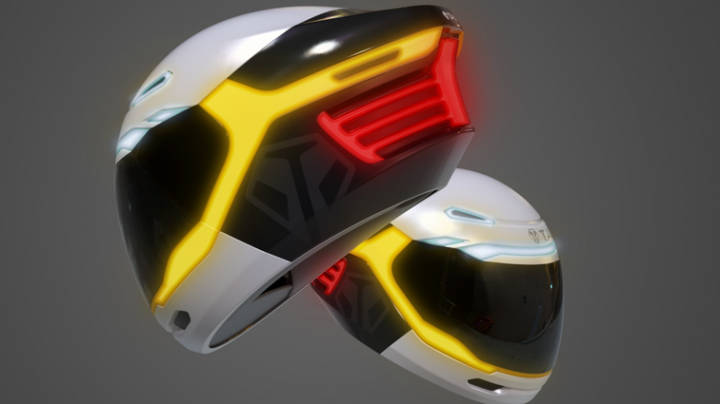 A tech-driven generation like ours has been driving two-wheeler manufacturers to try radical ideas. We've already seen self-riding motorcycles from BMW Motorrad and radar systems from Kawasaki have been developed to make riding safer. You also Dainese and Alpinestars with smart airbags that can be incorporated into riding suits. So what's next? Well, French startup Tali has now come up with a smart helmet that takes the term 'connected' to a whole new level.
It features smartphone connectivity, Bluetooth capability, voice commands, call management, navigation, music streaming, and a nifty photochromic visor. And that isn't the end of it. The helmet automatically alerts emergency services if it detects a crash. Heck, you could even track your helmet's location via the company's patented app (currently in development) in case it gets stolen.

But the Tali's actual party piece is its lighting system. You see, the helmet has been designed with strips of LED lights wrapped around it. And no, this isn't the same as the Lightmode helmets which just optimizes the visibility of the helmet. Tali's helmet concept takes a step further. These LED strips sync with your motorcycles brake and turn lights. Basically, the backside of the helmet lights up when you brake. Similarly, the orange section of the LED strip starts flashing every time you use your turn signals. Pretty cool, right?

There's just one problem: These helmets with gizmos built in are inherently less safe in a crash as it compromises the strength of the shell. But it's not so much of a concern in most of India. Moreover, smart helmets like the Tali concept may help make biking safer by improving the visibility quotient, especially in western countries, where motorcycles are almost invisible among seas of cars.
Tali is currently still developing the helmet which and may launch the product overseas before the end of 2020. Expects pricing to be around $1,200 (Rs 85,282). The startup is also working on starting a crowdfunding campaign to help fund its development stage.
Source: Rideapart
Add Your Comments