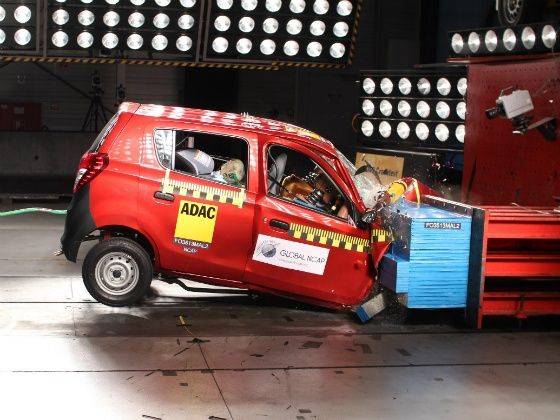 Volkswagen India has announced that the Polo will now come with driver and passenger airbags as standard. A great move. What the release failed to mention however was that the reason for this move was the Polo's inability to meet the Global NCAP test in its base form. The base versions of the Polo hitherto did not come with any airbags at all. But Volkswagen's move must be seen in good light, at least for its future customers.
The Polo wasn't the only car that was subjected to a frontal crash test carried out at 64kmph; there were others, even more popular small cars, cars like the Maruti Suzuki Alto 800, the Ford Figo, the Hyundai i10 and India's most affordable car - the Tata Nano. These cars were tested in their base trims as well, and none of them had airbags. And all of these cars failed the test as well. But, unlike Volkswagen, none of the other car makers decided to make airbags standard across the model range to register a better score.
So, the Alto 800, the Figo, the i10 and the Nano all scored zero for adult protection rating. That's not all, these cars, barring the Figo, also failed the less stringent UN's basic safety crash test which is essentially a 40 per cent offset frontal crash carried out at a slower 56kmph.
Max Mosley, Chairman of Global NCAP, was quoted as saying, "India is now a major global market and production centre for small cars, so it's worrying to see levels of safety that are 20 years behind the five-star standards now common in Europe and North America. Poor structural integrity and the absence of airbags are putting the lives of Indian consumers at risk. They have a right to know how safe their vehicles are and to expect the same basic levels of safety as standard as customers in other part of the world."
Even more worrying was the revelation that the vehicle structures for the Alto 800, the i10 and the Nano were labelled as 'inadequate'. These collapsed to varying degrees resulting in high risks of life-threatening injuries to the occupants, says the report. It adds, that the extent of the structural weaknesses in these models were such that fitting airbags would not be effective in reducing the risk of serious injury. The Ford Figo and Volkswagen Polo had structures that remained stable – and, therefore, with airbags fitted, protection for the driver and front passenger would be much improved, says the report.
Global NCAP is an independent charity registered in the United Kingdom. It serves as a global platform for NCAPs around the world to exchange best practice in consumer orientated vehicle safety initiatives.