Okinawa Ridge Plus To Be Major Part Of Fae Bikes Rental Service
by Niraj
Oct 29, 2018
Views : 1430
---
The ride rental startup will be adding 70 Okinawa Ridge Plus scooters to its portfolio, with service offerings in Bengaluru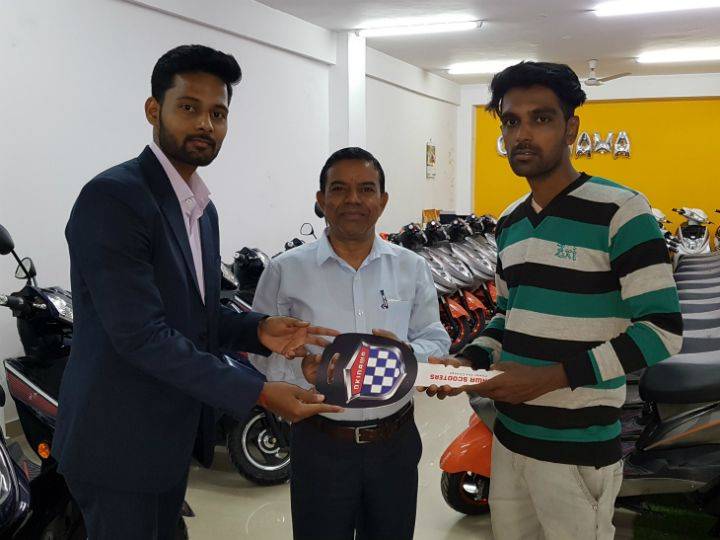 Bengaluru-based electric startup Fae Bikes has joined hands with homegrown electric scooter manufacturer Okinawa Scooters to expand its fleet. Fae Bikes currently provides a platform for renting out electric scooters. They can be booked through the company's app by the same name.
The scooters can be picked up from three major areas in Bengaluru: Electronics City, HSR Layout and BTM Layout. Customers have the option of booking the scooter for durations as short as 20 minutes to as long as 20 days.
Coming to the scooters themselves, the Okinawa Ridge Plus packs a lithium-ion battery, which provides a range of 120km per charge with a top speed of rated for 50kmph. Some key features of the scooter include central locking with anti-theft alarm system, keyless entry and find my scooter functionality. If you want to own one, Okinawa sells the scooter for Rs 64,998 (ex-showroom India).
Here's the company's official statement for more details

Press Release -
Fae Bikes associates with Okinawa to expand its fleet in Bengaluru; orders 70 units of the power-packed Ridge+ e-scooters
Two category-leaders make a perfect synergistic match as they bet big on the promise of high-speed e-scooters to deal with the city's urban mobility challenges
Bengaluru, October 29, 2018: Once known as the perfect retreat for retirees and an oasis of beauty and comfort, Bengaluru, is now perpetually in the news for its rising urban mobility challenges, deteriorating air quality and endless traffic roadblocks. Offering a promising solution to these problems is Fae Bikes and Okinawa, India's fastest growing and most disruptive e-automobile manufacturer. The two have joined hands to plug the current sustainability crisis in the Garden City. Fae Bikes, an e-scooter sharing platform for daily commutes, has ordered 70 units of Okinawa's Ridge+. As Fae Bikes is focussed on offering commuters with a sustainable alternative of high-speed e-scooters to fulfill their daily travel requirements, Okinawa's Ridge+ is the perfect addition to its fleet.
Okinawa's Ridge+ isn't just environment-friendly, it is also the ideal amalgamation of performance and power. Registering a top speed of 55 km/hr and a mileage of 120km/charge, the Ridge+ has also been designed to provide high comfort and security in all kinds of terrain. It is specifically suited for urban roads, and its easy maneuverability is one of the significant reasons why Fae Bikes decided to opt for this model to expand its fleet.
Commenting on the announcement, Mr. Jeetender Sharma, MD, Okinawa Autotech said, "Fae Bikes' vision truly complements that of Okinawa – of making power-packed e-scooters the preferred way of travelling across the country. The company has been popularizing this concept in Bengaluru with great success and we are proud to partner with it and add the Ridge+ to its growing fleet."
He further added, "Last mile connectivity has emerged as one of the foremost challenges to urban mobility in India today. To address the same, scooter rental companies are pulling out all the stops to offer a sustainable solution and adoption of powerful e-vehicles has surfaced as the most relevant choice for them to deal with the problem. We are pleased to contribute to this ecosystem and offer a reliable and effective alternative to the last mile connectivity conundrum in Indian cities."
Speaking on the merits of the Ridge+ e-scooter, he added, "Okinawa's Ridge+ e-scooter's strength lies in the holistic vision through which it was developed, keeping in mind the constraints of India's urban topography and the apprehensions of urban buyers with regard to e-vehicles. Further, the Ridge+ comes with a detachable Li-ion battery which can be easily charged at one's own convenience. Businesses such as Fae Bikes often face challenges pertaining to charging infrastructure which is eliminated with products such as Ridge+. We are certain that with Fae Bikes' emphasis on customer experience and ride quality and Ridge+'s high-speed and impeccable performance, more and more people in Bengaluru will opt for e-scooters for their basic commuting needs."
Dheeraj Reddy, Co-founder of Fae Bikes, said, "Fae Bikes provides high-speed electric scooters for last-mile connectivity. For us, the quality of ride for our customers is paramount. Okinawa offers high-speed electric scooters with good distance range at great pricing and this was the main reason why we decided to partner with it. In a short time, it has become a major player in the e-vehicle ecosystem across India and our plan is to follow a similar expansion trajectory. We have started with our first batch of Ridge+ e-scooters from Okinawa and we will expand our fleet to 5,000 electric scooters in the next one year."
Within a couple of years of its operations, Okinawa's scooters have emerged as a domain leader in the e-scooter segment in India. Its products feature high-grade engineering uniquely developed in India. The trust created by the brand through sustained performance and continuous innovation by seeking what the typical Indian commuter wants, has contributed significantly to the brand's success in the EV industry and partnerships such as these will further propel its popularity in India.
More on Okinawa Ridge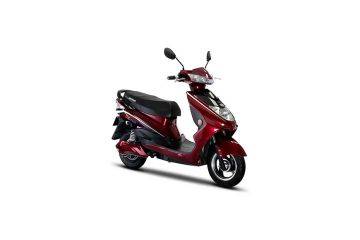 Rs. 53,390 Onwards
Ex-showroom, Delhi