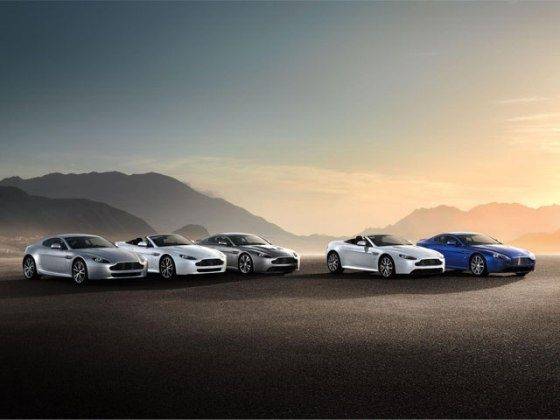 Auto analysts may still argue about the strategic fit between Mahindra and Mahindra's (M&M) tractors, its boxy utility vehicles and the sleek two door coupes of Aston Martin, but as the talks between the two sides over a strategic stake in the iconic UK car maker gets into top gear, M&M has received a strategic endorsement from Unite - UK's biggest labour union. Even in Aston Martin's sole plant in Gaydon, England, Unite is the sole union for a workforce of 1800, including contract and agency workers.
Unite's support - though not mandatory to close the deal - will be a shot in the arm for Anand Mahindra, M&M's charismatic group chairman, especially at a time when worker's unions are again taking centre stage in Europe's industrial relations. But for his swelling support base, Mahindra may have to thank his business rival Ratan Tata, who had earlier edged him out to buy Jaguar Land Rover.
In an exclusive interview to ET, Roger Maddison, national officer for the automotive industry at Unite - the leading union voice for the sector -- said M&M is a better partner for Aston Martin compared to Invest industrial, an Italian buyout fund which is the other strong contender.
Last Wednesday, Aston Martin's spokesperson confirmed that it, with the support of its shareholders, was in advanced discussions "to secure a capital increase" which will ensure it can deliver its medium- and long-term growth plans.
"We would support Mahindras as they are a much more promising partner. We will be happier if they come on board compared to an investment company who would be more focussed on profits than on making cars," Maddison said.
Automotive businesses need continuous capital investments with long term planning, something that only a carmaker can provide, felt Maddison. "In the UK, we are always a bit suspicious of private equity players getting into the car industry. Instead of a 10-year outlook, most of them are thinking of making a quick buck in 10 months."
Unite faced a similar situation four years ago when both Mahindras and Tata Motors competed with bulge bracket fund One Equity Partners -- known for its leverage buyouts -- to be on the driver's seat for Jaguar Land Rover (JLR). Ford Motors, the then owners of JLR, had proactively engaged with Unite to select the final winner.
Maddison admits that he now has the benefit of hindsight. "We made the right choice supporting the Tata bid for JLR. They have kept their word and have turned JLR around and expanded the business. They have shown that if you make good cars, you make good profits," admits Maddison. In contrast, he said, "during the financial crisis that followed 2008, we saw how many private equity firms dealt with their portfolio companies by downsizing operations and manpower."
So with Eurozone once again in a volatile state, Maddison felt "a stabler partner will get the union vote."
57-year old Mahindra and his top brass is no stranger to the Unite team. "I have met Mr Mahindra during the JLR pitch. He is very articulate, suave and is a clear thinker. During JLR days, we just thought he was smaller than the Tatas and that influenced our decision. But even then we really liked what we saw in M&M and appreciated the fact that they wanted to win our confidence and work with us."
So what would Unite want M&M to bring to the table?
Quality leadership, emerging markets expertise, a global vision and most importantly investments, Maddison outlines his priorities and at the same time highlights what ails the 98-year old marquee brand. "Aston Martin is a fantastic car. But it needs serious investments to match a product line up of a Ferrari or a Porsche. I do not know why its current shareholders are not doing that."
Ever since a Kuwaiti consortium of financial sponsors led by Investment Dar bought the luxury car company from Ford Motor in 2007 for £479 million, the financial crisis has affected the sport car sales and significantly stretched the Kuwaiti investors' financials.
It's impacting Aston Martin too as last Friday rating agency Moody's said it is reviewing Aston Martin for a downgrade into "junk" territory due to weaker-than-expected financial and operating performance. For the first nine months of this year, the carmaker's revenues were £305 million, down 19 per cent from a year ago largely because of a 20 per cent drop in its sales volumes for the period to 2,520 vehicles. In the boom of 2007, it produced 7200 cars.
Unite is eager about a turnaround plan. "We have written to Aston Martin's management seeking a meeting to clarify about this potential partnership. We are awaiting a response. We will again reach out to them and may also reach out to Mahindras and the others to understand their roadmap," said Maddison. "We hope our views will be accepted."
On Friday, amidst heightened speculation of an impending deal, Unite in a statement said, any new investment in the luxury car marker should be directed into developing new models and securing the workforce's future. Maddison admits that the spectre of job losses is very real even though after working closely with the Tatas he says the suspicion is a lot less. "People buy a brand like Aston Martin for its British legacy so in the short term I doubt if production will shift. Also they don't sell as much so I think one factory is good enough for the time being."
A tough negotiator that he is, Roger Maddison does not hide his feelings when he said, "Aston Martin is owned by a Kuwaiti group today. They have no affinity towards the UK either."
Also read: Mahindra hopes to secure Aston Martin deal this week