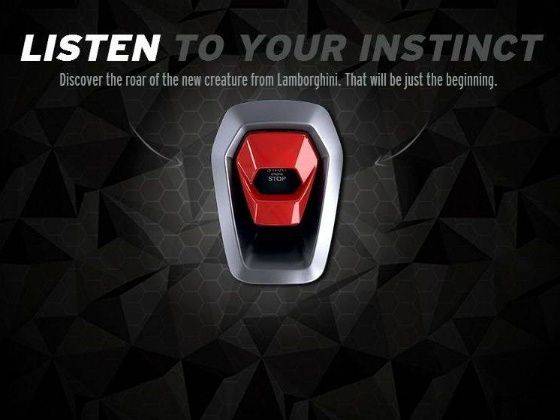 As we reported a few days ago, the Lamborghini Gallardo has officially become a part of history after 10 years and over 14,000 units sold worldwide. The Gallardo replacement, rumored to be called the Cabrera has been seen testing at the legendary Nurburgring in Germany and is stated to be launched at the Geneva Motor Show in 2014. True to typical Lamborghini pomp and fashion, the Italian marquee has launched it's first official teaser for the upcoming model.
The picture features a new 'Start Button' similar to the one found in the Aventador and says the following words: 'LISTEN TO YOUR INSTINCT. Discover the roar of the new creature from Lamborghini. That will be just the beginning'. As is always the case with Lamborghini, the cars are quantified not as machines but as living and breathing creatures design to entice one's senses.
The New baby Lamborghini will ditch it's trademark naturally aspirated 5.2 Litre V10 engine for a more conservative smaller capacity twin-turbo V8 that is set to produce much more power and torque than the one available today. Lamborghini has done roaring business in India and expect the Cabrera to follow in the footsteps and sell like hot cakes. We expect a coupé version to be the first to come followed by the convertible version by the end of 2014.