Isle Of Man TT - The Fastest & Most Dangerous Road Race In The World
by Niraj
Jun 14, 2018
Views : 1130
---
This year the tiny British island witnessed the fastest road-racing lap in the TT's history!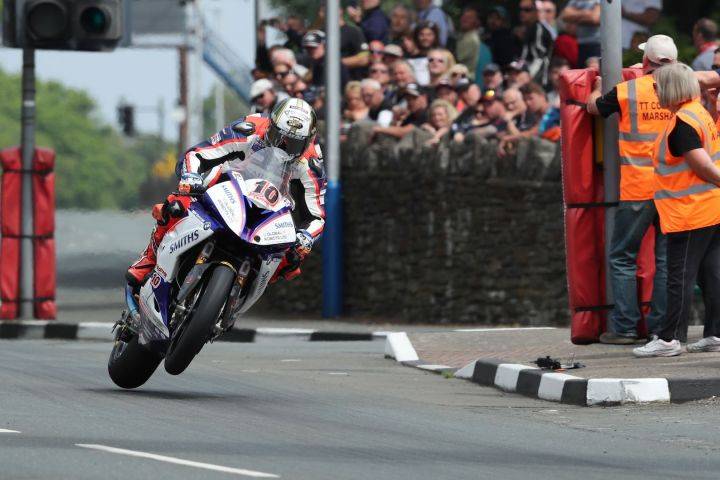 Every year, the Isle Of Man, a small island and a known tax haven located in the Irish Sea between England and Ireland, play host to one of the most dangerous motorsport events in the world. For two weeks, authorities here not only allow motorcycle racing on public roads but encourage it! Ever since its inception in 1907, just getting round the narrow, rutted, unpaved course at blistering speed has been an achievement - with the winner being the quickest one of the lot. Not surprising then that many have lost their lives here, and only a few have managed to carve out a place in history. This year we saw both.
Also Read - The Lost Legends Of Isle Of Man TT
Residents of the tiny British islands witnessed Peter Hickman of Smith BMW astride his BMW S1000 RR officially become the fastest man in road-racing history. The British racer carried an average speed of 217.989kmph, breaking a record previously held by Dean Harrison on his Kawasaki ZX-10R at the 2017 Ulster Grand Prix with an average speed of 215.3kmph. For comparison, the fastest average speed ever recorded in MotoGP was 182kmph at Phillip Island. And even in this case, it can be attributed to the tiny island's long straight stretches.
Coincidentally, Harrison himself was locked in a dogfight with Hickman halfway through the final lap. The BMW rider was initially trailing Harrison's Kawasaki by 3.7 seconds. Harrison even came close to holding a new record with a lap of 217.229kmph, but it was destined to be Hickman's day. As the Mountain section closed in, Hickman managed to turn his deficit into a 2 second lead at the Bungalow!
Also Read - 7 Records Smashed At Isle Of Man TT 2018
When it comes to road racing, winners are judged in a very unorthodox manner. As there is no mass start, lap times are always measured not in seconds or minutes but only by average speeds. Yes, it sounds odd, but it also helps in comparing the performance of the riders at different venues directly with each other.
The Smith BMW rider credited his win to perfect weather conditions throughout the event, efficient organisation by the marshals and the last minute delivery of special Dunlop tyres a day before the race.
Also Read - 2018 Isle Of Man TT: All You Need To Know
He said, "The conditions have been absolutely perfect for this entire two weeks, the event has been running fantastic, we've not really missed any nights of practice at all, the track has been in awesome condition. The organisers have done a cracking job with that. Dunlop has been working really, really hard. We've been giving them a bit of a hard time this past two weeks, some of our riders."
"They pulled something out the bag, got the factory working overtime overnight, and managed to pull in a new tire for this race here, and I think that's also what's made a little bit of a difference in the Senior race." he further added.
At the end of the day, we had witnessed one of the most nail-biting finales in motorcycle racing history. Every rider had maintained an average speed of just over 210kmph on the tiny, narrow streets of the Isle of Man. Harrison himself broke his previous record in the attempt, only to end up in the second place, with a mere deficit of 2 seconds!