Imminent Jeep Compass Trailhawk Launch Prompts FCA To Expand India Presence
Apr 12, 2019
Views : 7356
---
Network expansion in line with FCA's plans to launch the Jeep Compass Trailhawk and new Wrangler Unlimited in India this year
Fiat Chrysler Automobiles now has a total of 82 outlets in 70 cities.
Jeep Compass' popularity has helped the carmaker expand its retail network by over 50 per cent.
FCA recently opened its fourth all-brand showroom in Bengaluru.
Fiat Chrysler Automobiles (FCA) has expanded its retail footprint in India. With a total of 82 outlets, the group now has a presence in 70 cities across the country. Thanks to the Jeep Compass, the FCA Group has been able to expand its retail network by 50 per cent. This includes outlets which retail cars from Fiat, Jeep and Abarth brand under one roof. This list also includes 'Jeep Connect' showrooms, which is exclusive for Jeep's SUVs.
FCA now has a presence in almost all the major cities in India. The group now has four all-brand showrooms in Bengaluru, including the one which was recently added. It also opened a similar showroom in Panjim, Goa and two new Jeep Connect showrooms in Ajmer and Patiala.
The success of the Compass has led to FCA paying more emphasis to the Jeep brand in India. With more products planned for the future, the first release for this year is set to be the Jeep Compass Trailhawk which will come in the long awaited diesel automatic guise. Apart from the Compass Trailhawk, the 2019 Wrangler Unlimited will also join the Jeep lineup this year.
Press Release
FCA has increased showroom presence in Bengaluru, Goa, Ajmer and Patiala
• FCA's retail presence has now increased to 70 Indian towns and cities
• Bengaluru now has 4 FCA showrooms, including one recently added
• Goa now gets a new FCA showroom and workshop
• A new Jeep Connect showroom opened in Warangal
• FCA has expanded Mopar workshops to 84
Mumbai | April 10, 2019. FCA India, the manufacturer of the award-winning Jeep
Compass today announced that its retail network has expanded to 82 points of
sale across 70 Indian towns and cities. This includes FCA all-brand showrooms
that sell Jeep, Fiat and Abarth vehicles in major Indian cities and Jeep Connect
showrooms, which are premium retail outlets that cover the customer base in
satellite cities and towns.
Announcing the retail network expansion Kevin Flynn – President and
Managing Director, FCA India said, "Our vision was to have a growing retail and
after-sales network which could strategically complement our growing volumes in
the market. With 82 retail outlets in 70 towns and cities we are covering a
significant amount of landmass and customer base. We have grown over 50% in
our retail network since the Jeep Compass launch in August 2017. Our effort has
been to maintain consistency in our network expansion and ensure excellence in
customer experience along with improved service coverage."
With this expansion, FCA has four all-brand showrooms in Bengaluru. MPS
Motors Pvt. Ltd., has opened two showrooms, one located in GR Grand Plaza, JP
Nagar Phase 6, Kanakapura Main Road, Bengaluru and the second, near
Electronic City, Luvkusha Nagar, Hosur Road. The other two (2) existing
showrooms of KHT Agencies Pvt. Ltd. are located in Koramangala and
Yeshwantpur. FCA has seven (7) all-brand showrooms now in Karnataka, including
presence in Hubli, Mysore and Belgaum.
A new FCA all-brand showroom – MVR Auto is now open at Caranzelan,
Panjim, Goa.
Two new Jeep Connect showrooms are now open, one – Nidhi Kamal
Company located near the Parbatpura Bypass, in Ajmer, Rajasthan and the
second – WSL Automobiles Pvt. Ltd. in Bahadurgarh, Rajpyra Road, Patiala,
Punjab.
Jeep Connect' is a network expansion strategy to take the Jeep® and Mopar®
premium brand experience closer to customers' homes, which may be located far
away from the hubs of big cities. 'Jeep Connect' outlets offer sales as well as service
and are already open in Pune, Rohtak, Ahmedabad, Muvthpuzha, Panipat, Bilaspur
and Warangal.
Besides expanding the retail network, FCA India has been working towards adding
to its after-sales presence across the country. The Company now has 84 Mopar
workshops which are equipped with trained technicians to provide service and care
to Jeep, Fiat and Abarth customers.
Flynn said, "Our focus on a high standard of quality right from the start has paid
dividends in the form of customer satisfaction of our Jeep Compass owners. It is
not only the retail presence but also the after-sales commitment that has our focus
for 2019. Our upcoming products, the indomitable Jeep Trailhawk and the new
generation Jeep Wrangler Unlimited will require us to have larger presence and
fine-tuned customer experience and coverage."
FCA produces the Made-in-India Jeep Compass in their Ranjangaon joint venture
manufacturing facility near Pune city. The same plant also produces Fiat and
Abarth carlines.
Add Your Comments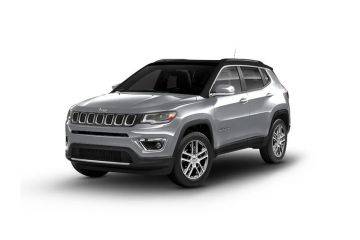 View October Offers
View On Road Price
Jeep Compass Alternatives