F1 2019: Valtteri Bottas Dominates At Suzuka Mercedes Crowned 2019 Constructors Champions
Oct 15, 2019
Views : 2054
---
It is the 6th consecutive constructors title for the team based in Brackley, UK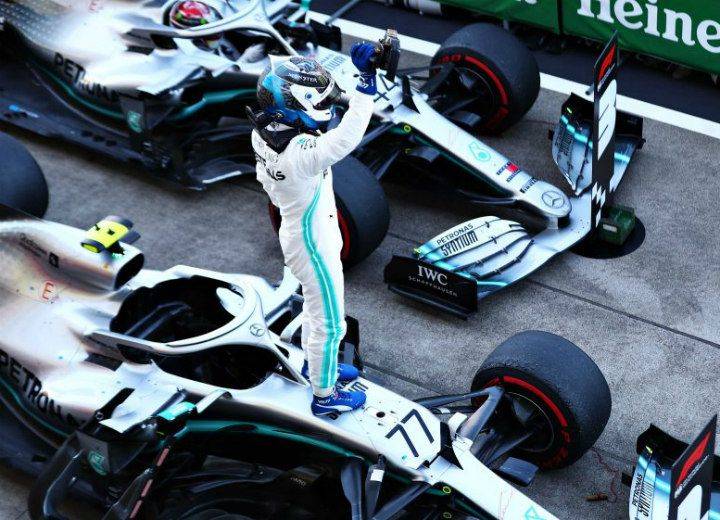 Ferrari's front-row lockout comes undone with a poor start and Lap1 incident for Leclerc.
It was a race-long battle of strategies with different tyre compounds favouring different teams.
Bottas closes the gap to Hamilton in the driver's standings to 63 points.
Hamilton could clinch his 6th title in Mexico in under two weeks.
Mercedes' Valtteri Bottas pulled off a blistering start from third to dominate and win the 2019 Formula One Japanese Grand Prix at Suzuka as well as help the Mercedes-AMG Petronas F1 team seal the 2019 Constructors' Title with four races to go. Sebastian Vettel finished second for Ferrari, closely followed by Lewis Hamilton rounding off the podium for Mercedes at the Suzuka International Racing Course, Japan. There was a mixed bag of results lower down with Red Bull Honda's Alex Albon finishing fourth, McLaren's Carlos Sainz in fifth and Daniel Ricciardo (Renault) in sixth.
The Mercedes-AMG Petronas F1 team's journey this season has been near perfect as it clinched the first eight wins of the season, amounting to 12 overall, with four more races left. This achievement also makes the Brackley-based team undefeated as a constructor in the turbo-hybrid V6 era that started in 2014.
The weekend saw the rare occasion of Qualifying being postponed to Sunday morning just four hours before the race due to weather concerns over the Hagibis typhoon that struck Japan over the weekend. Interestingly, this was only the fifth time in Formula One history that qualifying was either cancelled or postponed with the Suzuka circuit featuring three times in that list.
Ferrari bounced back from a difficult Friday with a front-row lockdown as Sebastian Vettel took pole and Charles Leclerc started second. The Mercedes team lined up on the second row with Bottas and Hamilton qualifying third and fourth, respectively. Red Bull Honda took the third row with Max Verstappen and Alex Albon oddly enough setting exactly the same lap time. The midfield continued its mixed affair with Carlos Sainz and Lando Norris starting seventh and eighth for McLaren, Pierre Gasly ninth for Toro Rosso and Romain Grosjean rounding of the top 10 for Haas.
Unfortunately, Ferrari's effort came undone at the start itself with a poor getaway for both cars, allowing Bottas to snatch the lead into the first two corners. The carnage up front didn't stop there as Leclerc and Verstappen collided in Turn 2, leaving the Red Bull spinning into the gravel trap and the Ferrari with a broken front wing. Such was the damage that bits started flying off the Ferrari, necessitating an unscheduled pitstop for Leclerc, which essentially ruined his race.
And if that wasn't enough, polesitter Vettel was under investigation for a jump-start, but he just about got away with it. The midfield saw a variety of fast starters in the form of the two McLarens jumping the Red Bull of Alexander Albon as well as Racing Point's Sergio Perez and Nico Hulkenberg within the top 10 by the end of Lap 1.
The initial stint saw Bottas eventually stretch out his lead with Vettel starting to fall into the clutches of Hamilton. Things took a turn for the worse for Verstappen as the damage sustained from Lap 1 was too much to continue further that led to a retirement for the Red Bull driver. The first round of pit stops saw a mix of strategies, with Bottas and Vettel on different tyre compounds opting for a two-stop with Hamilton initially looking to run a one-stop strategy. After his Lap 1 troubles with Max, Leclerc was on an overtaking spree despite a disintegrating Ferrari as he sliced his way up Suzuka.
Once the second round of pit stops got over, it was Bottas and Vettel's task to try and pass Hamilton who was looking to pull off a one stop, but Mercedes switched him to an extra stop in the closing stages. The decision may have been odd considering his pace, but it certainly set up a hunt to take second off of Vettel. And it certainly was a hunt as it was a close battle between the two world champions. Eventually, Bottas dominated all the way to the finish line while Vettel and Hamilton finished a close second and third. Albon, Saniz and Renault's Daniel Ricciardo rounded off the rest of the top 6 finishers.
Lower down the field, Leclerc may have finished 6th, but was handed out a 15-second time penalty for the Lap 1 collision as well as continuing to drive an unsafe car around the circuit. This demoted him to seventh while Toro Rosso's Gasly and Racing Point's Sergio Perez finished eighth and ninth. However, it wasn't all smooth sailing as there was a final lap collision between Perez and Gasly, which put Perez out of the race. But a technical glitch in the lap counter meant that the race finished one lap earlier, which meant that Perez kept his 9th place. Rounding off the top ten was Ricciardo's teammate Nico Hulkenberg. Meanwhile, Lance Stroll, Daniil Kvyat, Lando Norris, Kimi Raikonnen, Romain Grosjean, Antionio Giovinazzi, Kevin Magnussen and the two Williams of George Russell and Robert Kubica finished the race in that order.
With this result, Mercedes AMG Petronas has equalled Ferrari's long-standing record of six consecutive titles. In the driver's standings, Bottas win has helped the Finn narrow the gap to Hamilton to 63 points, but that may have been too little too late as Hamilton could clinch the title at the next race in Mexico if Bottas loses his consistency. In addition to the constructor's title, Mercedes have also ensured that only their drivers have a mathematical chance at the world driver's championship with this result. Meanwhile, the battle for third will be played out between Red Bull's Max Verstappen and the two Ferraris of Leclerc and Vettel, with the former in third currently. Interestingly, lower down, McLaren's Carlos Sainz has overtaken Pierre Gasly for sixth in the driver's standings. It is a first for a driver not driving for Ferrari, Red Bull or Mercedes since 2014.
Now that the Constructor's fight at the top is over, all focus is now down to the driver's standings as well as the midfield standings as Formula One will now head to Mexico for the Mexican Grand Prix, which is scheduled to be held between October 25 to 27. With the Ferraris remaining the car to beat in qualifying in the final four races, we could expect another close battle for top honours. Can Bottas finally mount a proper challenge to his teammate, or will we see Lewis Hamilton clinch his sixth driver's title at the same venue he won his fourth and fifth title? Stay tuned for our coverage of the 2019 season on ZigWheels.com.
Also Read:
Image Source- Formula1
Add Your Comments