Designing Cars The Tata Way: A First-Hand Look
Oct 6, 2019
Views : 24775
---
We visit Tata Motors' Design Studio to see just what it takes to bring automobile design ideas to life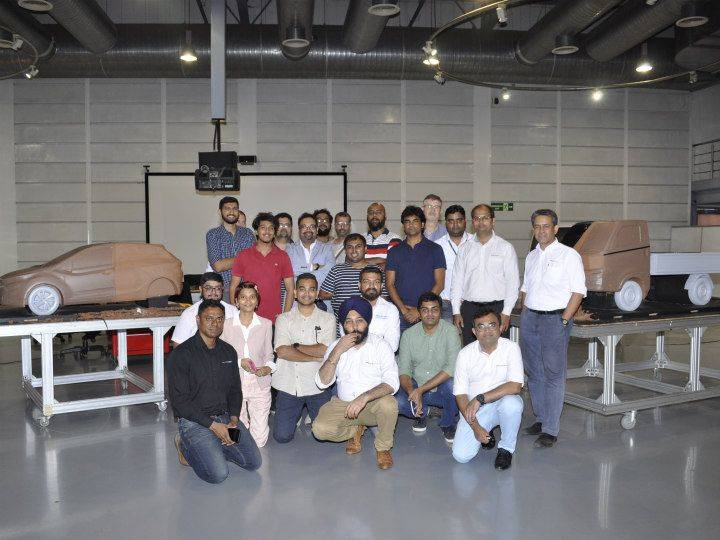 In today's day and age, the automobile industry remains as cut-throat as ever to produce the best possible vehicles that cater to the public's demands. The most important part about this is that demand, like nature, keeps evolving and it is essentially a race between auto manufacturers to create the best compromise while we are quick to call out features that are similar/different to previous models. While these criticisms are valid, they sometimes go a little out of hand as few have an inkling about the tireless efforts by carmakers to turn a concept into reality. That is until now.
The Meet And Greets

Tata Motors welcomed journalists to its design studio in Pune for a workshop on the processes behind the creation of its car designs. This is quite the initiative from Tata as access to these procedures is extremely restricted even for its own employees. Aside from Pune, Tata's design studios span globally, with studios in UK (Coventry), Italy (Turin) and South Korea (Gulsan).
The day started off with journalists from various publications including me assembling at the Tata Motors plant in Pimpri-Chinchwad. With the formalities sorted, we were escorted to an assigned room and were greeted by the person who turns Tata concepts into reality, Pratap Bose, their global head of design. A quick introduction was followed by Bose presenting us with a trip down memory lane on the long journey that Tata Motors has gone through to get to where it is today.
Tata Motor's Design Journey

Mr Bose explained to us the 20 year-long journey of Tata's transition from a truck manufacturer to carmaker. It started with the Indica and Safari in 1998, with one of the highlights being the first carmaker to provide a plastic bumper in India. He further explained that for designing a model there were a variety of factors involved that included balance between physical and digital, costs, reliability and marketability. He also tells us that his inspiration behind Tata's Impact Design was winning mind share. That means improving the way the customer thinks of the brand via its products. He said that Tata's models may have similar identification, but maintain their individuality. Despite this shift in design philosophy, Tata has stuck to the same logo. Pratap explains that he prefers the products to live up to the logo.

Work on Tata's 'Impact Design' architecture began in 2014 and was introduced in 2016 at the Auto Expo. The models included in this are the Tiago, Tigor, Nexon, and Hexa. Pratap went into further detail that in the architecture's next phase, it is split in two modular platforms- Alpha and Omega. The Alpha architecture is for in-house models whereas the Omega architecture is based on Land Rover's D8 platform. The Altroz will be the first model in the Alpha platform, whereas the Harrier is from the Omega platform. The 2nd Alpha model will be the H2X, whereas the upcoming Buzzard (Harrier 7-seater) will be the next Omega platform model. Pratap also hinted at sticking with this architecture for 15-20 years, preferably until 2040. Going to EVs, Pratap has claimed that radical changes are expected with smaller batteries and larger range.
Ideation And Sketching Of Concepts

As we finished the presentation, the design workshop finally kicked off in full swing as we were shown 1:1 models of the Tata Harrier, Tata Ace pickup, as well as clay models of the Altroz and the Ace pickup. Interestingly, the clay models on display aren't actually all clay -- they use a polythene model and then graft clay onto it.
Shortly after, we were divided into 4 teams of 3 each to come up with a concept in 1 hour. My team (Team Blue) was assigned to come up with a HCV (Heavy-Commercial-Vehicle) for inter-city travel. Each team was also assigned a member from the design team to help out in making this concept a reality.

For those of you who think that coming up with a concept doesn't take long, boy are you far from the truth. Bose mentioned that the entire design process takes close to a whopping 48 months to finalise it. And it clearly showed as our team, with our Tata design mentor Sakim, were in a bit of a rut for the first 5-10 minutes at least. Thankfully, Sakim explained that to make a concept, we have to jot down the key targets that the concept needs to fulfill. Thus, we got our key points down to comfort, efficient use of space, easy to drive, high visibility, ease of loading and aerodynamic to add to its radical yet practical nature.

These points certainly were like a pinata of ideas to us as we could finally focus on its shape which would be aerodynamic with a wedge-like front end. A crucial reason why we could go down this route is that we decided to take a leaf out of the McLaren F1 hypercar and gave the truck a central cockpit. This design philosophy could potentially solve the problem of asymmetrical view for the driver as well as help make the wedge design possible.

Once we got the concept in our heads, we took to drawing rough sketches despite how good or bad we were at it. As this was happening, Sakim started sketching out a clearer picture of our design requirements.
Concept Verdict

The clock stopped for everyone at 1 hour and 20 minutes. By then, our HCV concept was kitted out with a host of features to stand out amongst truckers. Our concept was an EV truck with a mid-mounted electric motor to accommodate the sharp front-end design. A nifty addition included solar panels on top for the option of auto-charging. Keeping comfort in mind, we equipped the concept with an AC cabin with an in-built bed behind the cockpit area to help the driver get all the comforts of a passenger car and home while doing long hauls. Rohit Shetty fans will love this one as the truck gets Singham-style access with a stylish fist-bump used to open the doors rather than door handles. And it doesn't end there as the concept also gets auto-docking, so you can recreate Singham entries. On a serious note, it can be useful for truck drivers to not worry about parking spots.

So wacky was our concept that it earned a lot of praise from the big man Pratap himself -- not exactly for the design, but the nifty features it packed, especially the central-cockpit philosophy (credits to yours truly). However, these are only baby steps in designing a model and that took a brainstorming of more than an hour!
Clay Modelling

The next step is clay grafting of the concept, where Tata uses modelling clay that hardens in cold temperatures and softens in warm temperatures. Since ours was a truck, clay modeling was done on top of the Tata Ace clay model. This hand-made process involves meticulous grafting of the clay to try and replicate the concept sketch for digital scanning. Such is the attempt at perfection in clay modelling that any wastage or the tiniest of extra bits take quite a while to rectify.

For recreating detailed bits like door panels or cladding, black tape is used and the designer pinpoints where certain bits on the model should be positioned. This process was so long that we could finish only one strand of sorts on the model. Since we were running short on time, we went straight to the next step, which is laser scanning of the clay models to view them in digital format.
Digital Scanning

In this process, portions of the model are carefully scanned and the data from the scanner fed to a computer to view the clay model digitally. Here is where the intricate angles of the concept are decided, with any additions in the digital model to be updated on the clay model. This is a lengthy process, requiring upto 12 weeks for the data model to be finalised for rapid prototyping. We only had enough time to scan part of the rear end of a modified Altroz clay model, but the next step involves a host of features that include selecting colors, materials, before production of 1:1 scale models for design finalisation.

What we experienced in those lengthy 4-5 hrs was just a snippet into the entire process of creating a car, which was a crash course from Tata that revealed so much in that limited time. A big thanks to Tata Motors on allowing us the privilege of having a look into car design and the processes involved. This experience also hits home the amount of time it takes to achieve the millimetre-perfect shape for a car. As if it didn't already, this experience could also help people think a little more before giving harsh criticisms on car design before analysing the decisions made to follow that design route. Also thanks for the lovely sweets too!
See what our community has to say!
NEW
India's largest automotive community