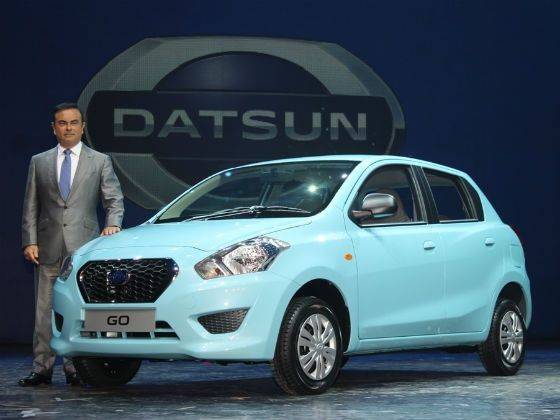 It's been all of 32 years since the last Datsun rolled its wheels on Indian shores and now after all these years, the popular Japanese manufacturer is all set to make a comeback with an all-new car that you see here, christened the Go.

First impressions of the car look very good indeed and from the proportions and specs that have come out, the Go seems to aim directly at the likes of the Maruti Suzuki A-Star and the Hyundai i10 amongst others. Styling wise the Go has quite a bit of typical Kei car ingredients in it thanks to that hexagonal grille and the wide apart headlights.
On the whole it is well-styled with a host of finely sculpted lines from front to rear, muscular at the right places while exuding a svelte aura all around. Design as a differentiator has been well wrought into the first Datsun but then what is also apparent is that it has a very long wheelbase with all four wheels at the absolute corners with minimal front and rear overhangs.

As a result expect very good interior space with good legroom as well. Some very ingenious packaging means, the Go will be able to seat not 5, but 6 passengers quite comfortably thanks to the front bench seat which is split down the middle with individual adjustability fore and aft giving the Go's front bench a genuine capacity of seating 3.


On the engine front, the Go will be powered by a 1.2 litre petrol engine with a 5-speed manual gearbox which is also shared by the Nissan Micra, but expect a very different state of tune with further importance imparted on drivability and fuel efficiency. With the price expected to be under Rs. 4 lakh, expect the Go to shake up the small car class with its ingenuity, efficiency and not to mention value.
Related Datsun India stories:
Datsun India plans : Special Coverage
Watch the Datsun launch webcast live on ZigWheels
Datsun teases new hatchback for India
Datsun brings the bench back into focus!
Datsun is ready to roll in India
Datsun reveals new face for entry-level cars in India
Datsun to take on Maruti-Suzuki in small car segment : Video
Nissan small cars to launch under Datsun nameplate
Datsun to unveil its first car on July 15
Datsun to launch five models in India