Buy The Newly Launched Crayon Envy E-scooter And Literally Plant A Tree
by Gaurav
Nov 21, 2019
Views : 2355
---
The e-scooter is available in two variants: VRLA (lead acid), priced at Rs 53,000, and lithium ion, which will set you back by Rs 65,000
Offers an average range of 70 km per charge.
Charge times vary between 5-6 hours for VRLA and 2-3 hours for lithium ion variant.
Neither of them comply with FAME-II subsidy.
Available in Jammu, Punjab, Pant Nagar, Bijnor, Trivandrum, Shahjahanpur, Agra, among others.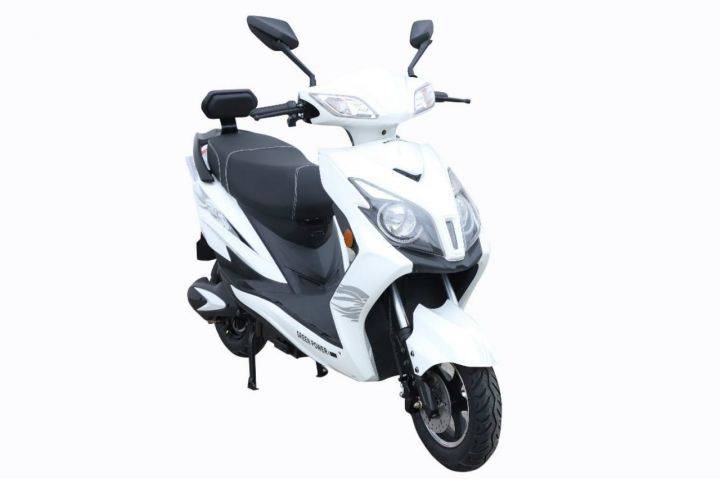 Uttrakhand-based Crayon Motors has launched its low-speed electric scooter called Envy. It's available in two variants: VRLA (a.k.a lead acid battery) and lithium ion, priced at Rs 53,000 and Rs 65,000 (ex-showroom Delhi) respectively. It's available in three colours: white, blue and orange. Unfortunately, neither of them comply with FAME-II subsidy. Crayon's portfolio already includes the Zeez, another low-speed e-scooter.
The Crayon Envy is powered by 250W BLDC motor that delivers a top speed of 25km. Thanks to its low speed, it can be ridden without a licence. Both scooters offer a claimed range of 70km per charge but vary in terms of charge times. VRLA, for instance, takes up to 5-6 hours for a full charge while the lithium-ion variant which features a removable battery takes between 2-3 hours. It can be charged via a conventional 5 Amp socket. The life cycle of these batteries fluctuates between 500 to 800 cycles depending on the model.

They are also quite light. The VRLA variant weighs 100kg and the Li-ion version tips the scales at just 80kg. On the feature front, the duo comes equipped with LED lights, a digital instrument console, reverse assist, keyless ignition & central locking, USB charging, alloy wheels and a front disc brake.
Crayon Motors has presence in cities like Jammu, Punjab, Pant Nagar, Bijnor, Trivandrum, Shahjahanpur, Agra, among others. The brand is currently working on setting up its dealership network across capitals and major cities in India with tier 2 and tier 3 cities being the main focus.
Crayon's also taken up the bold initiative of planting a tree for every scooter sold. It aims to plant over 1,000 trees over the next four months.
Add Your Comments