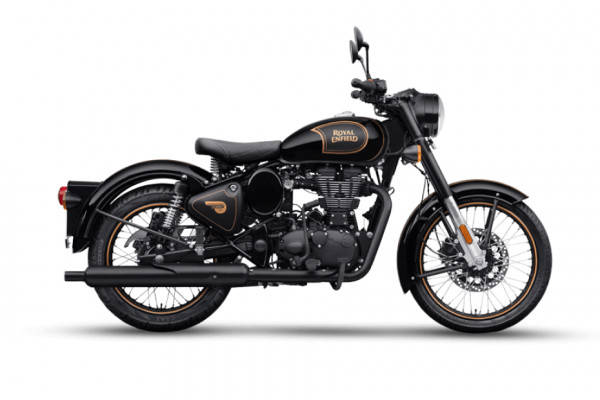 Royal Enfield Classic 500
Rs. 1.79 Lakh
Discontinued Model since 21 Apr 2020
---
About Royal Enfield Classic 500
The Classic 500 comes with a fuel injected 499cc engine which offers superior performance to the Classic 350 in the form of 27.2 bhp of power and 41.3 Nm of torque. The bike is priced at Rs. 1.62 lakh for the base version. Although the bike is visually similar to the Classic 350, there are minor differences such as the amp-meter is replaced with a low fuel light and EFI malfunction indicator light. The bike is available in five colours
Royal Enfield Classic 500 Overview
Royal Enfield will bid farewell to the Classic 500 with a special limited edition paint scheme. Called the Tribute Black Limited Option, this scheme features a dual-tone gloss black/matte black design, and will be produced on order in limited numbers. Those interested will have to log onto the manufacturer's website on February 10 between 2pm and 5pm.
The Classic 500 is the 350's bigger brother which comes with the added advantage of a bigger, 499cc fuel-injected mill producing a massive 41.3 Nm of torque at 4000rpm. The abundant pulling power is perhaps one of the unique selling propositions of this bike. The Classic 500 also comes with a low fuel light, apart from engine-check light, making it useful for long rides. The Classic also comes in attractive paint schemes like the Desert Storm, Squadron Blue, Chrome, etc giving the motorcycle a distinct personality.
Royal Enfield Classic 500 Colours
Tribute Black Limited Edition
Must Read Questions & Answers Before Buying Classic 500
Q. Which one is best to buy classic 350 or classic 500. I am looking for better performance, average & long terms with comfort as I am traveling with family.
Classic 500 comes with fuel injection system which gives better throttle response , and 500 has slightly better torque and power output . if you are buying this for long distance touring 500 would be a better option as it can cruise comfortably at 90 to 100 kmph on the downside though 500 is less fuel efficient and maintenance costs are higher when compared to 350. if you are looking form a more pocket friendly bike for city as well as for shorter rides then 350 would be the choice
RE STD 350 has ABS , Kick start & Black color only. RE 350 Electra has Self start , ABS & Many color & Chrome . Rest more less same .Go for RE 350 Electra ABS or RE STD 350 ABS.
Go for classic 350 in terms of mileage 350 is better for comfort both are the same and for performance test ride both the bikes and you will get your answer as per my opinion 350 is better overall
View All Answers
Q. Which bike is best Royal Enfield 350 or 500 - Classic 350?
Depends what you need , i have a 350 because i use it for daily commute for long rides more that 1000 km I'll prefer 500 but one can also do it with 350 i have done a 650km ride with my 350 faced no issue
If you want more power go for 500 else 350 is sufficient for normal ride
In 350 you have best mileage, in 500 you didn't have that mileage and if you want to re sell your 500 you didn't get enough amount but 350 give decent.
View All Answers
Q. Which is better classic 350 or classic 500 in performance?
M having stealth black 500 and its such a special feeling to own the RE which cannot be expressed in words but when it comes to 350 or 500 it is totally on your usage as the first thing is mileage which does not differ much as i m getting around 30+ and in 350 it is around 35 but when it comes to driving for sure you feel d diff the 500 variant is much more plesant in driving. so in my opinion just go for 500 but if you are luking price wise u can choose 350 bcz in looks both are same if you are not choosing the 500 only colour variant
Difference will be on the inflow of the fuel . 350 is with carburetor and 500 is with fuel injection. 500 got more pickup but lack in fuel efficiency as compare to the counterpart.i' ve rode my classic 350 for almost 5 years, most of the times in the himalayan region.i found no issue regarding the capacity of the engine.on my personal level i would have picked himalayan for classic 500. decision is yours brother. thanks and keep thumping
Having owned the Classic 500 I can tell you that it is not worth the extra money. The performance upgrade is not noticeable. I would suggest you gofor the Classic 350 . But the one thing I noticed is the exclusivity of the Classic 500. As far as I know there are only around 10 in my city out of the 1000s of bullets and that really is something special, so if you are looking for exclusivity then go for the 500.
View All Answers
View More Questions
All Classic 500 Questions and Answers
5.0

500cc classic bullet black 30 to 35 mileage 1st owner29500 kms runnew tyres15days back service doneno need to spend single rupeenew bumper, New mirrors, New hand grip

4.2

Amazing bike, bought the Desert Storm because of the unique colour & looks, ended up loving it due to its performance on highways & hills. The styling is lovely, I ride it with a single seat, no such modifications as such, I like the bike stock. The mileage (28) is very good for a 500 cc. The bike is indeed heavy in tight spots, but once you get on to a straight road or normal ongoing traffic, the bike just pulls you through like a rocket. I love the torque on the bike & even the braking is good, you just have to understand how to effectively brake & get the bike to stop. The maintenance costs are a but high & you have to regularly take care of the bike, i.e, regular washing, engine buffing, and cleaning of chrome parts, but I knew that already when I planned to purchase it so it doesn't bother me. Even when I upgrade to a bigger bike, I'm never selling my DS

4.6

Only one problem is it's sound can I modify it ???

5.0

I need this bick.. this bike is very good

4.2

You all know about Royal Enfield and even have must have owned or tried it at some point. Owning it for long term is not that expensive. Much less them KTM and Dominar. Highly recommend Motul 20w 50 Semi synthetic Ester based engine oil. Not comfortable in city or even not the best tourer as such. Okish built quality. Engine components looks weak. I have done 30 K so far with no major issues.
All User Reviews
3.4

BIKE IS GOOD TILL THERE IS NO TROUBLE BUT THE MOMENT YOU HAVE AN ISSUE, MOST OFTEN THE DEALERS ARE NOT ABLE TO ADDRESS IT IN ONE GO AND REQUIRES MULTIPLE VISITS WITH BELOW AVERAGE EXPERTISE LEVEL. COMPANY RESPONSE TO CUSTOMER CARE IS POOR AND MOST OFTEN THEY ARE IN SUPPORT OF THERE DEALERS ONLY AND YOU ARE MADE TO GO BACK TO THE DEALER ONLY IN SPITE OF REPEATED REQUESTS FOR A CHANGE OF DEALER DUE TO POOR WORKMANSHIP AND EXPERTISE. THE BIKE IS CERTAINLY NOT TROUBLE FREE WITH HIGH VIBRATION LEVELS BUT IT MORE THAN COMPENSATES FOR WITH HIGH TORQUE AND GOOD ACCELERATION.

5.0

It is the best retro bike and this colour is loved by everyone. Personally I also own a classic 350 gunmetal grey and I have done regular 1200 kms ride in 11 hours from chennai to palakkad and back frequently. It is a value for money bike and good for commuting touring and also a little bit of offroading. Like people says it can take you places with roads or without roads 35 to 36 kmpl is decent mileage for a 500 cc single cylinder mill

4.2

Stylish design and thump is awesome. But this bike vibrates too much after 80 km/ hr. Even i use motul 5100 still its uncomfortable. Build quality of bike is going down day by day. Welding joints are not cleaned properly and directly painted. Chrome parts get rusty. To get optimum comfort one need to change handle bar seats. RE service centre charge you unnecessary for unwanted spare parts. I am using this bike for past 5 years and mileage never goes below 32kmpl. On bombay goa road via pune i got 43kmpl average. It depends on your riding style. If you run always above 100 then petrol consumption is rapid. Maintain speen between 60 to 90 on fifth gear. Its awesome bike on of my best buy but company is just making money by selling cheap quality product.

4.2

You all know about Royal Enfield and even have must have owned or tried it at some point. Owning it for long term is not that expensive. Much less them KTM and Dominar. Highly recommend Motul 20w 50 Semi synthetic Ester based engine oil. Not comfortable in city or even not the best tourer as such. Okish built quality. Engine components looks weak. I have done 30 K so far with no major issues.

4.6

My CL500 SB has been really best choice in motorcycle I have done till now. I have clocked 42k kms till now and don't feel any power loss. You can blindly put your trust on its reliability for any distance ride. Performance is top notch for a cruiser motorcycle. If they had given a few modern instruments and better fuel Indicator it would have been a perfect motorcycle.
All User Reviews
Royal Enfield Classic 500 Expert Reviews

Mahindra has finally launched the much awaited Mojo. But to makes space for itself in the market, the Mojo will have to hold its own against some stiff competition like the KTM 200 Duke, Honda CBR250R, and the Royal Enfield Classic 500.
October 23, 2015
By Team ZigWheels

Here's the problem you see... I love telling tales, not tall ones but definitely long ones, and a couple of pages are hardly enough to narrate the entire mind blowing experience that was Royal Enfield's Tour of Rann of Kutch. Even narrowing down to a few memorable experiences is going to be a tough act, but here goes anyway.
May 13, 2010
By Team ZigWheels

54 years to the day the original Bullet rolled out from Redditch, Royal Enfield now has an all-new single cylinder motorcycle. Adil Jal Darukhanawala needed to not just have his eyes checked but also got a reality dose after an extensive test aboard this latest big bore machine.
January 18, 2010
By Team ZigWheels
Royal Enfield Classic 500 Images & Videos