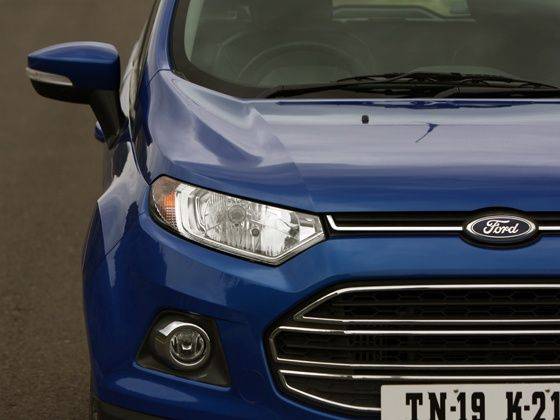 Even if you have finally managed to zero in on the car that you really want to buy so bad that you have already waited for its launch for months on end, the biggest dilemma you will encounter is actually after it hits showrooms. That's the point when you have to start wondering about the various variants on offer coupled with the engine options – this generally involves a detailed look at the brochure followed by a quick glance into your bank account and then back to the brochure.
That pretty much sums up a general car buying experience I guess, but with the EcoSport, there's one more thing to worry about. Of course, this little SUVs biggest USP is that itself – that it is a little SUV. But then there's that little gasoline engine option that calls itself the EcoBoost – a 1-litre technological marvel of such proportions that it has garnered multiple Engine of the Year Awards for itself on a global scale through the past few years.
While those accolades do give a lot of credibility to the EcoSport's smaller petrol engine (it also comes with the 1.5-litre petrol DuraTec mill), there's that most important factor of the price tag to consider. And the price almost always tilts the EcoSport battle from being technology versus convention (EcoBoost vs DuraTec) to being petrol versus diesel (DuraTec vs DuraTorq) in the classic sense of operation in India.
The 1.5-litre DuraTorq oil burner itself is no powerplant that you can afford to shrug away and not regret it later – it is a proven mill that has architectured the success of the Fiesta and the Figo over the years. It's really no surprise then that this 1498cc oil burner is probably going to end up winning the biggest chunk of the Ford EcoSport sales pie, after all petrol isn't cheap and somehow India has come to relate the SUV with diesel no matter how big or small they may be.
With 91PS of power on tap peaking at 3750rpm, the EcoSport's diesel mill may not be the most powerful among the one-and-half-litre clan, but it's the 204Nm of torque that really makes the difference. This peaks between a very low 2000-2750rpm which also means that maximum torque is made available almost as soon as you start rolling.
That said, it does take a little while for the turbo to spool and if you're caught ambling about in a higher gear at lower speeds such that you're somewhere around the 1500rpm mark, it could start getting a little annoying by the time the car builds up speed. Use that slick shifting 5-speed manual gearbox correctly though, and you will be rewarded with forward thrust that will put a smile across your face ear to ear.
Gear ratios seem well matched too, and that really showed in our roll-on tests. 60-80km/h in 4th gear took just over 4 seconds and the same in 3rd gear was achieved in 3.2 seconds. Considering most overtaking on Indian highways happens around those speeds, the EcoSport's diesel version isn't exactly as sporty as we would have liked it to be, but it nevertheless gets the job done with ease. Sprinting off the line, the EcoSport did start off on a pretty good note but kind of tapered off approaching three-digit speeds.
While the 0-60km/h time of 6.07 seconds was pretty respectable, it took all of 14.86 seconds to get to 100km/h. Alright, so that isn't really a disappointing time at all especially since that makes it faster than some hatchbacks with the same engine capacities and considering that the EcoSport TDCi weighs north of 1200kg, the little SUV should actually be proud of it even. Mind you, these figures were obtained with the wrath of the heavens pouring down quite incessantly on us resulting in the launch being slightly compromised.
That also meant that we couldn't bang in a proper top speed run either and had to back off at about 167km/h. Braking was another area of concern on the test car that we got – the front left wheel locked violently under braking from 60km/h and we decided to skip the anchoring process from 80km/h in the name of safety. And then there was the overall efficiency of around 17kmpl that got the smile back on our faces!
Where the EcoSport TDCi really had us impressed was in the handling department – it's got a slightly stiffer suspension setup, which means it handles through twisties more like a sedan than an SUV despite the extra ground clearance. You can flick it through a tight corner without really worrying about going overboard and this is where the small SUV formula truly shines. There is no doubt that the EcoSport is mixing the best of both worlds by offering the butch looks and capabilities of an SUV with the road manners of a sedan or hatch.
There is a flip side to the coin though and that obviously affects the ride quality a bit. The stiff setup (probably owing to the higher kerb weight of the car compared to its petrol counterparts), ends up bouncing occupants around a bit when going through some of our best roads considering the condition they are in thanks to the monsoons.
On plain tarmac though this isn't a problem at all and no matter where you're sitting you'll be a happy passenger. 200mm of ground clearance at the same time ensures that you won't be scraping that underbelly no matter where you're driving.
The EcoSport managed to capture the fantasies of the entire nation ever since it was shown off at the 2012 Auto Expo, but it really isn't a car for everyone. Considering the space available and the overall dimensions of the car itself, it can easily be replaced by a medium sized sedan or a big hatchback for all practical purposes.
Where the EcoSport beats every other body style else hands down though, is with its 346-litre boot capacity which, with the rear bench folded down, can be expanded to a cavernous 705 litres. Weekend trips with the family and their luggage suddenly don't seem like an issue at all anymore with the EcoSport parked in the garage!
There's a great big list of equipment as well and that should keep you entertained for all the time that you drive the car. The top-end Titanium variant also comes with an options pack that gets all the bells and whistles and tops it off with extra airbags as well. But like I said before, the EcoSport isn't really a car for everyone.
At Rs 9.00 lakh ex-showroom in Delhi for the Titanium variant with the Options pack, and just about 40 grands less without the Options, it isn't really a very cheap car for its size. Some might want to opt for a more conventional approach to their motoring and instead go in for a sedan.
But one thing is certain, there's something about the EcoSport that really keeps attracting you towards it. Maybe it's the fact that it's small, yet big. Maybe it's the really awesome styling that projects and butch image for whoever is driving it. Maybe to some it's cute and cuddly.
Whatever it may be it definitely is a great car indeed and with the proven 1.5-litre oil burner under that hood, personally it makes a whole lot of sense to all of us. The more technologically insane people might still find value with the EcoBoost engine, but on the larger scale of things, the very combination of a good-looking SUV that is compact to park, easy to drive and comes with a potent diesel engine under the bonnet just somehow appeals to our Indianness more than any other car on sale right now!