2018 Harley-Davidson Fat Bob: Road Test Review
---
A sporty Harley-Davidson cruiser? Is that even possible?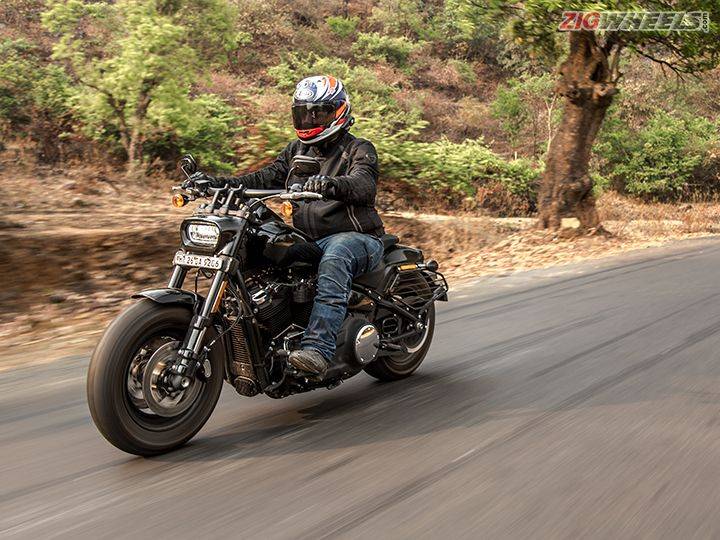 Personally, I've never been a big fan of Harley-Davidson motorcycles. While there's no denying that they are incredibly stylish and have a charm that transcends both genres and generations, they've simply not had the performance I've been interested in. So, it was a bit of a shocking realisation that with footpegs scraping, head body leaned deep into the corner and fat rubber balancing nearly on the edge of the sidewall, I was grinning like an idiot in my helmet. Welcome to the 2018 Harley-Davidson Fat Bob everyone - a bike that'll defy all expectations that you may have had about this iconic American motorcycle maker. Welcome to what I honestly believe is the most fun Harley-Davidson bike you can buy today.
Chassis & Suspension

At the heart of what makes the Fat Bob a joy to ride are brand new underpinnings, which are shared across the entire Softail family - a family encompassing a total of nine different models internationally, six of which are currently available in India. This new architecture is a complete departure from traditional Harley Davidson engineering in a lot of ways. It's built around a brand new frame that is lighter (by about 6-8kg) and more rigid (some 65 per cent stiffer) as compared to the earlier Softail frame. And the rear wheel is connected to this frame using a swing "arm" that looks like its a rigid part of the chassis, but gets a hidden monoshock under the rear seat. In a move that's uncharacteristic of Harley-Davidson, this monoshock actually has a remote preload adjuster as well.

The front suspension is even more modern - chunky 43mm inverted front forks that look like they might've been ripped straight out of a sportbike. In fact, the Fat Bob is the only bike in the 2018 Softail lineup that gets upside down forks. And they've been mounted at a rake angle of 28 degrees - the sharpest amongst all the Softails too.
Handling

That translates to some incredible handling prowess. For a bike with the word "fat" in its name, it's surprisingly nimble. Don't get us wrong… steering is a bit on the heavier side, considering that it's running a chunky 150/80-16 tyre at the front and an almost sportbike-like 180/70-16 tyre at the back. But the moment you get going, its kerb weight of over three quintals just disappears. Push it into a bend and you'll be carrying over 31 degrees of lean angle before the pegs grind - almost unimaginable for a motorcycle with forward-set footpegs. And there's plenty of mid-corner stability here as well.

It stops exceedingly well too. With twin discs and 4-piston calipers at the front and a single floating disc with a 2-piston caliper at the back, along with ABS as standard, it can pull to a stop from 80kmph in 29.05 metres. That's literally 15 centimetres farther than what a properly modern sporty naked bike, such as the 2018 Yamaha MT-09, can manage. From 100kmph, the braking distance is 45.34 metres, which is a little longer than half a meter than what the MT-09 does. Lever feel is very progressive too, but the only slight issue here is that it needs a bit of force at the lever.

The Fat Bob exhibits a grace in its handling that's completely uncharacteristic of muscle cruisers. This nimbleness can be felt in the urban environment as well, as the Fat Bob can make its way around traffic like a skilled boxer shuffling around an unwary opponent before landing a knockout punch. And what a punch it's got…
Engine & performance

… courtesy of the brand new Milwaukee Eight 107 motor - 1745cc of American V-twin muscle, pumping out 145Nm of torque that comes in at 3000rpm. That's enough to propel all 309kg of the Fat Bob from zero to 100kmph in a scant 5.36 seconds - nothing short of neck-snapping. It's quite enough for the 'Bob to spin up its rear wheel even in third gear if you get extremely ham-fisted with the throttle. But at the same time, all that torque going to the rear wheel is so easy to control, that at times, we found ourselves getting the bike slightly sideways, laying down some rubber on the tarmac while taking off from traffic signals. Who says responsible automobile journalists can't indulge in occasional hooning?

It's a modern engine too, at least in some ways. It might still use pushrods for actuation, but it packs 4-valves per cylinder (that's where it derives its name from) and bumps up compression to 10.0:1 as compared to the Twin Cam from the last-gen Dyna Fat Bob. So it is quite quick to rev too. But when you want to calm things down, the Fat Bob will be equally happy to oblige. Thanks to twin counterbalancers, this Milwaukee Eight motor is smooth enough for H-D to have ditched rubber mounts in favour of hard mounting it to the frame to make it a stressed member.

A lot of work has gone into improving this engine's heat management as well. The exhaust valves are oil-cooled ('precision oil cooling' in Harley-speak) and the traditional underseat oil reservoir has been dumped in favour of an oil pan in the engine sump, which is supposed to reduce the amount of heat felt by riders. While the seat now remains free of heat, it's still a very large capacity air-cooled motor, which does run rather hot in Indian summers. If you're gonna be running this bike in the noon-day sun, be prepared to put up with your thighs getting roasted.
Design

Let's not forget, this is one area where Harley-Davidson has always been very successful. But with the 2018 Fat Bob, it feels like they really cranked it up to 11 in the design department. The striking horizontal LED headlight, combined with the small-ish wheels and chunky tyres making for a very low and muscular stance, almost make it look like a bulldog baring its teeth. Even its bronzed 2-1-2 exhaust headers that snake their way from the cylinders and culminate in stubby twin mufflers look great. The Fat Bob gets a large analogue tachometer on its tank, with a built-in negative-LCD display for speed and other readouts.

While personally, I'm not a fan of tank mounted instrumentation, I'll have to admit this one does look good. And even the switchgear… the placement of which might be a bit odd, but the switches themselves are robust and look like they might outlive the bike itself.

But it's not all sunshine and rainbows, at least of the heavy metal variety. Harley took the job of bobbing or chopping, the rear fender to achieve a garage-built look a little too seriously. The end result is that each time you look at the tail, you think something has fallen off. Still, there's no denying that this Fat Bob is really a looker, and in Harley's own words, "designed to survive the Zombie Apocalypse". Yup, we believe them!
Ergonomics

The low stance of the bike thankfully results in a low seat height of just 720mm. So managing all its weight feels fairly easy. The seat itself is is well scooped out and comfortable, and its shape allows you to brace your backside against the Fat Bob's neck-snapping acceleration. But the riding position does take a bit of getting used to, with its feet forward footpegs and wide drag style bars that you need to ever-so-slightly lean towards. The stance does feel very "macho" and enjoyable once you have gotten accustomed to it though. But if you had any plans of taking a pillion on this bike, then it's best they remain plans only, as the rear seat almost feels like a joke.
Final Thoughts

This Fat Bob is the sportiest motorcycle from the 2018 Harley-Davidson Softail range and serves as a prime example of the company's willingness to break away from its traditional styles of motorcycles and experiment with something that feels like a proper modern-day muscle cruiser. Yet, it does so without losing on that X-factor that makes Harley's bikes so charming. It's something that you can happily use everyday, and have a blast when the road gets twisty. At Rs 14.59 lakh (ex-showroom pan-India), it's not cheap by any means, but if you're in the market for a Harley-Davidson, the Fat Bob should definitely be on your radar. And even if you're not a Harley fanboy, do check it out and take it for a test ride. It might actually end up converting you.
Harley Davidson Fat Bob Video Review
More on Harley Davidson Fat Bob

Rs. 16.75 Lakh Onwards
Ex-showroom, Delhi
See what our community has to say!
NEW
India's largest automotive community