2017 MV Agusta Brutale 800: Road Test Review
Nov 22, 2017
Views : 5016
---
The 2017 Brutale 800 makes 10PS less and weighs more than its predecessor, but is it as brutal as before?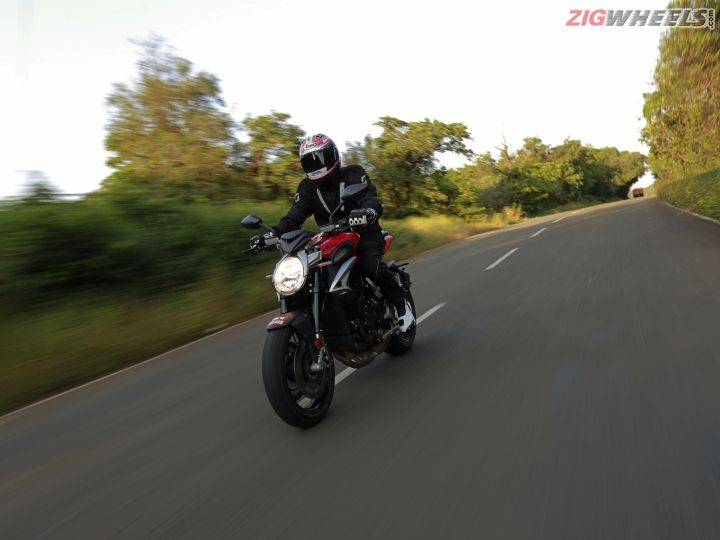 The 2015 Brutale 800 was manic... like a feral wolverine with a front wheel that aimed for the sky every time you crossed 6,000rpm, irrespective of which gear you were in. Riding it was a constant adrenaline rush - too often scary, but oh so rewarding every time you got it to do what you wanted. So my first apprehensions before riding the new Brutale was whether all the changes made to its mad motor to conform to the ever tightening emissions norms would water down the experience. The new bike certainly looks sharper, but can it live up to the ridiculous expectations set by its predecessor?

Crowd pleaser
Leave it to the Italians to conjure up incredible designs. The previous Brutale looked fantastic and the new one, while not messing with the basic shape, sharpens up all the odds and ends. It starts with the ovoid-shaped headlamp with an LED ring surrounding the bezel and the MV logo on top. Thanks to the DRL, from the front, there's no mistaking this new Brutale for anything else. A halogen setup provides a good beam spread at night.

However, considering the performance it is capable of, a projector or LED setup would have worked better. The bike now features a new satin silver-finished shroud covering the headlamp and reshaped tank extensions, both of which look elegant. It's easy to appreciate the attention to detail and the many man hours it must have taken to perfect the curves of an already great looking fuel tank.

At the back, the sculpted tail section is a work of art, with the floating seat design and the sharp tail devoid of the ungainly number plate holder, which has been separately side-mounted to the swingarm. To view the bike, the best angle has to be the rear three quarters - the way the tail, number plate holder and (now larger) triple stacked exhaust come together in visual harmony.

A one-track focus towards design does throw up a few oddities. The beautifully crafted rider's seat is just ridiculously soft, which makes the rider sink all the way down to its base plate, delivering all the comfort of a wooden plank. And the metal edges below have a tendency of digging into the insides of your thighs when you have your feet down. Further, the tank has a bulge below the knee recesses which, while looking great, really poke into your knees while riding. Locking your thighs around the tank is a tricky affair at best.

Archaic switchgear has always been an issue with MV Agusta's bikes, and the story hasn't changed all that much on this new Brutale. The rubber-covered menu switches on the left have stayed the same and they're an absolute pain to use, especially with gloved hands. The horn switch placed over the indicator switch is quite tricky to reach as well. It's a slightly different affair on the right, with a new engine-kill/starter switch as well as a new engine map switch, both of which are thankfully a little easier to use.

There's now a larger digital instrument cluster that's definitely easier to read, though the backlight feels too bright while riding at night and could do with brightness adjust. Most of its current competition is running full colour TFT instruments, and though the new instrument pod is a damn shade better than the previous one, it feels old-school and unintuitive to use when trying to cycle through its three preset riding modes - Rain, Normal and Sport, or trying to manually setup the Custom riding mode.

It's all about that torque
A switch to Euro-IV emission norms has sent automotive manufacturers scurrying to the drawing board to come up with ways to pass compliance without sacrificing too much power or engine characteristics. A blanket solution for most of them to deal with detuning has been to bump up engine capacity. However, the Brutale's 798cc inline triple keeps the same cubic capacity, but now loses on compression. So outright horsepower has come down from 123PS on the earlier bike to 110PS at 11,500rpm for this one.

But by fiddling with cam profiles and ignition maps, MV has been able to squeeze out 25 percent more torque - 83Nm at 7,600rpm - that peak is hitting 1,000rpm earlier than before. But the best part is that 90 percent of this torque is available right from 3,800rpm onwards. This makes for meaty torque delivery extending all the way to 9,000rpm, feeling the strongest between 5,000 and 8,000rpm.

So the revised motor feels different in character than its predecessor. Those who have ridden the old one will remember the manic surge post 6,000rpm that would have the front wheel clawing its way into the air no matter how delicately you feathered the throttle. This one too has the front picking up from time to time, but it feels more manageable. Where this motor really shines is in overall tractability and allowing you to make clean and quick getaways from as low as 30kmph in third gear. This was evident in third gear roll-on tests where the bike took 2.3 seconds to go from 30-70kmph.

That is a second faster than the Triumph Speed Triple S and 0.3 seconds faster than the Kawasaki Z900. 40-80kmph in fourth gear too is dispatched in a commendable 2.66 seconds. A 0-100kmph acceleration time of 3.8 seconds might be a bit slower than the competition but that was mostly due to the front wheel's tendency to lift under hard acceleration, causing us to momentarily back off the throttle just a little bit. Clutch modulation is something that the Brutale 800 still struggles with a little bit, with a more on-off actuation rather than a progressive one. But once on the move, the flawless bi-directional electronic quickshifter made up for the lack of great clutch feel.

Of the four riding modes on offer, the Brutale feels best ridden in Normal mode, where that extra torque really makes for an easy ride, even at slower speeds. In Sport mode the throttle response is too sharp, making it tricky to modulate during street use. However, this is something that should work best during track outings. Those riders who want to tailor the electronics package to their own liking can do so in the Custom mode, where they can choose from 8 levels of traction control, 3 levels of ABS as well as engine braking control. But as mentioned, changing all these settings isn't an intuitive process by a long shot.

Inline-triples are known for their distinctive sound and MV's motors are known to be a little bit more special on this front. Sure, it sounds quite clanky at idle, but open the throttle and that organ-pipe exhaust screams as you approach redline, emitting barks from the individual pipes on overrun and when you close the throttle.

Overall, this updated motor feels less manic and more controllable compared to the earlier one. But don't think for one second that it has lost all its edginess. This is still a wild animal at heart and is ever ready to bite if the rider isn't giving it the full attention it deserves.

Razor sharp
This has to be one of the sharpest motorcycles we have ridden, with compactness akin to that of a small 400cc naked. This makes the riding position so close-packed that it almost feels like you are sitting on the handlebars. Couple this with the ultra sharp rake and flat wide bars and you have a very reactive front end that is super sensitive to steering inputs. Directional changes happen in the blink of an eye and you have to be on the ball all the time while riding the Brutale 800. Fully adjustable 43mm Marzocchi forks up front provide ample feedback while a fully adjustable Sachs monoshock damper keeps the rear in check.

They provides excellent high-speed stability and offer good composure over bad roads, an improvement over its predecessor which felt skittish over uneven surfaces. That said, the ride remains rather stiff and that along with the aggressive riding position makes the Brutale 800 painful over long distances. The soft seat does not help matters either. One area which our test bike didn't perform all that well was mid-corner stability. When cranked over, the front end had a tendency to wallow a little, and the front end got a little unsettled over mid-corner bumps.

With Pirelli Diablo Rosso III rubber shod on the 17" wheels, the level of grip on offer is outstanding - something we're grateful for considering the performance on offer. Braking comes via twin 320mm discs clamped by four-piston radial calipers and a 220mm rear disc with a two-piston caliper setup. The brakes themselves are sharp and offer lots of feel, with the ability to haul the bike down from 100-0kmph in 3.87 seconds, covering a distance of 44.73 metres.

The Brutale 800 almost feels like an amped-up supermoto and is massive fun scything through in city traffic. But just like the motor, the bike's handling too needs your attention and a masterful hand to make it dance to your tune. Get it wrong, and things can quickly get hairy. Get it right though, and it offers a sense of enjoyment like no other.

Like no other
In a world of 'play it safe' motorcycles, the Brutale 800 has moxie. It is physical to ride, temperamental in attitude, and will maim you if you take liberties with it. This is in no way a bike for beginners, rather a middleweight naked that you grow up to explore and respect. The Brutale 800 is a bike more suited for the seasoned rider looking for something smaller yet engaging. Is it value for money? At Rs 15.59 lakh (ex-showroom India), not even remotely. Something like the Triumph Street Triple RS is a better rounded machine, providing as much performance, if not more, at just two thirds the cost.

But then again, you don't buy into the MV Agusta brand for practicality and sensibility. MV Agusta is about emotion and pedigree, the same way Ferrari is. And I'm happy that although in some ways, the Brutale 800 has been modernised and softened, it hasn't lost all its ferocity. There's enough of a wild animal in there to put a huge smile on your face every time you manage to tame it, even with the threat of the beast fighting back forever looming in the background. Oh, and did I mention that it looks absolutely stunning even when it's just parked in your garage?
More on MV Agusta Brutale 800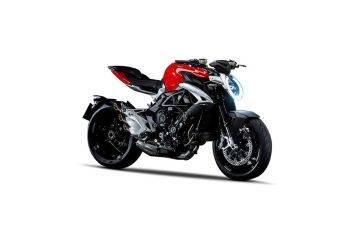 Rs. 15.60 lakh Onwards
Ex-showroom, Delhi
Get Loan starting @6%
View On Road Price