BMW Is Bringing Exciting Car Technology To Bikes Very Soon
---
The German brand aims to be the first to implement adaptive cruise control on motorcycles
The system latches onto a vehicle in front and mimics its speed.
Following distance can be set manually by the rider.
It is expected to make its debut on 2021 touring models.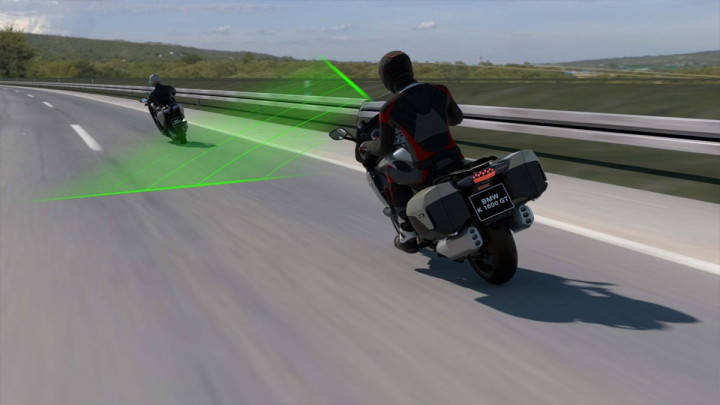 Motorcycle manufacturers are in a constant race against each other, both on and off the racetrack. On the track, it's a simple matter of whose bike crosses the finish line first, but off the track, it's about who can introduce the latest tech to their bikes first. One such piece of tech that's on the verge of making its two-wheeled debut is adaptive cruise control, and BMW Motorrad wants to be the one to strike first in this race. But will it succeed?

Well, first you need to know what exactly adaptive or active cruise control is, and you can do that by clicking here. In summary, BMW's Active Cruise Control (ACC) uses forward-facing radar sensors to monitor the traffic ahead. The system can detect a vehicle in front and latch onto it, by matching the bike's speed to that of the target ahead. If the car/bike/truck/bus ahead speeds up, the system automatically opens the gas and you speed up too; if the vehicle slows down, the bike lets off the gas (and applies the brake if necessary) to bring your speed back down as well.

The aim is to maintain a constant gap to the vehicle ahead, and the exact following distance can be set by the rider. The system also features two modes: comfort and dynamic, which change how gently the bike accelerates and brakes. Active cruise control can be a boon on long group rides where you can simply latch onto a fellow rider and ease your workload. Or perhaps even on a solo highway ride, if you happen to spot an inter-city bus that's on its way to your destination.

So, will BMW win this race? Well, it hasn't given us an exact timeline or motorcycle yet, but we think that the system will make its debut on the 2021 model-year K 1600 GT lineup. But BMW certainly isn't the only horse running. The system that BMW will employ has been developed by Bosch, which is also working in close conjunction with many other European and Japanese manufacturers. The Motorrad's three biggest challenges will come from KTM, Ducati and Kawasaki. The Italian brand, as part of its "2025 Safety Road Map", also aims to introduce adaptive cruise control in 2020. It also has the perfect platform to debut such a system, with the L-twin Multistrada 1260 GT and Multistrada V4 both on course for launches in the near future. Kawasaki has also announced that it will introduce advanced rider aids (including adaptive cruise control) in 2021.

But it's KTM that seems to be closest to the finish line. Way back in 2018, the orange brand released a video of the system in action, fitted to a 1290 Super Adventure test bike. Moreover, the bike also had a blind-spot detection system fitted to it, something that BMW has made no mention of so far. But who knows, with COVID-19 wreaking havoc all across the world, it's unclear how manufacturers' R&D plans and timelines have been affected. With no crystal ball in front of us, we can't predict who's going to win this race, but we're sure that interesting times lie ahead….
Add Your Comments