Upcoming Sedans In India: BMW 3 Series, Audi A6, Toyota Camry, Honda Civic and More
Jan 3, 2019
Views : 10209
---
SUVs might be making all the noise in the Indian market for now, but the evergreen sedans could make a big comeback in 2019. Here's a list of the most anticipated sedans that will launch this year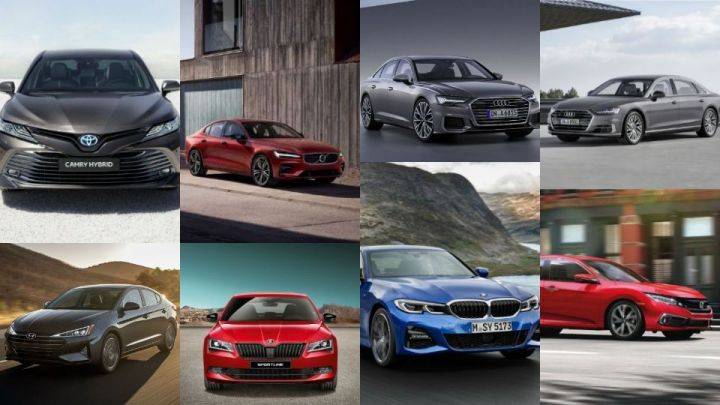 As we step into 2019, the dawn of the new year has got a lot in store in terms of new cars coming to India. With most manufacturers betting big on SUVs and crossovers, you might tend to think they might have given up on sedans? Well, there is good news for fans of three-box designs. There will be a host of new sedans launching this year, including the much-awaited Honda Civic, Toyota Camry and the all-new BMW 3 Series. Not only will we see the 2019 Audi A6 land here early this year, the Ingolstadt-based manufacturer will also get its updated flagship, the A8, to India. Here's the complete list of sedans we expect to launch in India this year.

Toyota Camry

The Toyota Camry has been among the most successful sedans worldwide. Now in its eighth generation, the all-new sedan is set to launch in India on January 18.

Based on the TNGA platform which supports electrification, the all-new Camry is 29mm longer, 14mm wider and has a 49mm longer wheelbase compared to the outgoing model, which was discontinued in December last year.
Spied testing multiple times in India already, the all-new flagship sedan from Toyota is likely to come with a hybrid powertrain. It packs the same 2.5-litre engine along with an electric motor as the previous-gen model. It dishes out a combined output of 211PS.

With prices expected to hover around the Rs 35 lakh mark, the 2019 Toyota Camry will go up against the Honda Accord Hybrid and the Skoda Superb when launched.

Audi A6

The all-new A6 made its global debut at the 2018 Geneva Motor Show and we have been waiting for it to reach our shores since then. Well, the wait is about to come to an end as Audi plans to introduce the A6 in India as early as February this year.

Sporting Audi's all-new design language, it gets a large hexagonal grille flanked by new, sharp LED headlights. The new A6 has grown up and how. It is now 7mm longer, 12mm wider and 2mm taller than its predecessor. The wheelbase has also gone up by 12mm and now stands at 2924mm.
Featuring mild hybrid tech from its elder sibling, the A8, the new A6 gets a 3.0-litre TDI diesel engine that makes 286PS of power and 620Nm of torque. It also gets a 3.0-litre TFSI petrol engine developing 340PS of power and 500Nm torque. The lithium-ion battery-powered mild-hybrid technology helps the A6 coast with the engine off, if the driver releases the accelerator. The vehicle can then travel with zero emissions for up to 40 seconds. As soon as the driver steps on the gas again, the 48-volt belt alternator starter (BAS) prompts a swift, very smooth restart.

Expected to be priced around Rs 55 lakh, the all-new A6 will face stiff competition from Mercedes-Benz E Class LWB and the BMW 5 Series in India.
Also Read: 2019 Baleno Facelift Photo Shows New Bumper

Audi A8

Audi is all set to stir the luxury sedan segment in 2019 with not one but two launches in India. Even before we see the all-new A6 here, the Ingolstadt-based luxury carmaker could get the bigger A8 here. Based on VW Group's MLB platform, the latest flagship Audi is 37mm longer, 17mm taller and 4mm narrower compared to the outgoing model.

Just like the A6, the new A8 comes equipped with a 48-volt mild-hybrid powertrain as standard. It consists of a water-cooled 48-volt belt alternator starter (BAS) and a 10Ah lithium-ion battery, which kicks in at cruising speeds to save fuel. Likely to be powered by a 3.0-litre diesel engine which makes 290PS in India, the all-new A8 will go up against the BMW 7 Series and the Mercedes-Benz S Class.
And just like its German counterparts, the A8 will also come loaded to the brim with creature comforts and safety tech. This includes Audi's AI traffic jam pilot, autonomous parking capabilities and an entire arsenal of ultrasonic and radar sensors along with laser scanners to rival even the most high tech submarines!

You can get your hands on the all-new A8 as early as next month and expect it to be priced around Rs 1.5 crore - Rs 1.9 crore.

Honda Civic

Making its official comeback after a hiatus of nearly four years is the all-new Honda Civic. Now in its tenth generation, the Civic coming to India will mostly be the facelifted version which was unveiled in the US in August last year.
Update: The Honda Civic has been launched, priced from Rs 17.70 lakh to Rs 22.30 lakh, ex-showroom pan-India.
With an all-new chunky design, a wide front grille and a full front splitter, the new Civic is quite a looker. Complimenting its looks will be an updated version of the old 1.8-litre i-VTEC petrol engine which makes 141PS of power and 174Nm of torque. And for the first time ever, the Civic will be offered with a diesel motor. Likely to be the same powerplant that powers the CR-V, the 1.6-litre engine churns out 120PS and 300Nm of peak torque.
Expected to be priced around Rs 18 lakh - Rs 25 lakh (UPDATE: Launched at Rs 17.7 - Rs 22.3 lakh), the Civic will take on the likes of the Corolla Altis, Skoda Octavia, and the Hyundai Elantra when it's launched by April this year.

BMW 3 Series

The venerable 3 Series has a successor now. The seventh-gen (G20) 3 Series was first unveiled at the Paris Motor Show last year. Featuring a much larger kidney grille and a GT-esque side profile with a slightly pushed back cabin and a rather stubby tail, the all-new 3 Series looks butch and muscular.

The new 3 Series is 76mm longer and 37mm wider but sits slightly lower than the outgoing model. The wheelbase has increased by 41mm and the front and rear track are wider by 43mm and 21mm wider, respectively. The G20 is also 55kg lighter than the current car and boasts of a drag coefficient of just 0.23.
It's likely to come in two trims - 320i and 320d. The 320i will feature a four-cylinder petrol engine that produces 184PS of max power. Meanwhile, the 320d diesel four-pot produces 190PS. Both engines will likely come paired with an 8-speed automatic transmission from ZF.

With an estimated sticker price of around Rs 45 lakh, the new 3 series will face stiff competition from the Mercedes C Class and the Audi A4 in India when it goes on sale by June this year.
Also Read: CES 2019 Preview: Future Car Tech From Mercedes, Audi, Hyundai & More

Hyundai Elantra Facelift

The Hyundai Elantra might not be among the most popular executive sedans out there, but the South Korean carmaker would surely look to change that with the upcoming facelift planned for launch in May this year.

With an all-new design language which incorporates quad-LED projector headlamps up front, the new Elantra looks like a serious upgrade from the previous generation. The rear has also been completely redesigned and it gets a new boot lid, tail lamps, and bumper.
Expected to be powered by the new 1.6-litre U3 diesel engine which churns out 136PS of power and 320Nm of torque, the new Elantra will take on the upcoming Honda Civic, Skoda Octavia and the Corolla Altis. We expect prices to start from Rs 14 lakh and go up to Rs 20 lakh in India.

Skoda Superb Facelift

The uber-luxurious Skoda Superb has always been a great bang for buck. But with the current-gen model being on sale since 2015, it's due for a midlife facelift. Spotted testing in India late last year, the new Superb facelift is likely to hit showrooms by mid-2019. While there won't be any major changes, we expect the facelift to get a redesigned front fascia with LED headlamps.
Mechanically, the new Superb is likely to remain unchanged and will feature the same 1.8 TSI petrol engine that puts out 180PS and 250Nm and the 2.0 TDI diesel unit that churns out 177PS and 350Nm. However, speculation of an all-new hybrid powertrain making a debut on the Superb is also rife. Expect the Superb facelift to be priced between Rs 26 lakh - Rs 35 lakh.
Also read: New Maruti Wagon R 2019 To Get Touchscreen, New Engine

Volvo S60

Synonymous with the latest and the greatest in safety tech, the 2019 Volvo S60 is all that and much more. Carrying forward a host of design cues from its elder sibling, the S90, the new S60 looks like a scaled-down version of the flagship sedan from Sweden.

Not only does the S60 stand apart from its German rivals in terms of its design, it is also the first one in its segment to shed the diesel engine. Volvo has decided to launch the S60 only with two petrol (T5 and T6) and two plug-in hybrid (T6 and T8) variants.
The two petrol variants make 250PS and 310PS, while the PHEV variants are good for 340PS and 410PS, respectively. All variants will come mated to an 8-speed automatic gearbox. We also expect an all-new electrified Polestar edition of the S60 to make it to India later on.

The all-new S60 will take on the likes of the Jaguar XE, Audi A4, Mercedes C-Class and the BMW 3 Series in India when it's launched around June this year. And while it will be launched as a CBU, Volvo is likely to keep its prices competitive with the regular version (probably T5) expected to retail between Rs 40 lakh - Rs 50 lakh, and the new electrified Polestar version likely to come with a price of over Rs 60 lakh.


Add Your Comments