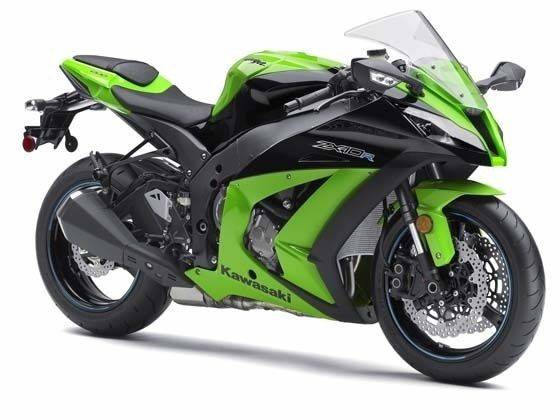 Kawasaki ZX10R
Expected: Late-2013, Price: Rs 12-14 lakh, Channel: CBU
The only one left to make its appearance in the litre-class fight in India, Kawasaki has taken a different approach and a welcoming one at that, by starting from lower capacity models and then climbing up the horsepower ladder. But the mean green 2013 Kawasaki ZX10R is all set to make its Indian debut next year albeit this one will be directly imported from Japan as a CBU unlike the rest of the Ninjas sold in the country that are brought in as CKDs. Which means the ZX10R won't be coming really at a price advantage over its rivals, but taking into consideration the rave reviews the new ZX10R has gathered around the world, it will certainly be a sight to watch the big Kwacker roll on our roads flashing its green mean side late 2013 onwards.
2013 Suzuki Hayabusa ABS
Expected: Early-2013, Price: Rs 13 - 14 lakh, Channel: CBU

Suzuki Motorcycles will bring the upgraded 2013 model of its flagship motorcycle, the Suzuki Hayabusa to India in 2013. The most significant upgrade on the new 2013 Hayabusa includes better stopping power thanks to Brembo-made radial-mounted discs upfront while the monobloc callipers also get lighter and more rigid on the new bike.
Not that the earlier Hayabusa lacked the bite but for 2013 there are also larger diameter brake pistons growing in size from 32-30mm to 32-32mm which results in better overall braking as well as better braking feel to the rider. More importantly one of the most powerful motorcycles in the world today, the Suzuki Hayabusa finally gets ABS apart from getting a host of new colour schemes for 2013.
Kawasaki ZX14R
Expected: Late-2013, Price: Rs 13-15 lakh, Channel: CBU

One of the latest motorcycle to claim the crown of being the quickest production motorcycle ever, the 2012 Kawasaki ZX14R will grace the Indian shores sometime next year. The biggest and baddest Ninja of them all will also boast a matching pricetag as it competes with its arch nemesis on Indian turf, the Suzuki Hayabusa. Expect the 2013 Kawasaki ZX14R to be priced somewhere in between Rs.13-15 lakh as it will be a direct import from Kawasaki's manufacturing facility in Japan. As much as the bulk of these hypersports machines are threatening, interestingly, these motorcycles are quite comfortable and easy-going in their attitude.