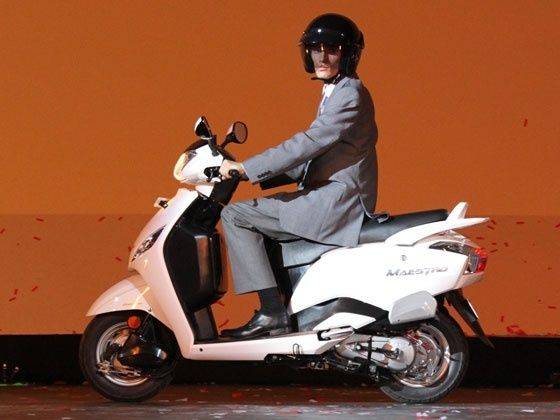 Hero Motocorp Maestro
Expected: early-2012 Price: Rs. 45,000-50,000
After having unveiled its first offering, the Impulse on-off road motorcycle, Hero MotoCorp is all ready to bring in its second product, the Maestro – an 110cc gearless scooter that will take on the Honda's Activa and the Suzuki Access. Shown at the company's launch in London alongside the Impulse, the Maestro is powered by an 109cc four-stroke, air-cooled, single-cylinder motor outfitted with an Advanced Microprocessor Ignition (AMI) system with an power output of 8.2bhp at 7500rpm. The design is conventional and follows simplistic styling without any fancy tit-bits but a rather subtle and elegant appeal to its form. The Maestro is expected to hit the roads by early 2012 and it will play a key role in MotoCorp establish its new identity in the Indian households.
2012 Honda Scooter
Expected: mid-2012 Price: Rs. 50,000-60,000
After having handed the Indian enthusiasts a fantastic product in the form of the CBR250R in the premium category, Honda has once again turned its attention back onto the volume segment and the first new product expected to roll out of their Gurgaon factory is an all-new scooter adding another model to the company's already illustrious scooter portfolio. The new scooter model from Honda is rumoured to be bigger in capacity taking it to 125cc and will feature telescopic front suspension with bigger wheels as well as more horsepower. The launch is expected to be sometime by this year-end or early next year. No technical data has been disclosed yet, but it is certain that the new scooter from Honda will pack in more punch than the Activa and the Dio.
2012 Yamaha Scooters
Expected: mid-2012 Price: Rs. 50,000-80,000
After having given some bumper motorcycle products in recent years, Yamaha India is now shifting its focus onto the scooter segment in the country, which is huge and growing at a solid pace. Currently, Yamaha is doing the necessary research on what scooters to bring into India from its huge scooter range. The scooters will be introduced in 2012 in India and they will be locally made at Yamaha's current production facilities in Surajpur and Faridabad. Expect the scooters to be just as stylish and upmarket as their motorcycles sold in the country, however, which also means that the products will also demand certain premium over its rivals. The made-for-India Yamaha scooter has been developed in Japan, similar to the first generation YZF-R15. The company has plans to invest about Rs. 10 crore in setting up a dedicated assembly line for its new scooter models.
Vespa LX125i Scooter
Coming in: Mid 2011 & Expected price: Rs. 50 - 70,000 (ex-showroom)
The legendary scooter brand Vespa is all set for another comeback in 2012, but this time it will be all by itself armoured with a scooter that clubs modern tech with retro charm. In all certainties, it will be the classic wasp-ish looking LX125 series of scooters from Vespa that will be launched in India to begin with. Piaggio Vehicles has already set up an all-new engine plant to make a range of engines and manufacturing lines for 125cc and larger petrol units is already in place.
2012 Honda Commuter Motorcycle
Expected: early-2012 Price: Rs. 40,000-45,000
After ending its 26 year long partnership with Hero Group, Honda is all geared to take on the commuter segment with a low-cost entry level motorcycle that the company will showcase at the 2012 Auto Expo and launch sometime in next financial year. Till the partnership existed, Honda was unable to enter the volume segment that has been dominated by Hero Group since the inception of its econo-friendly 100cc 4-stroke commuters during mid-eighties. With the joint venture ending last year, Honda is now free and determined to make its foray in the entry level market in order to achieve its target of selling 21 lakh units in the coming fiscal year. The new motorcycle will be a 100cc commuter unlike Honda's current low-capacity offering, the 110cc Twister, and it will be enticingly priced in the region of Rs. 40,000 to Rs. 45,000.
Also look at:
Two-Wheelers of 2012: Rs. 70,000 to Rs. 1.80 Lakhs
Two-Wheelers of 2012: Rs. 1.80 lakhs to Rs. 2.50 lakhs