This Container From Audi Can Charge Up To 20 Cars
May 11, 2020
Views : 2275
---
This innovative charging container has a total charging power of 1200kW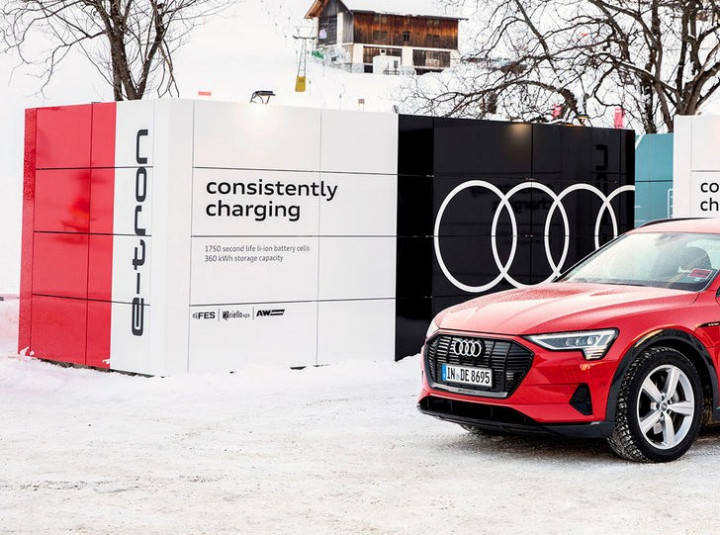 It also supports fast charging capabilities.
The charging container made its debut at the World Economic Forum in Davos, Switzerland.
It uses second-life e-tron batteries as the source for power.
This swanky looking container is Audi's latest innovation in the electric charging infrastructure. This interesting container-like structure features gull-wing doors which open up to a wide array of charging outlets, 20 to be precise! What makes it interesting is its aesthetics coupled with a compact footprint.
Since electric cars are all set to overthrow conventional IC engines, expect charging networks to come up thick and fast. The charging containers that you see here are packed with four used Audi e-tron batteries that hold 1200kW of charging power through 20 outlets.

These second-life lithium-ion battery cells have a storage capacity of 1000kWh while also supporting fast-charging abilities. The charging station can apparently charge up an EV in 15 minutes! Similar charging containers were first used earlier this year at the World Economic Forum in Davos, Switzerland. This was made possible with the help of Moon, an Austrian company. But according to a report, Audi has now tied up with Swiss energy company ABB for manufacturing these containers for commercial use.

Audi also deployed a couple of e-tron SUVs to ferry people around at the annual event. Audi charged and utilised hydroelectricity as the core source to make the whole setup carbon neutral and free of emissions. Apart from the practicality, the whole setup also looks cool thanks to those gullwing doors. In fact, Audi's setup is similar to Tesla's mobile supercharger.
Audi is clearly laying the foundation for the future. The German carmaker has a whole line of EVs coming up under its e-tron nameplate. Some of the notable models include the e-tron SUV and e-tron GT four-door sedan. Meanwhile, Audi is expected to launch the e-tron in India soon.
Add Your Comments