The Nano Is Finally Launched!
---
It's been a long wait since the world first set its eyes on Tata's promise to the people in January 2008 and after the hassles of politicians in West Bengal and the consequent shift to Gujarat which did delay the project to a certain extent, the Tata Nano has finally been launched in the Indian market.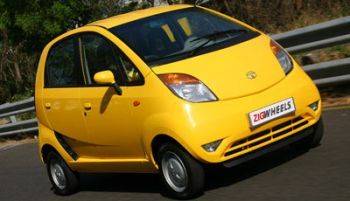 The launch of the Tata Nano is nothing short of historic. It's a moment that India, as a country, has been waiting for and it has also been the sole reason to put India on the global map for the Nano has brought about the thought of Indian ingenuity along with the fact that India should be taken seriously as a global small car manufacturing hub. For Tata, the Nano might just be a dream come true, but the way the cookie has crumbled has lead to the fact that the Nano is possibly one of the biggest tools in public relations for the entire Indian automotive industry. The world has waited for this moment with baited breath to actually witness the launch of a production car so cheap. The Ford Model T might have changed the way of production and the VW Beetle might have been the original people's car, but the Tata Nano has stolen all the thunder, for this is a new era and in this day and age Tata has truly re written the rules of production based on input costs.
No doubt, this is a moment for every Indian to stand tall, sit proud and show their patriotism for one man's dream has literally generated a phenomenon. The Tata Nano, a small car, a cheap car, a car that critics thought could not be made, yet today it too stands tall in the limelight for the world surely has its eyes on this little machine.
Ex Showroom Pant Nagar

Ex Showroom
Delhi

Ex ShowroomMumbai

Tata Nano Std (BS2 )
Rs.1,12,735/-

NA

NA

Tata Nano Std (BS3 )
Rs.1,20,960/-
Rs.1,23,360/-
Rs.1,34,250/-
Tata Nano CX Solid Paint (BS2)
Rs.1,39,780/-

NA

NA

Tata Nano CX Metallic Paint (BS2)
Rs.1,42,780/-

NA

NA

Tata Nano CX Solid Paint (BS3)
Rs.1,45,725/-
Rs.1,48,360/-
Rs.1,60,320/-
Tata Nano CX Metallic Paint (BS3)
Rs.1,48,725/-
Rs.1,51,360/-
Rs.1,63,320/-
Tata Nano LX Metallic Paint (BS3)
Rs.1,70,335/-
Rs.1,72,360/-
Rs.1,85,375/-
The booking amount of the three trim levels will be the same across the country as follows:
| | |
| --- | --- |
| | |
| Tata Nano Std. ( BS2 and BS3) | Rs.95,000/- |
| Tata Nano CX ( BS2 & BS3) | Rs.1,20,000/- |
| Tata Nano LX ( BS3) | Rs.1,40,000/- |