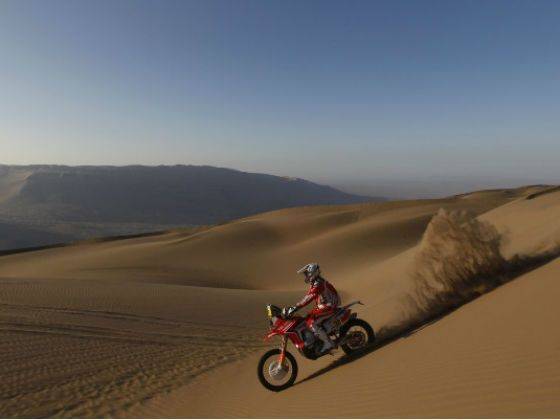 After a strong performance in the first two days of the 2013 Dakar Rally, Javier Pizzolito continues to impress as he once again stood strong on Day 3 with a 10th place finish. The Argentine rider did well to finish just 7 minutes and 39 seconds shy of stage winner Chaleco Lopez in the 343km stage from Pisco to Nazca, which had a 100km in liaison and 243km of a special stage.
He commented on his performance saying, "I started 50th and there was a lot of dust and fech fech at the beginning so I tried to do more "off piste" to recover positions. When the way was clear, I started to push and finishing 10th is a good result. It was a varied stage with some hard ground, fast track, big soft dunes and fech fech. I'm confident for tomorrow and my target is to do a good team result".
Meanwhile, team-mate Helder Rodrigues rode well in the dunes and was catching up with stage front-runner Cyril Despres, but a fuel problem made him lose valuable 20 minutes, resulting in him finishing 33rd in the stage. However, Rodrigues managed to move up to 28th position in the overall results.
Team HRC's third rider, Johnny Campbell, had a tough day as a mechanical problem forced him to stop just 20km into the special stage. Although his bike was repaired and he continued to race, he had lost a fair amount of time resulting in a 159th position finish in the stage, and a drop to 146th in the overall results.
Tackling a never-ending mix of sand dunes, rocks and dry river beds, Rodrigues and Pizzolito did well in what was the longest stage of the 2013 Dakar Rally, 720km from Nazca to Arequipa including a 288km special stage.
Helder Rodrigues finished 5th in the stage moving him 12 positions up to a 16th place in the overall results. Javier Pizzolito continued riding well to finish the stage in seventh position and standing just ahead of his team-mate in 15th place overall.
"I'm pleased with today's stage. My bike worked well and I was able to gain valuable positions and close the gap with the front riders a little. I started 23rd and there was a lot of dust and fech fech at the beginning but then I started to push and I'm happy with the result. Tomorrow I aim to continue like this and climb some more positions in the overall standing," Rodrigues said.
After a tough third day, Johnny Campbell recovered well and gave a strong performance to finish 38th in the stage, which moved him up the order to a 120th in the overall classification from 146th at the end of Day 3. The 2013 Dakar Rally will now exit Peru and enter Chile reaching Arica which will have a 135 km special stage and 275 km in liaison.