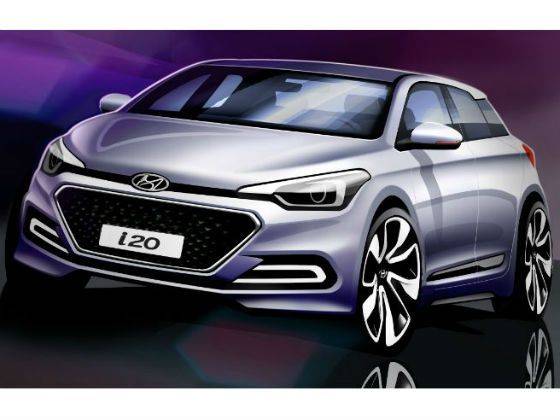 Hyundai has sent us official renderings of the 2014 Hyundai i20, and calls it the 'Elite' i20. The Elite tag is to do with the premium positioning of the hatchback and also to announce the arrival of a next generation model. Now we have already seen the car in full in the spy pictures that surfaced a few days earlier but this can give us a fair idea of the starting point of the next generation i20.
Hyundai hasn't revealed any details about the car besides the rendering but the sketch tells us a bit more. The design of the new i20 was done at Hyundai Motor's Design Centre Europe in Rüsselsheim, Germany. It carries the next stage of the Fluidic Sculpture design philosophy that Hyundai cars bear, more recently seen here on the Santa Fe.
The new i20 has aggressive front end styling with a large trapezoidal grille and a wide stance. Strong shoulder lines and a blackened C-pillar give the new i20its sporting pretensions. Move towards the rear and you can see the large taillamp cluster with LED inserts. The high set rear as with the rest of the car looks very Euro chic.
The i20 is likely to sport the same engines as before but styling, suspension, chassis and interior will be all new. Hyundai will launch the new i20 on August 11. Hyundai has started accepting bookings for the new i20 from today. To know more about the new i20, click here.