Next-Gen Mercedes-Benz A-Class To Feature New Infotainment System And Hybrid Tech
Dec 13, 2017
Views : 1827
---
Dubbed officially as the 'Mercedes-Benz User Experience', the new infotainment will be unveiled at the 2018 Consumer Electronics Show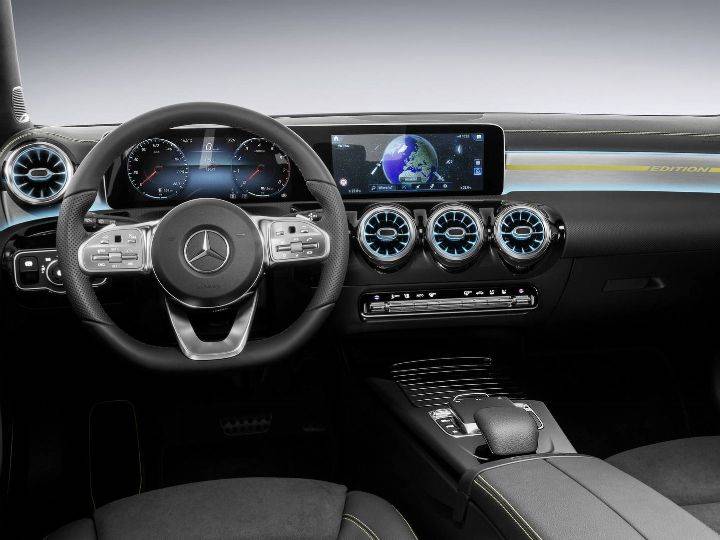 It seems that Mercedes-Benz has found the perfect strategy to keep small car fanatics at their toes. Not long ago, the German auto giant revealed what the interiors of the next-gen A-Class will look like. There is no other way to put it - we were bowled over by what we saw. The next standout feature that Mercedes-Benz will showcase is its new infotainment system at the 2018 Consumer Electronics Show (CES).
Also Read: 2018 Mercedes-Benz A-Class Interiors Revealed

Tagged as the 'Mercedes-Benz User Experience' (MBUX), the new infotainment system will find a place in the new A-Class, which is slated to launch in 2018. Soon after, the same tech will also be seen in the new CLA and GLA models as well. In the new A-Class though, the MBUX will be offered as part of the standard equipment with a 7-inch display. Higher-spec variants will boast a 10.25-inch screen, embedded with bonded glass technology. The top-of-the-range variants will feature the MBUX with a 10.25-inch fully digital instrument cluster, just like the ones found on more expensive Mercs.
Also Read: Why Is Mercedes Counting On A Four-Door AMG GT?

Another tech that will find its place in the new-gen A-Class is a hybrid powertrain. This can be seen in the official pictures which were released to showcase the hatchback's dashboard design. What we can notice is that with approximately 75 per cent juice left, the car can still go for an additional 36km. That roughly translates to about 50km range on a fully charged battery pack. Of course, that range will depend on a lot of other factors like traffic and driving style. Since electric vehicle tech is the upcoming thing, expect Mercedes-Benz to add at least one electrified variant across its entire model range.

Mercedes-Benz hasn't revealed the official launch date for the newest iteration of its entry-level car. However, we expect the Germans to showcase the complete package at the 2018 Geneva Motor Show, which opens its gates in March every year.
Also Read:
Mercedes-Benz CLS Revealed At 2017 Los Angeles Auto Show