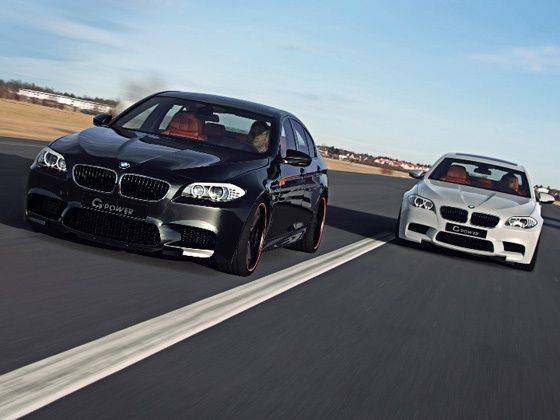 The new BMW M5 F10 won rave reviews for being one of the best performance saloons in the market. However, cars like the 2012 Nissan GT-R still had the measure of it. Not any more. G-Power, the BMW specialist tuner has just bolted on the G-POWER Bi-Tronik III system which boosts the output from 560 hp/ 680 Nm to a whopping 640 hp/ 777 Nm.
The basis for the electronic output increase is the fact that G-POWER, in contrast to the manufacturer, does not use standard software full of compromises but an individual solution for the engine. Among others, the parameters for the amount of fuel and the ignition timing are modified depending on the product variance of the engine. Furthermore the boost level is moderately increased, as well. As a result, performance figures are off the charts. 100 km/h is demolished in 3.9 seconds flat and the top is 315 km/h.
The G-Power program for the BMW M5 F10 touches all key components and lets the nifty BMW M5 appear even more sporty and beautiful and makes it, last but not least, a lot faster. And its not just performance, there's more. 21 inch G-Power Silverstone RS and Silverstone Clubsport alloy wheels with Michelin Pilot Super Sport tyres in the dimension 265/30 ZR 21 and 305/25 ZR 21, G-Power coil-over suspension, stainless steel sport rear muffler featuring the legendary G-Power Deeptone technology and the G-Power Ceramic Braking System complete the G-POWER package for the BMW M5 F10. Sportscars beware!