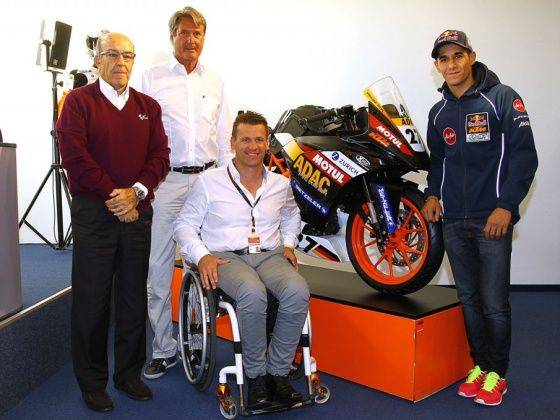 By introducing the motorcycle that will be used for the 2014 "ADAC Junior Cup powered by KTM", KTM takes another important step in extending its activities on asphalt. Following the successful entry into the Moto3 World Championship – KTM brought the World Championship title to Austria in the premiere year – and the completion of the DUKE range of naked bikes with the 125, 200 and 390 displacement models, there will now also be a fully faired sports bike available for sale. In typical fashion, there is a direct connection to motorsports. The "ADAC Junior Cup powered by KTM" will see the RC390 Cup in action for the first time worldwide as the exclusive motorcycle used in this Brand Cup competition.
The primary development objective of the fully faired RC390 Cup bike was to enable affordable junior racing with the best possible sporting potential. To achieve this, the Cup RC bike has a strong and reliable heart of the most modern kind. 375cc displacement, four valve technology, liquid cooled, two oil pumps, electronic Dellorto fuel injection – these are the core features of the single cylinder, four stroke engine that is set to release around 38 horse power in the Cup bike and, which incidentally will be very fuel efficient even at full throttle.


KTM CEO Stefan Pierer: "Since 1993, ADAC has achieved a great deal with excellent work with up-and-coming riders in the Junior Cup. The promotion and support of young talent is also a very important aspect for KTM. We are happy to put a lot of energy into this because we actively engage in the promotion of young riders both in off-road sports and on asphalt. We are honestly thrilled that we will be able to support the ADAC Junior Cup as the KTM 390 Cup with all KTM bikes. Also because with ADAC we have a committed, reliable and strong partner in which everyone involved is a professional."