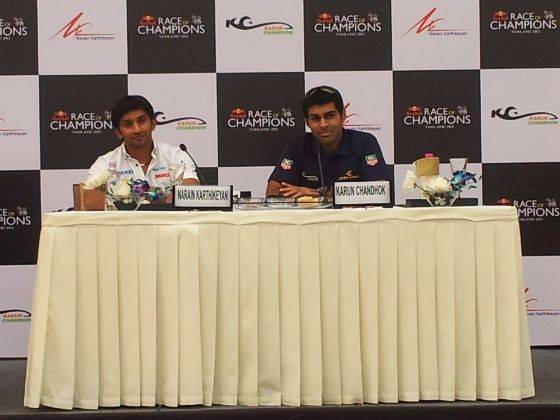 HRT Formula 1 driver Narain Kathikeyan and JRM Racing's Karun Chandhok will participate in Asian qualifiers of the marquee Race of Champions, after the end of the 2012 motorsport season. The Asian qualifiers will also feature Chinese participation, with F1 test driver Ho-Pin Tung and Han Han who won the China Rally Championship and the China Touring Car Championship. Han also happens to be the world's most read blogger.
Karthikeyan said, "It's really cool to receive an invitation to participate in the Race of Champions. What a fantastic honour it is as well. The competition is the strongest in the world, with only the best of the best from many different forms of motorsport all competing against each other. The added benefit of representing your country is a real privilege, and one which I have done before in my career, so I know how special that feels. Karun and I are definitely going to enjoy ourselves, racing against our peers in some pretty cool machinery, but we will also be gunning for victory, and with a bit of luck, we will bring glory to our nation."
Chandhok too expressed his excitement at making his debut in the tournament. "Narain and I haven't been in the same team since 2004 when neither of us was an F1 driver. A lot has changed in life since then and it should be a lot of fun to work together again. ROC has always attracted some of the biggest names in world motor sport including Sebastian Vettel, Michael Schumacher and Mick Doohan and it will be nice to spend time with all these guys as well."
If the Indians win the Asian qualifiers, they will then face luminaries of the racing world such as 2012 MotoGP champion Jorge Lorenzo and 2012 IndyCar champion Ryan Hunter-Reay. But the Chinese racers Tung and Han are no pushovers, having reached the semi-finals of the Nations Cup in 2008.
Ho-Pin Tung is looking to repeat that feat in this year's tournament. He said, "Even today people in China still ask me about my experiences at the Bird's Nest in Beijing in 2009. It's a great honour to be back again and to represent China for the second time at ROC Asia. We will try to repeat the great performance from Beijing where I think my team-mate Han Han and I surprised quite a few people when we made it all the way to the semi-finals. I can't wait!"
His partner Han Han added, "I'm really glad to be able to participate in the Race of Champions with Ho-Pin Tung for Team China once again. That was a fantastic experience in Beijing three years ago and I hope this time will be even better."
This year's tournament will take place at Bangkok's Rajamangala stadium on December 15/16. With head-to-head races on a parallel track in cars that are completely identical to each other, there is no other tournament in the world that focuses purely on driving skills such as the Race of Champions.