Hyundai Elantra Facelift: More Spy Photos!
---
This is the first time Hyundai's new design language has been applied to a road car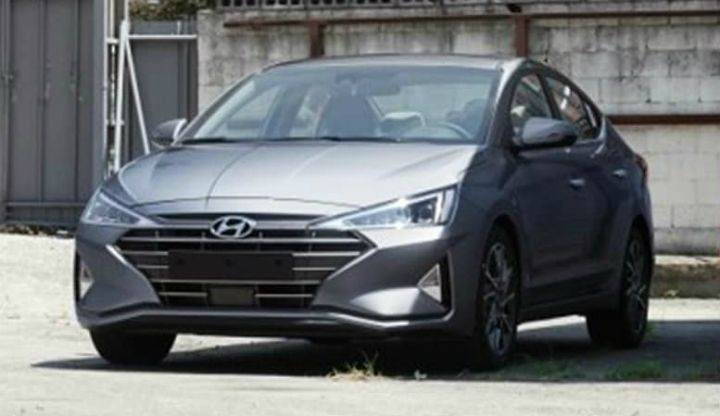 More spy shots of the Hyundai Elantra facelift have emerged, clearly showing a car that is a departure from the the current model's rather sedate design. With a better look at the new car, the spy shots reveal a car that has clearly taken inspiration from the rather stylish Le Fil Rouge concept car first showcased at the 2018 Geneva Motor Show in March.

Hyundai's new chief designer Luc Donckerwolke took over the reins from Peter Schreyer at the end of 2017 and one of his first diktats was to end 'boring'-looking family designs on cars. The Hyundai Le Fil Rogue previewed elements which could make that happen: following classic design proportions taking into account the 'Golden Ratio', a shift towards more striking and dynamic look without being too radical and being recognisable as a Hyundai.

From the new spy shots it is easy to recognise how Hyundai has applied this new design direction into a roadcar. The familiarity continues thanks to the use of Hyundai's signature 'cascading grille', the coupe-like roof, the Hofmeister kink on the rear window and the tail lamp design from the older car. But the design looks fresh at the same time.

The angular design is evident everywhere you look - from the headlights to the fog lamp surrounds, the hood, the taillamps and the lower rear bumper insert. The 'Elantra' name badge is placed prominently on the boot, mimicking premium cars like those from Porsche. While the exterior updates are quite striking, it remains to be seen if the Elantra will get similar updates inside.

This new Hyundai Elantra is set to go on sale in South Korea in the next couple of months, following which it will be launched in a phased manner worldwide. It is inevitable that the same will be headed to India but considering the current model is only two years old, Hyundai India may take its time to bring it to the market. Do you like the way the new Elantra looks? Let us know over at Facebook and Twitter.