Honda MSX 125 Grom Race Bike. So Much Want!
Oct 27, 2020
Views : 3810
---
The track-only mini bike will be used for the Grom One Make Championship
It gets HRC colours and race-spec bodywork.
Features a free flow exhaust and slick race tyres.
It will be available only in Japan.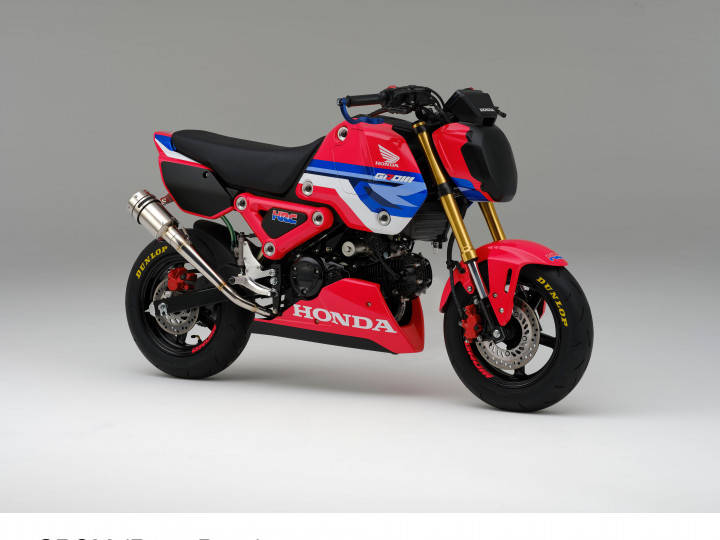 The HRC Grom Cup is not a new race series. Search YouTube and you will find videos of leather-clad racers crouched on tiny race bikes jostling for pole position on Japan's premier race circuits. With a new Grom out, the race version will naturally follow. Honda has released images of the new MSX 125 Grom HRC Grom cup bike and it looks purposeful.

It gets race bodywork in the form of a shorter tail section and an engine cowl. The headlamp has been replaced with a plastic shroud, a move that should save some weight. It looks striking in Honda's HRC race colours. The handlebars are flatter and the footpegs more rear set for a sporty riding position. You also get an anodised front brake lever guard.

Honda has not revealed any details but from the looks of it, the motorcycle gets a free-flowing exhaust. The race bike could have a performance air filter at the very least which should liberate more power than the stock 9.7PS and 10.5Nm. Given that the new Grom gets a 5-speed gearbox, the race bike could carry more speeds on the straights now.
Also Read: Reasons why we like the Honda Navi

While the suspension and brake components appear to be stock, the Grom cup bike gets race-spec Dunlop tyres. These race slicks should offer fantastic grip in corners. Given the extra cornering clearance afforded by the taller footpegs and higher set exhaust, we can expect to see some crazy cornering action on the race Groms.

Since the HRC Grom Cup is held in Japan, the race Grom can only be bought there. However, we think Honda should extend the Grom series to other places like Europe which has a larger racing scene. The Grom Cup would be an ideal platform for young racers to hone their skills on a motorcycle their size. And while we're at it, let's consider India as well. Maybe a Navi One Make?