Hero Gears Up For Dakar 2018
---
Hero MotoSports Team Rally, in partnership with Speedbrain, is all set to take on the OiLibya Rally in Morocco, on the newly developed Dakar Rally bikes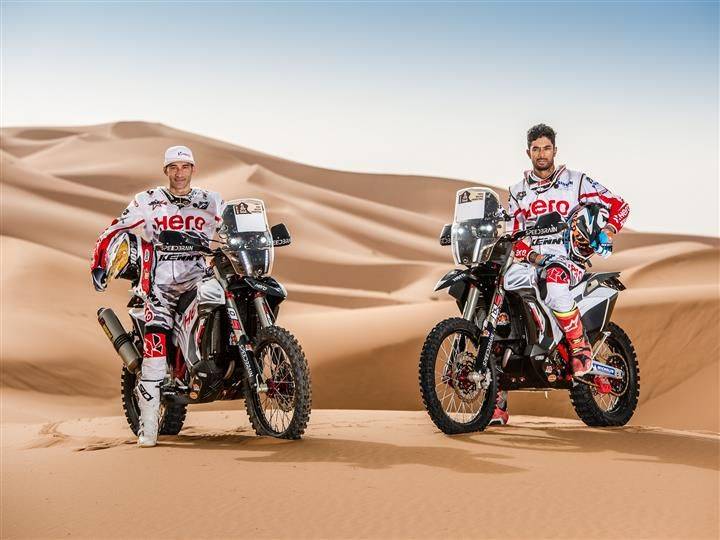 The Hero MotoSports Team Rally is all set to take on the OiLibya Rally in Morocco, starting from October 5, 2017. The riders include Joaquim Rodrigues from Portugal and CS Santosh from India.
This will be the team's second run in Northern Africa and this time around they will have an additional rider by the name of Oriol Mena. After a week of successful testing and training together with the novice rider, the team claims to be confident enough.
The OiLibya Rally will also prove crucial for the rally team as this is the first time ever the 2018 version of the new rally bikes will be taking on the challenge. This will enable the team to collect some critical data on their latest evolution.
Speaking of the new rally bikes, they are designed and developed by Speedbrain, Hero MotoCorp's motorsport partner. The new Dakar bikes from Hero will be powered by a 450cc, single-cylinder engine that would generate maximum power of around 55PS. The two LED fog-lamps along with the vertically running LED headlamps, give the new rally bikes a very distinct look. The saddle and the rear end of the bike also seem to get a minor tweak in design. Similar to its predecessor, the new Hero Rally bike will also be equipped with lightweight components that are designed to tackle the toughest of terrains and provide optimum performance in the worst of conditions.
Some of the equipment that will be seen on the bike is a navigation tower, map chart holder, three water reservoirs and two fuel tanks (large 29-litre and an auxiliary tank). The mentioned features are just some of the few that any ideal Dakar Rally bike comes equipped with. With over 9,000 kilometres to be ridden under some of the toughest climatic conditions, the Dakar Rally is undoubtedly the most gruelling event in the world.
On paper, the OiLibya Rally of Morroco (5-10 October) closes the season. But with three months to go before the Dakar Rally kicks off in Peru, everyone in the business has their eyes set for the event in January 2018.
The 18th edition of the OiLibya Rally of Morroco starts today, with a short prologue. The real race, though, will start on Friday with the first of the five demanding stages through the Moroccan desert and the Kingdom´s most remote areas.
Racing against the clock, the riders will be covering a total distance of 2,600 kilometres. But it will the third and fourth stage of the rally that shall prove to be exceptionally challenging, as these special stages will have the riders covering a distance of 400km. In order to make the most of the Dakar Rally in Peru, Hero MotoSports Team Rally's focus will be on giving both the rider a good run and also on getting the new bike in shape.
See what our community has to say!
NEW
India's largest automotive community